Trains to Tibet from Beijing, Shanghai, Guangzhou, and Chengdu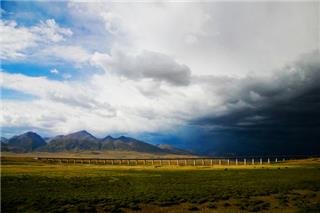 Beautiful scenery on the Tibet Railway
Taking a train to Tibet is one of the cheapest ways to go to Tibet. Currently there are trains from Beijing, Shanghai, Guangzhou, Chengdu, Chongqing, Lanzhou, and Xining (Check schedules of all trains to Tibet).
Trains to Tibet from Beijing
T2 departs Beijing West at 20:00 every day and arrives at Lhasa Station on the third day, after about 43 hours' journey.
Tickets are very hard to buy, to the point of impossibility, due to the huge demand among China tourists. A train trip from Beijing to Lhasa is also not recommended as it takes so long. The scenery all the way from Beijing to Xining is normal Chinese countryside, which makes the long journey less than worthwhile.
Trains to Tibet from Shanghai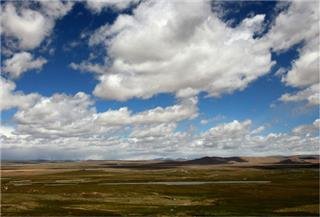 Breathtaking natural scenery on the Qinghai-Tibet Railway
T164 leaves Shanghai Station every day in the evening, and travels around 48 hours all the way to Lhasa. Tickets are as hard to buy as from Beijing. It makes no sense to waste more than 20 hours on a train, with plain scenery en route, when there is a fast and comfortable flight option available.
Trains to Tibet from Guangzhou
The Guangzhou to Lhasa train trip is the longest among all trains to Tibet, as long as 55 hours. The fight for a T264 ticket is still severe though.
Chengdu to Tibet Trains
Chengdu is geographically closer to Tibet than Beijing, Shanghai, and Guangzhou. But the train trip takes almost as much time (43 hours) as that from Beijing. Once again, don't think of buying a T22 ticket without tough fight.
Xining to Tibet Trains
The washing room on trains to Tibet
All trains to Tibet pass through Xining, making it relatively easy to get a ticket. From Xining the railway begins to ascend to high altitude, and the scenery becomes fascinating. There are currently two trains starting at Xining for Lhasa each day: K9811 and K9801. The trip takes about 23 hours.
China Highlights takes care of booking Tibet trains, Tibet Entry Permits, tour guides, transport, and all other arrangements for those who book a tour with us. See our Xining - Lhasa train trip
The Advantage of Taking a Train to Tibet
The main advantage of train travel is that travelers can slowly adapt to high altitude conditions, instead of a sudden shift if you were to take a plane. In addition, it is a scenic trip accompanied with breath-taking natural scenery.
After passing Golmud (the starting point of the Qinghai-Tibet Railway) the landscape gradually becomes picture-postcard-perfect, with snow-capped mountain peaks in the distance rising against blue sky, and vast grasslands, sometimes filled with flocks of sheep and yaks.
Sights seen from the train on the way include: Qinghai Lake, Chaerhan Salt Lake, Kunlun Mountain Pass, Holxil Depopulated Area (home to Tibetan antelope), Tanggula Mountain Pass, source of the Yangtze River, Changtang Grassland. You may not see all of these attractions as some trains pass them at night.
Train Conditions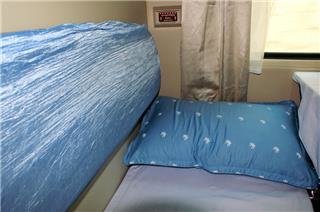 Hard sleeper on the train
Although trains to Tibet are relatively new and luxurious compared to those running on other routes in China, they are not for the faint-hearted. They do not have Western-style toilets and bunks are relatively cramped.
In addition, the train journey passes the Tanggula Mountain Pass, which is around 5,000 meters above sea level. Most travelers feel altitude sickness at that point.
It is forbidden for non-passengers to enter Lhasa Railway Station. So, when the train arrives at Lhasa Railway Station, tourists need to walk out to the square in front to meet their tour guides.
Questions and Answers About Trains to Tibet from Beijing, Shanghai, Guangzhou, and Chengdu
April Offer $25 Coupon
Send your inquiry before Apr. 30, 2014, and we will email you a $25 coupon.
The coupon is valid till Dec. 31, 2014, for paying tour packages worth $250 or up.
The coupon cannot be used for paying flight tickets, train tickets, hotel rooms and day trips.
Travel Advice or Question? Ask us here

China Highlights