Tibet Train Travel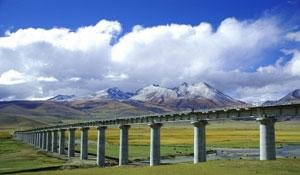 The Qinghai Tibet Railway
Taking a train to Tibet is one of the cheapest way to go to Tibet. Currently, there are trains from Beijing, Shanghai, Guangzhou, Chengdu, Chongqing, Lanzhou and Xining (Check schedules of all trains to Tibet). The journey all the way from Beijing takes less than 48 hours, costing around 389 yuan in the cheapest hard seat class and 1262 yuan for a soft sleeper. That is very cheap compared to a flight, which costs around 300 yuan. Note: It is hard to purchase train tickets to tibet in peak season from May to October as the demand is huge. China Highlights takes care of booking of tibet train tibet for travelers who travel with us. See China Highlights' Tibet tours.
Although trains to Tibet are relatively new and luxurious compared to those running on other routes in China, they are not for the faint-hearted. They do not have western-style toilets and bunks are relatively cramped. In addition, the train journey passes the Tanggula Mountain Pass, which is around 5000 meters above sea level. Most travelers feel altitude sickness at that point.
The main advantage of train travel is that travelers can slowly adapt to high altitude conditions instead of a sudden shift if you were to take a plane. In addition, it is a scenic trip accompanied with breath-taking natural scenery. After passing Golmud (the starting point of the Qinghai-Tibet Railway), the landscape gradually becomes picture-postcard-perfect, with snow-capped mountain peaks in the distance rising against blue sky, vast grassland sometimes filled with flocks of sheep and yaks. Sights seen from the train on the way include: Qinghai Lake, Chaerhan Salt Lake, Kunlun Mountain Pass, Holxil Depopulated Area, home to Tibetan antelope, Tanggula Mountain Pass, source of the Yangtze River, Changtang Grassland. You may not see all of these attractions as some trains pass them at night.
One thing to notice is that, It is forbidden for non-passengers to meet tourists inside the railway station. So, when the train arrives at Lhasa Railway Station, tourists need to walk out to the square in front of the railway station to meet their tour guides.

China Highlights