Itinerary
Day 1:
Arrive in Beijing, Flight not included
Today's Activities: Airport Transfer (Beijing)
Stay connected: A Free SIM Card Wi-Fi Rental
Day 2:
Beijing: Tiananmen Square, The Forbidden City, Hutong Tour in Xicheng District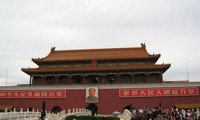 Tian'anmen Square is the largest city square in the centre of Beijing, named after the Tiananmen (literally, Gate of Heavenly Peace) which sits to its north, separating it from the Forbidden City. It has great cultural significance as it was the site of several key events in Chinese history. As the world's largest city square and enduring symbol of China's national pride, it is surrounded by many imposing buildings including the Heavenly Gate (entry to the Forbidden City), Museums, government buildings and Chairman Mao's Mausoleum.
The Forbidden City was home to 24 emperors between 1368 and 1911.This "city within a city" is a World Heritage Site, and is the largest and the best preserved ancient imperial architecture complex in the world, with great square, halls and gates contrast with intricate halls, gardens, courtyards and quarters. The exhibitions, both permanent and temporary, are all important treasures of ancient China.
Hutong is a maze of historic alleyways with old single storey traditional courtyard houses, which are now fast disappearing. In this one hour tour, you can hop on a rickshaw to ride through the narrow alleys as well as visit a local family then walk on the Silver Ingot Bridge (Yinding Bridge) and find out about the different thresholds of the courtyards.
Day 3:
Beijing: The Mutianyu Great Wall, Temple of Heaven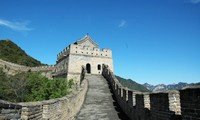 The Mutianyu Great Wall is less-crowded section of the Great Wall is a about 2.5 hours' drive from downtown Beijing. A cable car takes you to a good section (avoiding a very steep climb), where you can walk along the wall, through the watch towers and enjoy superb views as it snakes across the hills and mountains. You can return by cable car, walk down or walk along the wall for about an hour to descend by chairlift. Wear good walking shoes and protection from the weather.
Temple of Heaven was Built in 1420 during the Ming Dynasty, Temple of Heaven is a complex of Taoist buildings where emperors of Ming and Qing dynasties visited for annual ceremonies of pray for good harvests. Located in the south of Central Beijing, it covers an area of 273 hectares. Temple of Heaven was enrolled as a World Heritage Site by UNESCO in 1998.
Day 4:
Beijing to Xi'an flight. Summer Palace with boat Cruise and the Garden of Virtue and Harmony, Exterior visit of Beijing Olympic Stadiums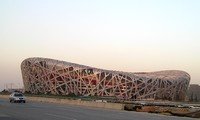 Summer Palace is about 12 kilometers northwest of the city center and is equally as famous as the Forbidden City, the Summer Palace is called 'Yiheyuan'(Garden of Nurtured Harmony) in Chinese. It is the best preserved and the largest imperial gardens in China and one of Beijing's premier attractions. It is also possible to cruise on the lake which takes 10 minutes by the ferry boat.
Located at the north end of the central axis of Beijing City, with a large area of 1215 hectares, Beijing Olympic Stadiums contains National museum, exhibition area, Olympic Village and Olympic competition avenues. Approximately 31 venues are used in Beijing Olympics, including National Stadium, the Bird's Nest and National Aquatics Center. You will explore the park, but it doesn't include going inside the Bird's Nest and Water Cube.
Day 5:
Xi'an: Terracotta Warriors and Horses, Big Wild Goose Pagoda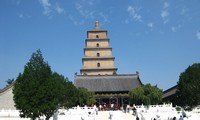 The Terracotta Warriors and Horses was discovered accidentally in 1974. This incredible army of over 7000 soldiers, archers, horses and chariots in full battle array has guarded Emperor Qin's tomb since 210BC. Each figure is unique, and the painstaking repair and excavation continues in 3 pits which are protected inside huge hangars. 1.5 hours from Xian, there is also an excellent museum and film about the history of the vaults. Photos (no flash) are allowed. Wear comfortable walking shoes.
Big Wild Goose Pagoda is a major Buddhist site, the simple, elegant brick Pagoda stands in the grounds of the attractive Da Ci'en Temple. The Pagoda was built in the 7th century to house the Buddhist materials that Xuanzang (Tripitaka) brought back from his epic journey to India. The Temple complex has several large halls with some great Buddhist statues and murals.
Day 6:
Xian to Kunming flight. Shaanxi History Museum, Xian City Wall with Bicycle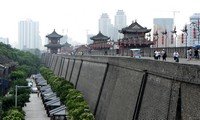 The history of Shaanxi is said to be the history of China, and Shaanxi History Museum is quite simply one of the nation's best. Four major galleries in large, Tang-style buildings house a vast and impressive collection, beautifully displayed. Most of the item labels are in English, although some other information on the exhibitions is not, but your guide can help here. Wear comfortable walking shoes.
The walls, ramparts, gates and watchtowers form one of the oldest and most complete city defenses still around. Built in the 13th century on the foundations of the original Tang Forbidden City surrounding the city centre, Xian City Wall is a major landmark, and the best preserved, as well as the oldest and largest of the city defense systems in China. We operate this with bicycle. If the weather is not good for biking on the city wall, we will substitute a visit to the Bell Tower. Your guide will be very glad to take you the Bell Tower after you have been to look at the city wall.
Day 7:
Kunming:
Stone Forest, Jiuxiang Caves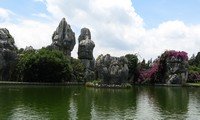 The Stone Forest is a fantastic natural phenomena located 90 km southeast of Kunming. The various shapes of karst landscape was formed due to millions of years' movement of Earth. The Stone Forest area is the home of the Sani people, their folk customs has become one spectacular scene, the colorful embroidery and minority dances combine with the natural sceneries, which will surely leave you a deep impression.
Jiuxiang Caves are situated in Jiuxiang Township, about 70 kilometers from Kunming. There are more than one hundred karst caves in Jiuxiang scenic area. The caves at Jiuxiang are the largest cave group system in China. Inside the cave are many well-developed and wonderful stalactites and stalagmites, which look like pretty fairies welcoming their guests. Names have been given to them such as "Fairies Welcoming Guests", "Woman Weaver", and "The Fairy is coming out of bathing".
Note: The final stage is to climb up Bat Cave. This is the most challenging part as there are about 336 steps. Sometimes there are laborers who offering sedan chair service.
Day 8:
Kunming to Lijiang flight. Lijiang Ancient Town.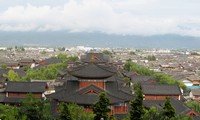 Lijiang Ancient Town is situated in the middle area of the county, which is more than 2400 meters high above sea level. It enjoys beautiful scenes, an indeed famous city with long history and splendid culture, it is very rare in China that such well-preserved minority ancient city still exists. The old town is quite busy in the afternoon and evening with an active atmosphere of the lights and crowd. An early morning visit will be less crowded.
Day 9:
Lijiang: Jade Dragon Mountain, Baisha Murals at Baisha Village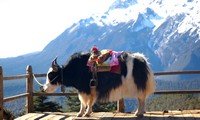 Jade Dragon Mountain is noted as the highest tourist cable in China, the Large Cable way goes up to Shanzidou (Shanzi Peak) the main peak of the snow mountain, with the an entire length of 2,914m, a top altitude of 4,506 km, and a perpendicular ascent of 1,150m. The cable car will take you into the clouds, where you will be far away from the worldly hurly-burly, and find yourself in a real paradise. Many visit Ganhanzi, Baishuihe (White Water River), and Glacier Park from this cableway.
Baisha Murals at Baisha Village were ainted over a thousand years ago, the murals combine the cultures of Han, Tibetan and Naxi people displaying the life stories of the Tibet Buddhism, Confucian and Taoism. Drop by Dr. Ho's clinic, an experienced traditional Chinese medicine doctor in Lijiang. Visitors will see how Dr. Ho and his apprentices diagnose and treat patients, and get to know about the local clinic and herb culture.
Day 10:
Lijiang to Shangri-La;
Tiger Leaping Gorge, Our guide and driver will escort you from Lijiang to Shangri-La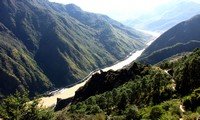 As one of the deepest and most marvelous gorges, Tiger Leaping Gorges are located in Hutiaoxia Town, 105 kilometers away from Zhongdian/Shangri-La County. Spring is the best time to visit, as melting snow flowing down from mountains makes the river turbulence at its peak.
Day 11:
Shangri-La: Pudacuo National Park, Songzanlin Lamasery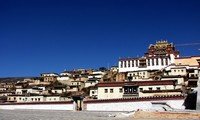 Pudacuo National Park is located near Shangri-La in China's Yunnan Province in southwest China, the Pudacuo National Park covers a total area of nearly 2,000 square kilometers. This park has an average altitude of 3,500 meters and retains a well-preserved ecosystem within the virgin forests. The must-see scenery in this park includes Lake Bita and Lake Shudu. "Bita" means "a place with a dense oak forest" in the Tibetan language and "Bitahai" means a quiet lake. The Bitahai Lake is surrounded by mountains covered with ancient pines, oaks and rhododendrons, and appears like an emerald in the heart of the mountain. Shudu Lake is located in northeast of Shangri-la and it is one of the largest fresh water lakes on the Diqing plateau. The lake is surrounded by a forest of fir, spruce and silver birch, and is home to lots of wild animals such as bears, golden cats, deer and pheasants.
Songzanlin Lamaseryis the largest Tibetan Buddhist lamasery in Yunnan Province. Occupying an area of 33.3 hectares, Songzanlin was built in the style of Potala Palace in Lhasa and represents the Tibetan culture, housing buddhist statues and many precious cultural treasures.
Day 12:
Shangri-La to Shanghai; The Bund, Xintiandi, Former French Concession Precinct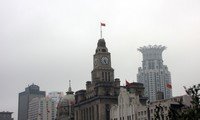 The Bund is a 1.5-kilometer-long embankment running along the western bank of Huangpu River. On its west side it is the "architecture gallery" with 52 well-preserved old European style buildings. Once the major trading and commercial center of old Shanghai, the Bund has now taken on new vitality, with futuristic developments, chic restaurants, top end shops and bars offer plenty to see and do-and by night it's magic!
Xintiandi is nestled between the towering skyscrapers in city center. It is one of the busiest urban tourist attractions and imbued with the city's historical and cultural legacies. Shanghai Xintiandi's Shikumen building was created by converting traditional residential blocks into a multifunctional dining, retailing and entertainment center flowing with restaurants, boutiques, cafes and bars of international standard.
The former French concession covers the area including Huaihai Road, Fuxing Road, Huashan Road, Ruijin Road, Yandang Road, Taikang Road and Sinan Road. A walking tour in the former French concession will take in important historical buildings, such as the former residence of Sun Yat-sen, Zhou Enlai, Fuxing Park, Moller Villa, Lilac Garden, Notre Dame Cathedral and countless French colonial style buildings. Most buildings are over 100 years old. On clear, warm days, the shadows of the Chenar trees adds a romantic feeling. At night, café, bars and restaurants lure their customers with coffee fragrance.
Day 13:
Shanghai: Shanghai Museum, Yuyuan Garden, Shanghai Urban Planning Exhibition Hall, The Shanghai World Financial Center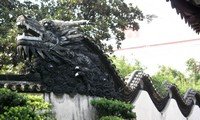 Shanghai Museum is the biggest, and many think the best museum in China. The galleries in this outstanding building display stunning collections of bronzes, sculptures, ceramics and porcelain, paintings, calligraphy, seals, jade, coins, furniture, ethnic artefacts from minority groups, temporary travelling exhibitions from places like the Guggenheim, and so much more ... give yourself time to enjoy it.
Yuyuan Garden is located in the center of Shanghai old quarters. It was a private garden built in 1559 during the Ming Dynasty, with typical Chinese classic architecture and style. The complex covers an area of 2 hectares, with rockeries, pavilions, ponds and corridors. Yuyuan Garden is surrounding by a busy market place, where visitors can find everything from popular local snacks, handicrafts, antiques and souvenirs to some famous time-honored restaurants.
A short walk across Renmin Square from the Shanghai Museum, Shanghai Urban Planning Exhibition Hall is a fascinating insight into Shanghai's future. The 2nd floor has a giant walkaround model of the city, and other floors have great displays, interactive exhibitions and walkthroughs of aspects such as the ports, greening, leisure etc.
Shanghai World Financial Center is located in Pudong District, reaching a height of 492 meters (1,615 feet). It is now a new landmark of prosperous Shanghai. It was the second tallest building in the world when it was completed in 2007. Its observation deck, at 474 meters (1,555 feet) above the ground, is currently the tallest in the world. The multi-function skyscraper consists of hotels, apartments, restaurants, shopping malls, offices and observation decks.
Day 14:
Depart Shanghai, Flight not included
Hotel to airport Transfer
Just let us know your travel style!
Guide vs. Free-time ratio / Hotel Style & Interests / Dates / People
We will then adapt this tour and create a unique quote based on your individual needs.

Free Quote