China Dreams Tour
11-Day Beijing, Xi'an, Guilin, Yangshuo and Shanghai Tour

4.5
( reviews)

This average score is generated from the feedback for attractions, hotels, restaurant and guide for each tour.
X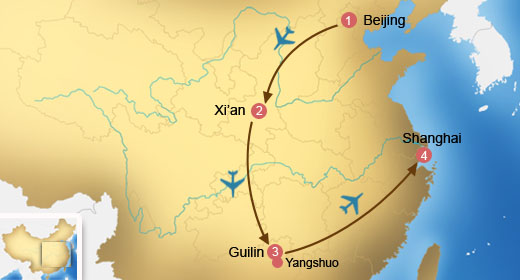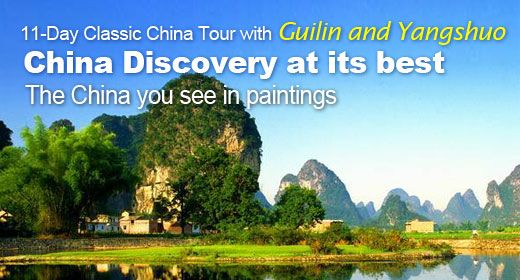 Have you been dreaming to visit China? From China's most famous historical sites to the stunningly beautiful Li River, experience it all.
Why 10,000+ Choose Us Per Year:
Centrally Located Hotels
Authentic Chinese Food
Phone Rental / Wifi Package
China Highlights Awarded by TripAdvisor
Highlights
Visit:
The Forbidden City
Temple of Heaven
Hutongs
Great Wall of China
Xi'an City Wall
Terracotta Warriors
Li River Cruise
The Pearl TV Tower
Yuyuan Garden
The Bund
Experience
Stand on the Great Wall, Ride Xi'an's city wall, and rickshaw through Beijing's alley and lanes.
The Terracotta Warriors and Xi'an city wall with our expert local guides.
Guilin's magical natural scenery, the Li River cruise and Yangshuo and Rice Terraces.
Shanghai ancient and colonial past contrasted to the modern pulse of this exciting city.
Tour Designer - Luffy

" This 11 day tour provides real China experiences. From Beijing's Hutong to Xi'an's City Wall, and Longsheng's ancient Rice Terraces to Shanghai's Bund, China ignites your every sense."
Travel Advisor - Simon

" Rickshaw, cycling, climbing and walking, this China tour offers plenty of ways to explore. The pace is comfortable and the experience is real, this is a great China holiday."
From $2,399 P/P Price detail
Tour Code: CHT-63
Departure Date: You Choose
Tour Type: Private Car, Driver and Guide
A warm welcome in arrivals, your personal guide and driver will be ready to transfer you in comfort to your hotel. They go the extra mile, making sure you have everything you need.
Good to Know:
Always Connected – We offer Free cell phone rental (includes 30 free minutes) or Pocket Wi-Fi (also called MiFi) It will be ready and waiting at the hotel front desk.
Evening Plans – Your guidings from about 9 to 5, we leave the evenings free for you to explore. Here are some ideas, Discover More, your guide is happy to offer some tips.
Free-time Ideas: If you've arrived in good time and still fresh why not visit the former US embassy for a night cap.
Hotels – Choose a Beijing Hotel (3 nights) to suit you, we recommend:
Days Inn Forbidden City

/ Sunworld Hotel

/ Crowne Plaza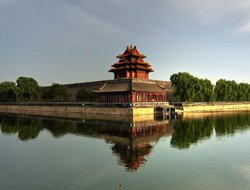 The Forbidden City
After breakfast your private car, driver and guide await, ready with drinks, snacks and a map, ready to maximize your time in Beijing. First up, the world's largest city square, Tiananmen Square. Then explore a 200 acre maze of courtyards and palaces, the Forbidden City.
Enjoy a lunch at top Sichuan Restaurant before strolling to the largest imperial garden in China. The Summer Palace featuring lakes, pavilions, stunningly painted corridors, and surrounded by hills. It's no wonder it was the courts summer retreat. Climb the hill or take a scroll around the garden, this is a lovely place to explore before we'll take you on a dragon styled boat tour.
Good to Know:
Boat Tour – Most tours companies don't include these types of experiences as standard.
Face Changing – The Sichuan restaurant often has a traditional face changing performance. Trip advisor ranks it 4.5/5. It's also great for families.
Free-time Ideas:
1. Best Acrobatics Show in Beijing at Chaoyang Theatre. Breathtaking performances make it Beijing's #1 attraction after the Great Wall. If you're interested your guide can help you buy tickets.
2. Wangfujing is a good place for trying street food and shopping in the evenings, shops close 10pm.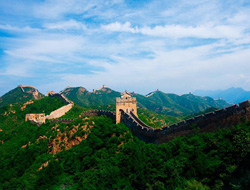 The Great Wall of China
Stroll among the 60,000 ancient trees in the Temple of Heaven's Taoist grounds. Watch the locals exercise, practice martial arts, play traditional instruments as your walk to the Temple of Heaven. The Round Altar, Echo Wall and Imperial Vault of Heaven are rated as key sights.
We'll drive up into the mountains, and on route have lunch at a farmhouse garden restaurant, famous for trout & salmon. A short drive along the mountain backbones and you'll arrive at the Great Wall. A cable car takes you to this less crowded section, where you can enjoy superb views, seeing it snake across the hills.
The road home brings a chance to stop at Shahe Cloisonné, see how craftsman make this copper wire enamel vases and visit the shop. If this is not your cup of tea, just let our guide know.
Good to Know:
Review as #1 Section – The Mutianyu section is No.1 of 900 attractions in Beijing on TA.
"A Guide is Essential" – Beijing based travel writer Sara Naumann recommends Mutianyu "the views are awesome and the wall itself is in great shape".
Free-time Ideas: This evenings meal is left for you to arrange, but we think a Peking Duck Banquet is an ideal ending.
1. Fangzhuang are famous for outstanding with locals for quality and our top choice for value and taste.
2. DaDong the most famous place for roast duck, this Ming Dynasty décor and it's best to reserve. Ranked#8 of 3695. Rated 4.5/5 and features highly in most guides books.
Day 4
Beijing to Xi'an by flight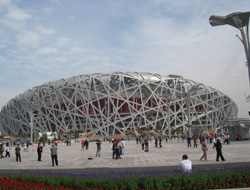 Bird Nest
Customization does not always increase costs, although this tour visits Olympic Park, here are some other ideas you may prefer:
1. Olympic Park – An exterior visit to the National Stadium, Bird's Nest and National Aquatics Center.
2. Beihai Park – Often overlooked but said to be the most beautiful park in the country. It's just north of the Forbidden city, edging the Hutongs.
3. The Ghost Market – the most popular flee market, ranked highly with travellers & contains some gems of history, photographers enjoy!
4. Lamma Temple – One of the few active temples, this Tibetan Buddhist temple contains a sandalwood Buddha, the largest in the world.
Any itinerary can be customized!
We have lunch at Jing Mian Da Wang, renounced for Kung Po Chicken and Sweat and Sour pork. Then we'll hop on a rickshaw or bike in Beijing's Hutongs, after riding through the narrow alleys to visit a local family, try your hand at Chinese Paper Cutting. Then we'll transfer you to the airport. Our local Xi'an guide will be ready and waiting to pick you up at the airport and transfer you to the hotel.
Hotels: – Choose your Xi'an hotel to suit you. (2 nights in Xi'an)
Xi'an Skytel Hotel

/ Grand Noble Hotel

/ Sofitel On Renmin Square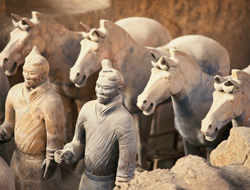 The Terracotta Warriors
Visit the Terracotta Warriors, known as the most exciting archaeological discoveries of the 20th century. We'll stop off at a handmade pottery factory before enjoy lunch a restaurant known nationwide for its Hunan & Sichuan dishes and carefully sourced produce.
Big Wild Goose Pagoda was constructed in AD652 and show cases Chinese-style architecture with Buddhist ancient murals, scriptures.
Good to Know:
No Tricks (Big/Little) Pagoda – Look closely at other companies and large group tour operators and you'll see they take you to the free Little Goose Pagoda, - experience + profits.
"+Adrenaline" – Add an extra day and put your head in the clouds on Hua Shan. Test your nerves on its crazy cliff hanging path, your quickly understand why it went viral on the internet.
Free-time Ideas: The Tang Dynasty Show is rated the best show in China. Your guide can help you buy tickets. Or you might like to take a relaxing evening stroll in the beautifully lit park and grounds of the two Pagodas.
Day 6
Xi'an to Guilin by Flight
The City Wall
Shaanxi Museum is a perfect overview of Chinese history and not to be missed. Next cycle on Xi'an's city wall; it encircles the city and is perfect for sightseeing, not to mention fun. Lunch is a literal taste of history, try some Tang Dynasty dishes.
Today ends with the included flight to Guilin. Your private car, drive and guide handle all the transfer for you at each end. Sit back and relax.
Good to Know:
Xi'an City Wall – The city wall and ride are ranked no. 2 and 3 attractions on most websites after the Terracotta army. Rickshaw, ride, or walk, you decide on the day.
Bell Town – Our recommended hotels are very close to the Bell Tower, so it's easy to see in your own time. Preserving your guided time for Xi'an's very best.
Free-time Ideas: You'll arrive in the Guilin hotel in latter evening. All these three hotels are a short walk from the central shopping street, called 'Walking Street' which has bars and coffee shops.
Hotels: – Choose your Guilin hotel for the 2 night stay.
Guilin Osmanthus Hotel

/ Guilin Bravo Hotel

/ Sheraton Guilin

Day 7
Guilin to Longsheng by car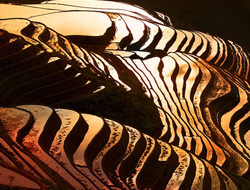 The Rice Terraces
Transfer to Longsheng about 2 hours' drive in the morning. Walk on the spectacular Dragon's Backbone Rice Terraces, which have been carved from the mountains for hundreds of years.
After lunch, experience local life in a rural village, home to a few minority people groups. Zhuang and Yao minority villages feature traditional architecture where no nails are used in construction. Their fabrics, language, folk songs, and warmth make a lasting impression. You'll return to your Guilin hotel for the evening.
Good to Know:
Head Office – We've guide US presidents, Bill Gates, Buffett around Guilin, our head office is located here. No one knows Guilin like we know it!
Customization – Our coffee shop & restaurant guide, written by a local British expat might be useful to pick a restaurant tonight.
Free-time Ideas: Four Rivers Two Lakes is a charming lake area featuring two beautiful pagodas in the heart of the town, the Sun and Moon pagoda are a pretty feature in the center of the lake. It's the perfect evening walk, and beautifully lit. You could even take a boat tour, its best done at night. Your guide can help you buy tickets.
Day 8
Guilin to Yangshuo by car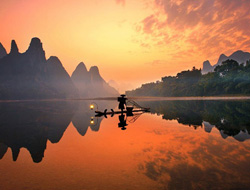 The Li River
Relax on the famous Li River cruise to see the spectacular limestone peaks, graceful bamboo groves and farmers tending rice paddies. A buffet lunch is served on this four hour cruise. In the afternoon, join a cookery class at the local market where ingredients for the dishes are chosen by students. A covered rooftop terrace-classroom, you have an opportunity to learn three dishes and enjoy the fruits of your labor.
Good to Know:
Guilin – a jewel of China, its natural beauty and dramatic mountain and river scenes are a perfect contrast to China's cities and history and as become one of the top destinations in China.
Free-time Ideas: Take a small bamboo raft down the river for an hour, see the small old ruin of a town called Fuli. Then meander through West Street, called a world village, with shops, bars, coffee shops, it has a real buzz.
Hotels: Yangshuo Aiyuan Hotel

/ Green Lotus Hotel

Day 9
Yangshuo to Guilin to Shanghai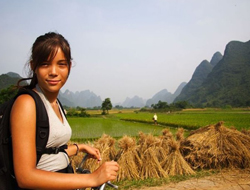 Countryside Cycling
Experience countryside cycling in Yangshuo, biking alongside the paddy field and orchards that surround the dramatic karst mountains will give a fascinating insight into life in rural China. We will even stop off and visit a local family. It's an opportunity to see a real country life and talk to the local farmers.
Enjoy a romantic style café serving western food. The balcony overlooks West Street. Perhaps try the wood-fire oven pizza or its special fresh ground coffees. We will transfer you directly to Guilin airport for a flight to Shanghai. Our guide will pick you up at Shanghai airport and transfer you to the hotel.
Good to Know:
A Smart Choice – Our private transfer (direct to Guilin's airport) means you not only save time but avoid the need to return via Guilin city, like many independent travellers.
Free-time Ideas: The Bund - Great for an evening walk until the skyline lights go out at 10pm, then head over to Glamour for a Shanghai Cocktail in real style.
Hotels: – Choose your Shanghai hotel for the 2 night stay.
Kingtown Hotel PLaza Shanghai

/ The Bund Hotel

/ Radisson Shanghai New World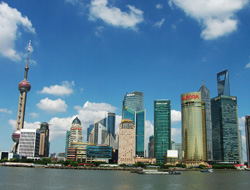 The Bund
The panoramic views from the Oriental Pearl TV Tower, standing at nearly 500 meters, gives an impressive introduction to the city of Shanghai. Walk through Shanghai's Old Alleys to experience a bye-gone age. We'll have lunch at Old Shanghai Restaurant but first, a quick visit to a charming silk workshop. After lunch visit enchanting Yuyuan Garden, one of the most beautiful Suzhou style gardens in China, before we walk into another era, the Bund, which still retains its colonial charm.
Good to Know:
Old Shanghai Restaurant – 130 years old, serving traditional typical Shanghai foods.
From Expat Food Guide – Customize the trip to suit you. E.g. A history and art fan might like to visit Shanghai Museum; it's rated by many as the best Museum in China.
Free-time Ideas: Sky Lounge - The world's highest bar was named by Newsweek magazine as one of 'The World's Great Gathering Places'. It can be found on the 88th floor of the world's tallest hotel, Shanghai Grand Hyatt. Even better, its 87th floor has a bar called Cloud 9, with a 360 degree view of Shanghai.
Sit back and relax as your private guide, driver and guide get you to the airport on time. They will take you right to check-in and say goodbye at the security gate. We take the stress, you take the tour!
Price Per Person in US Dollars

Currency Converter
Normally hotels allow a maximum of 3 adults per room with an extra bed, at extra charge.
Tour price is indicative only, please inquire for a detailed quotation.
More people more discounts.
X
Nov.1 - Mar. 31
Superior 2013
Deluxe
Economy
Single Room Supplement
1 Person
$4,269
$3,779
$3,619
-
2-5 Persons
$2,719
$2,469
$2,399
$739 / $479/ $389
6-9 Persons
$2,219
$1,979
$1,899
$739 / $479/ $389
Apr.1 - Oct.31
Superior
Deluxe
Economy
Single Room Supplement
1 Person
$4,869
$4,169
$3,769
-
2-5 Persons
$3,019
$2,699
$2,499
$999 / $659 / $439
6-9 Persons
$2,519
$2,199
$1,969
$999 / $659 / $439
Booking Steps - from Inquiry to Arriving Home
Nov.1 - Mar. 31
Superior
Deluxe
Economy
Single Room Supplement
1 Person
$4,389
$3,849
$3,669
-
2-5 Persons
$2,799
$2,559
$2,459
$749 / $459 / $359
6-9 Persons
$2,299
$2,049
$1,919
$749 / $459 / $359
Apr.1 - Oct.31
Superior
Deluxe
Economy
Single Room Supplement
1 Person
$4,999
$4,269
$3,899
-
2-5 Persons
$3,099
$2,769
$2,559
$1,019 / $639 / $459
6-9 Persons
$2,629
$2,259
$2,029
$1,019 / $639 / $459
Booking Steps - from Inquiry to Arriving Home
Tour Code: CHT-63 &nbsp Destinations: Beijing, Xian, Guilin, Yangshuo, Shanghai Tour Length: 11 Days Acommodation: Economy
Price Inclusion
Price Exclusion
Centrally Located Hotels
Authentic Chinese Food
Private Cars and Drivers
Private Guides
Flights & Transfers in China
Airport Taxes and Fuel Fees
Entrance Fees
Phone Rental / Wi-Fi Package
Service Charge & Government Taxes
Insurance
Luggage Transfers
International Airfare or Train Tickets to enter or leave China
China Entry Visa Fees
Excess Baggage Charges
Personal Expenses
Single Room Supplement.

Save up to $600 for two people. Enquire now to take introductory discounts.*
*5 Star Hainan Airline celebrates new round trips Chicago to Beijing.


Excellent Local Guides
The most experienced tour guides, each an expert in their particular city. Professional, flexible and fun! Outstanding knowledge of all the sites and history. They will speak your language, meet you at the airport, deliver you to your hotel and accompany you on your tour in each city.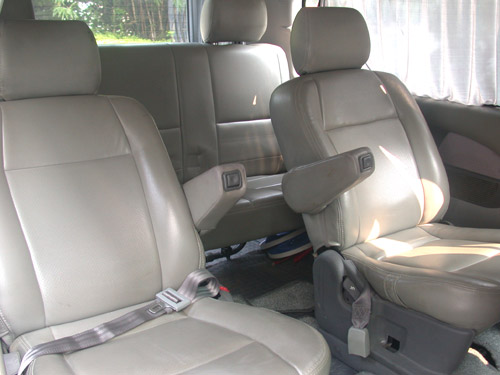 Car and Driver
We use modern air-conditioned cars for 1 or 2 people and small comfortable vans for 3 -7 people. We ensure all vehicles are well-maintained, often new or a maximum age of 4 years. Our drivers are friendly and careful, with 5-year+ driving experience.
China Trip Questions
Common Questions
I want to relax more. Can I have a free day and customize the tour?

Sure, we can add extra days or reduce days, when and where you like!
What is the difference among superior class, deluxe class and economy class?

Usually we use the 5 star hotels for superior class, 4 star hotels for deluxe class and 3 star hotels for economy class. Sometimes we may use 4 star hotels for economy class in order to guarantee the service quality.
What is the most comfortable weather, when is it really hot or cold?

The coldest time is January, Autumn reds are in Nov and July & August are hottest. Click to see more information about Beijing weather, Xi'an weather and Shanghai weather.
How can I get a visa? Do you offer a visa service?

We don't offer the visa service. Our visa application page will help you.
Do you offer an international flights booking service?

Yes, we offer an international flights booking service for many cities around the world with competitive prices. Enter your International flights idea when making your inquiry.
Planning a trip? Ask us here
Feedback About This Tour
Loading...
You May Also Like...