The private 11-day tour includes the most popular destinations of China and the highlight attractions in each city. It covers major needs of first-time travelers to China.
If you are interested in history, attractions in Beijing, Xi'an tell you stories. If you love scenery, Guilin's karst landform feasts your eyes. Shanghai draws a picture of brilliant future of China. You also get opportunity to touch the real life by communication with local people.
The same destinations but you can travel in different styles. On this trip, which travel style you would like to choose? Please check the list to see more difference among the three styles.
Comfort Trip
Discovery Trip
Essential Trip
Highlights for Comfort Style
Visit the Forbidden City with a local expert who is knowledgeable in history and architecture
Have a short stay at Xi 'an Hui Ling Service Station for Intellectual Disabilities to see more about Charity in China  
Join in a cooking class in Yangshuo and get the secret recipe
Discovery Daxu Ancient town with a local scholar to know ordinary people's life
Take a glance of old Shanghai at Shikumen
Suggested Itinerary for Comfort Style
Hotel: Crowne Plaza Hotel Beijing Chaoyang U-Town (Superior Room)  (TripAdvisor Certificate of Excellence 2015)
Whenever your international flight lands in Beijing, your tour guide will be ready to welcome you at the arrival hall, to transfer you to your hotel with a private car and driver. They will help you with luggage and hotel check-in, and ensure your trip in Beijing is worry-free.
Free Time for Exploration
We leave the rest of the day free for you to be on your own. You may need some time to relax and recover from the long-distance flight or possibly from jet-lag. If you feel like going for a walk and checking out places nearby, feel free to ask your guide for recommendations for good dining or places to see.
Day 2
Take an In-depth View of the Forbidden City with a Local Expert
Hotel:Crowne Plaza Hotel Beijing Chaoyang U-Town (Superior Room)
Breakfast & Lunch
Had a sound sleep last night and start the tour from the mysterious the Forbidden City. The expert escort you 5 hour in the emperors' house and show you some interesting places you would never find by yourself in the Forbidden City and guide you away from the noisy parts and crush of other tour groups. What you can see no longer only empty rooms in the Forbidden City but also pictures of emperors, concubines and eunuchs in the expert's ipad, stories brings it to life.
In the afternoon, the expert accompany you to visit the Tian'anmen Square that is very close to the Forbidden City and have a easy climbing to the Jinshan Hill in Jinshan Park to take a birds' eye view of the golden roofs, see it from a new angle.
Good to know
To ensure good timing, the local expert does the day tour once a day. So on this day, you have a small group tour with maximum of eight people. Interaction with the expert and group members add more fun. According to previous customers' feedback, people who love history and family with kids who are over 7 years old are like the tour.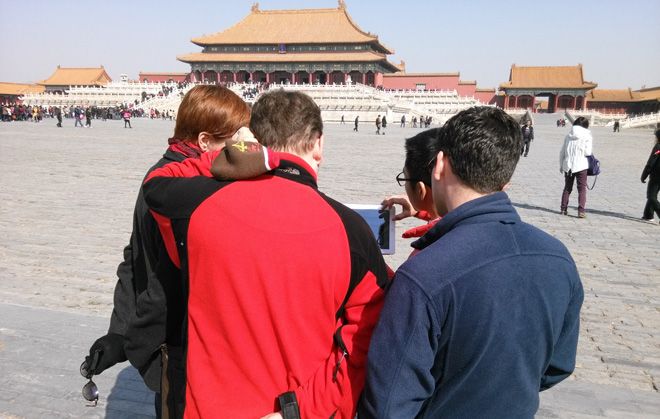 Forbidden City Heritage Walk
Day 3
The Mutianyu Section of the Great Wall
Hotel:Crowne Plaza Hotel Beijing Chaoyang U-Town (Superior Room)
Breakfast & Lunch
Morning Exercise in the Temple of Heaven
The Temple of Heaven was the place that emperors went to worship heaven for good harvests. Nowadays It becomes an ideal place that local people do morning exercises. To feel the life pace of beijinger.
The Mutianyu Section
This less-crowded section of the Great Wall is a about 2.5 hours' drive from downtown Beijing. A cable-car takes you to a good section (avoiding a very steep climb), where you can walk along the wall, through the watch towers and enjoy superb views as it snakes across the hills and mountains. You can return by cable car, walk down or walk along the wall for about an hour to descend by chairlift or turbogen. Wear good walking shoes and protection from the weather.
Good to Know
If you prefer three hours hiking, just tell your travel advisor to change the arrangement according to your needs.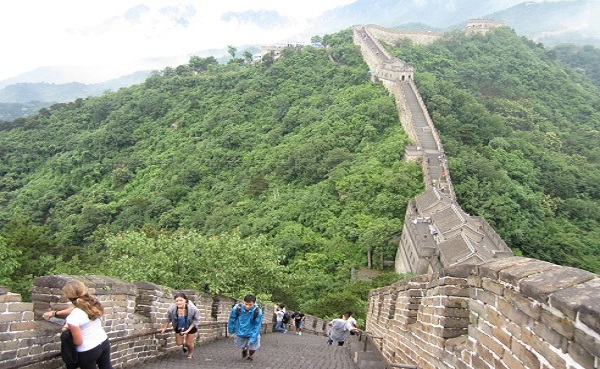 The Mutianyu Section of the Great Wall
Day 4
Visit the Summer Palace and Hutong in Beijing – Flight to Xi'an
Hotel:Sofitel on Renmin Square Xi'an (Superior Room) (TripAdvisor Certificate of Excellence 2015)
Breakfast & Lunch
Enjoy a full day visiting classic highlights of Beijing – the Summer Palaceand Hutongs. Have a pleasant stroll at luxury garden of royal family. Different kinds of pavilions and long corridors give you full flavor of China. Then hop on a rickshaw and ride through the maze of Hutongs to see old Beijing neighborhoods, and chat with a local family. To make your hutong experience special, we stop at a private Chinese aged baijiu Museum in small alley. Thousands of baijiu in different bottles are shown to tell you Chinese baijiu history and culture. Try a small cup of baijiu, wow, strong!For lunch, order dishes with the help of your guide at a small restaurant hidden in the Hutong alley.
Evening Flight to Xi'an
Transfer to Beijing airport for late afternoon or evening flight to Xi'an. Upon arrival, your Xi'an guide will be waiting for you at arrivals, and transfer you to your hotel for check-in.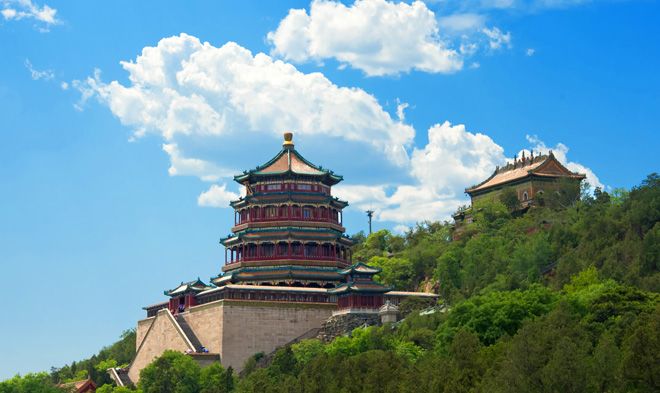 Summer Palace
Day 5
Xi'an – the Iconic Terracotta Warriors
Hotel: Sofitel on Renmin Square Xi'an (Superior Room)
Breakfast & Lunch
In the morning, uncover the mystery of the underground army dated thousands of years ago at the Terracotta Warriors Museum and site. People are surprised by the magnificent man-made work piece. Stand there and have a silent conversation with these soldiers. After lunch at a popular Chinese restaurant, return to the city area and visit the ancient City Wall that has been guarding the inner city for 600 years.
Good to Know
Walking on the ancient City Wall provides a good view of the city. You can also rent a bike to cycle around the wall.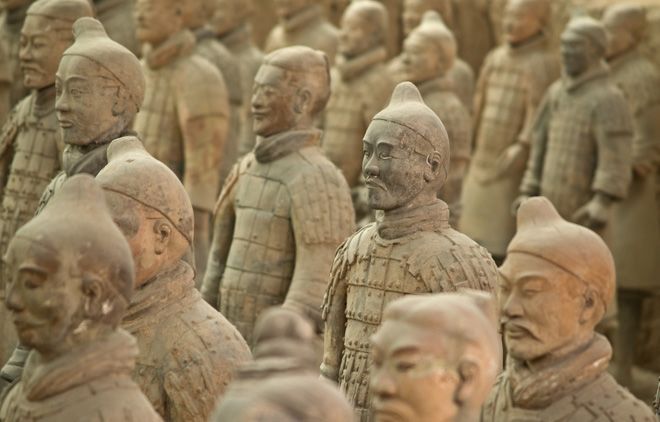 Terracotta Warriors
Day 6
Other Highlights of Xi'an and Flight to Guilin
Hotel: Sheraton Guilin (Elegant Room)  (Perfect location near the Li River)
Breakfast & Lunch
Discover more of Xi'an and China's ancient history at the Shaanxi History Museum andBig Wild Goose Pagoda, then head to the Muslim Quarter and wander through the alley ways to explore and taste the local Muslin Cuisine, like Pita Bread Soaked in Lamb Soup, Jiasan Steamed Soup Dumplings. To know different aspects of China, your guide escorts you to visit Hui Ling Service Station for Intellectual Disabilities (NGO) to see their handcraft workshop and have some interaction with them.   
Flight to Guilin
Transfer to the airport for your evening flight to Guilin. Upon arrival at the airport, your Guilin guide will greet you at the arrival hall and transfer you to your hotel with private car and driver.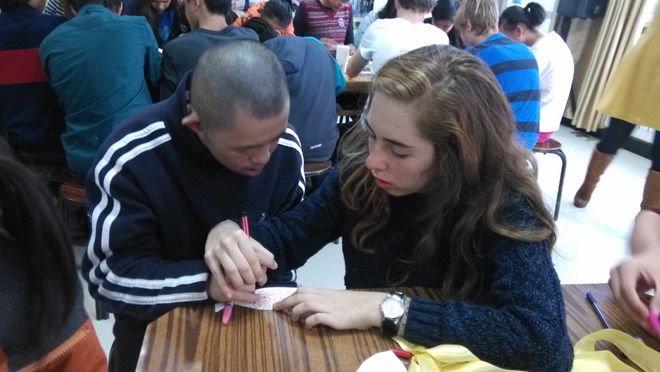 Hui Ling Service Station for Intellectual Disabilities (NGO)
Day 7
Guilin to Yangshuo on Li River Cruise
Hotel:Yangshuo Green Lotus Hotel (Deluxe Room) (Good Location)
Breakfast & Lunch
Enjoy the stunning natural beauty of the Li River as your cruise from Guilin to Yangshuo which takes about four hours. Get your camera ready and record the unforgettable scenery and moments. You'll reach Yangshuo wharf near the bustling West Street at noon about 13:30.

Biking in local villages
After check-in, you guide will choose a bike for you to start the biking tour in local villages. Meet people there and have a pleasant interact.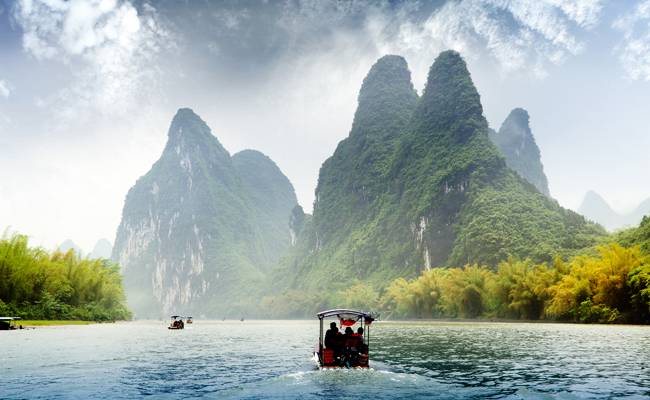 Bamboo Rafting on Li River
Day 8
Cooking Class and Leisure Time in Yangshuo
Hotel:Yangshuo Green Lotus Hotel (Deluxe Room)
Breakfast & Lunch
You have plenty of time to enjoy your Yangshuo holiday. For this day, we arrange a Chinese cooking class, which lasts for about 3 hours. It begins with going to the local food market to buy materials and ingredients for your cooking class, then cook 2 or 3 popular Chinese dishes with guidance of a tutor, and taste fruits of your labor in the end.
Good to Know
Impression Liu Sanjie is a quality outdoor performance highly recommended for your evening. Put together by famous Chinese director Zhang Yimou, the show is set on the Li River with karst peaks as backdrop, featuring magnificent folk music and dance. It is not included due to weather condition, ask your guide to check the availability on that day.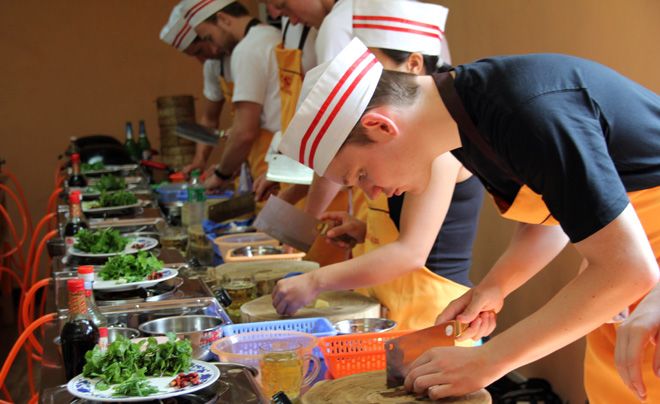 Yangshuo Cooking Class
Day 9
Discovery Daxu Ancient Town and Catch Flight from Guilin to Shanghai
Hotel:Radisson Blu Hotel Shanghai New World (Superior Room) (TripAdvisor Certificate of Excellence 2015)
Breakfast & Lunch
Wrapping up your Yangshuo holiday, drive directly to Daxu Ancient Town that near Guilin. The high way is called one of the most beautiful roads in China because you can enjoy karst landform along the way. After one hour, you arrive at Daxu ancient town. Daxu means 'big market'. It was an important ferry connecting Canton and Guilin thousand years ago. The English-speaking local scholar accompany you to discover its' glory and ordinary people's life by visiting some local family and talked with senior there.
In the afternoon or at night, head to the Guilin airport for your flight to Shanghai, a modern city. Upon arrival, meet your Shanghai guide at the arrival hall, and transfer to your hotel for check-in.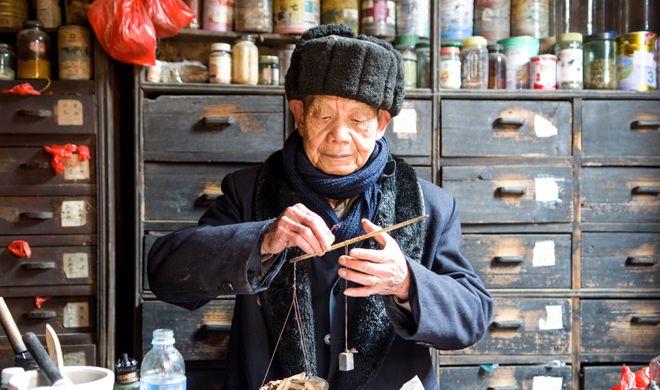 Meet a local in Daxu ancient town
Day 10
Shanghai – Metropolis of East and West
Hotel: Radisson Blu Hotel Shanghai New World (Superior Room)
Breakfast & Lunch
China's most prosperous city oozes vibes of both tradition and modernity. See the typical Shanghainese life at Shikumen, South China's classical landscape garden at Yuyuan Garden, enjoy a bird's eye view over Shanghai on the sightseeing deck of Oriental Pearl TV Tower, and finally have a walk around the Bundto learn Shanghai history.
Good to Know
There are many evening shows in Shanghai, and the most recommended ones are acrobatics that are top level in China. Ask your tour guide to help you obtain tickets. It is optional.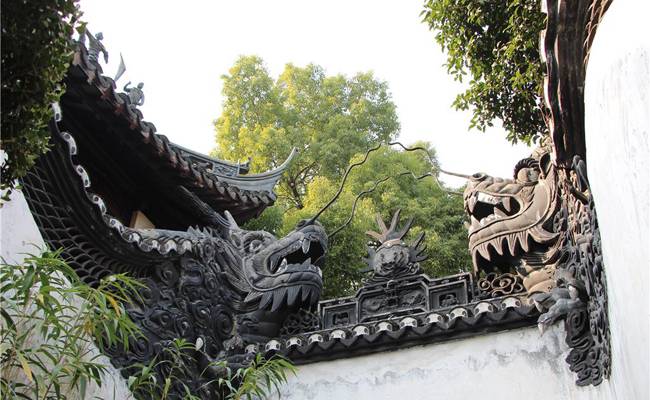 The Yuyuan Garden
Day 11
Shanghai Departure
Meal:Breakfast
As your China trip comes to end, your tour guide, driver and car will pick you up from your hotel and transfer you to Shanghai Pudong International Airport for your departure flight home. The guide will assist you with flight check-in and luggage, and see you off at the point of security check.
Just let us know your travel style!
Guide vs. Free-time ratio / Hotel Style & Interests / Dates / People
We will then adapt this tour and create a unique quote based on your individual needs.

Free Quote
What's Included
Entrance to attractions listed in the itinerary
Meals mentioned in the itinerary
Private transfers between the airport or railway station, attractions, ports, and hotels
Private local English-speaking tour guide and driver service (except tips based on your willingness)
Hotel accommodation with breakfast and service fee
Specified flights, trains, and Cruise
Trip Notes
Extension based on the tour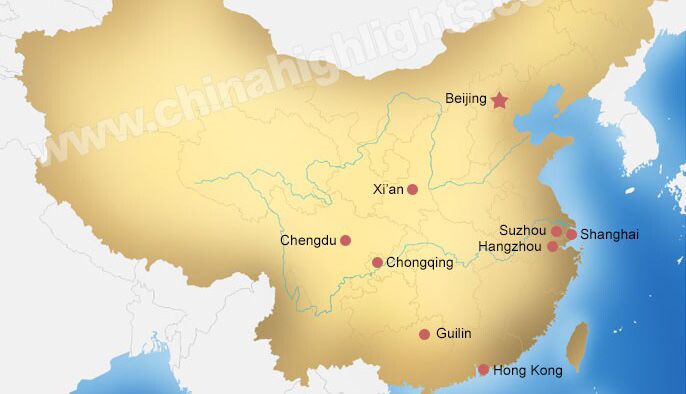 Extend the tour:
Yangtze River Cruise: add 4-5 days (from Chongqing to Yichang or vise versa)
Chengdu: add 2-3 days; visit Panda Research Center, the Giant Buddha, Mt. Emei
Suzhou and Hangzhou: add 2-3 days, visit gardens, the West Lake and water towns
Hong Kong: add 2-3 days, visit Victoria Peak, Disneyland and Macau day tour
Shorten the tour:
if you have only one week and it is your first time to China, we suggest delete Shanghai or Guilin. Shanghai is suit for modern lovers and easy connected with your international flight; while Guilin is a good choice for scenery lovers and can be connected with Hong Kong for international flight, just one hour distance.
Beijing, Shanghai and Hong Kong are major entry cities.
Optional Activities
It must be clearly understood that your participation is your own decision, ticket price depends on different seats, so we suggest ask your guide to book tickets if you need.
Beijing - Legend of Kungfu Show
Xi'an - Tang Dynasty Cultural Show
Dumpling Banquet - Tang Dynasty Cultural Show plus Dumpling Banquet
Yangshuo - Impression Sanjie Liu Lights Show by Zhang Yimou (outdoor)
Shanghai - Chinese Acrobats Show
Useful Information for Traveling in China
What's the difference of 3, 4, 5 star hotels
China Highlights usually arrange central location and western-standard hotels. Five-star hotel are usually palatial with huge lobbies and comfortable rooms, their standards not quite matching the best of Paris or New Year, but very close. Four-star hotels have adequate facility, but not as luxury as the five-star hotel. Three-star hotels meet the most needs of westerners, but breakfast have less choice.
We also recommend some courtyard hotel or typical Chinese hotel with local features and architecture. These hotels have good rank or positive feedback from our previous customers and Tripadvisor.
Usually the hotels in big city, small city and county are a bit different even though hotels have the same star level. We try to use the best valuable hotel in each place.

How about train conditions like in China?
A soft sleeper is recommended for overnight and long-distance travel. Each soft sleeper compartment is enclosed, and contains four bunks, with two on each side. The bunks are wider and more comfortable with decent beddings. Soft sleeper compartments may vary between trains. You may have both over-head storage and under-bed storage, or just under-bed storage.
For short distance train travel, G (Gaotie) and D (Dongche) series trains are recommended. They are both use CRH (China Railway High-Speed) railways. G trains are the fastest trains in China, with a speed reaching 250 km/h to 400 km/h, and the prices are the highest.
Money Exchange
As currency exchange rates in Asia fluctuate often we ask that you refer to the following website for daily exchange rates: www.xe.com As of March 2015 the exchange rate for HONG KONG was 1 USD = 7.90 HKD (Hong Kong Dollar) and CHINA was 1 USD = 6.15 CNY (Chinese Yuan RMB). There are many ATM machines that accept both Visa and Master card but these are limited to major cities. We also recommend the use of cash and travelers cheque in USD currency. Major credit cards are accepted in most shops but they may charge a 2-4% transaction fee.
Tipping
It is customary to tip service providers in travel industry in Asia, depending on the service. Tipping is expected - though not compulsory - and shows an expression of satisfaction with the people who have assisted you on your tour. Recommendations for tipping drivers (3USD per person per day as guideline) and local guides (8 USD per person per day as guideline) would depend on the quality and length of the service.
Food
Eating is an important part of your traveling in China. Generally breakfasts are included offered by hotels. China Highlights recommend local Chinese restaurants that popular among local people to have lunch. You can order dishes with the help of guide. We leave dinner for your own choice, you may miss western food.
If you are vegetarian or you are look for halal food, please feel free to inform your travel advisor who can arrange restaurant you need.
Vehicle
Comfortable sedan or van with air-condition are offered for you. The comfort and safety of our customers is of utmost importance so we ensure that all of the vehicles that we use are well maintained and always very clean. Our drivers take pride in their vehicles.
Free Quote