Itinerary
China Highlights guide will pick you up from the arrivals hall and take you in a private vehicle to your chosen hotel.
Stay connected: A Free SIM Card Wi-Fi Rental
Day 2:
Beijing: Tiananmen Square, Forbidden City and Hutong Tour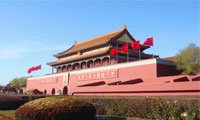 Tiananmen Square amazes with its vastness, and the Forbidden City continues the epic proportions through the halls and courtyards. There are some amazing exhibitions of clocks and daily objects of the Qing Dynasty emperors in the side courts. The Forbidden City is much too large to be explored fully in even a full day, although for the average tourist two to three hours covers the key areas. Discuss with your travel advisor which areas you would like to see, so we can customize your experience for you.
Authentic Beijing pulled noodles for lunch give you energy to continue to the charming Hutong area, a network of narrow alleys, for a rick shaw ride and a visit to a family who has lived here for generations.
Day 3:
Beijing: Mutianyu Great Wall and Temple of Heaven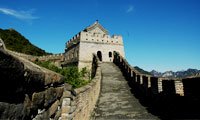 Mutianyu is not only much less crowded section of the Great Wall, compared to Badaling, but also has a highest density of watch towers. The undulating wall disappearing to the distance and towers visible on the mountaintops creates a lovely scene. A cable car takes you to the top, reserving your energy for enjoying the views.
The Temple of Heaven is a stunning complex of circular buildings, dedicated in ancient times for the annual sacrifices to appease the heavens. The surrounding verdant park is often packed with people practicing taichi, ball room dancing or other Chinese games and past times.
In the evening we have booked a table for you to enjoy some mouthwatering Beijing Roast Duck. We have selected one of the most famous places, Quanjuede Restaurant near the Temple of Heaven.
Day 4:
Beijing: Summer Palace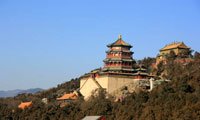 The morning is dedicated to the delightful Summer Palace, much less grandiose but still impressive due to the stunning view across a lake towards the pavilions. Just wandering through the willow trees is a pleasure.
After lunch in a north western style restaurant your guide and a driver will take you to the airport to board the flight to Shanghai.
Day 5:
Shanghai: Yuyuan Garden, Oriental Pearl and the Bund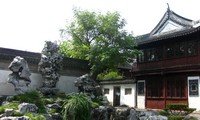 Yuyuan Garden is a must see Ming Dynasty complex, designed in traditional Chinese style. The lively Yuyuan Market surrounds it, full of all kinds of handicrafts and souvenirs.
You are invited for lunch at the famous Home's Restaurant near Nanjing Road which uses only the best ingredients to create Shanghai cuisine.
Oriental Pearl TV Tower is a sparkling landmark on the east bank of Huangpu River. The Skydeck on the second level is an all-glass observation platform; a breathtaking experience.
The day is yours to explore or shop if your flight leaves later in the day. Your guide and driver will meet you to take you to the airport at an appointed time to make sure your vacation ends as relaxingly as it started.
Just let us know your travel style!
Guide vs. Free-time ratio / Hotel Style & Interests / Dates / People
We will then adapt this tour and create a unique quote based on your individual needs.

Free Quote