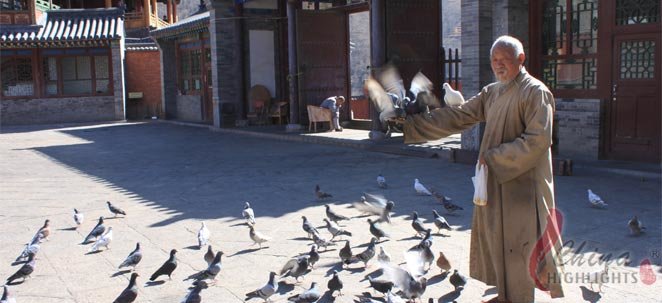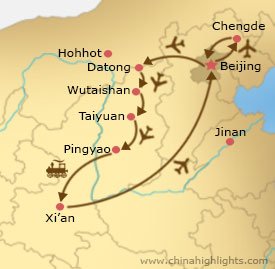 Itinerary
Day 2:
Beijing: Tiananmen Square, Forbidden City, Treasure Houses, Hutong Tour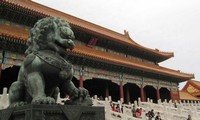 Tiananmen Square is named after the gate leading to the Forbidden City (WHS), and reveals that the two famous places were once part of the same complex. The ancient palace exudes grandeur even after more than a century since it was last home of an emperor. In the Treasure Houses you can admire the opulent personal belongings of the Qing Dynasty.
The Hutong Tour reveals a different side of Beijing where ordinary people lived and still occupy their ancestral homes. You will have a chance to visit a local family and chat about life in the traditional courtyard houses.
Day 3:
Beijing: Temple of Heaven, Summer Palace, Lama Temple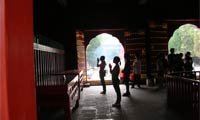 Temple of Heaven (WHS) is a complex of sacrificial buildings, interconnected by marble walk ways and steeped in symbolism. The surrounding park is a maze of ancient pine trees, frequently full of locals doing their exercises.
The Summer Palace (WHS) on the other hand was a place of relaxation, and is one of the most beautiful places in Beijing: the tranquil lake surrounded by winding paths leads to pavilions and the palatial buildings on the hillside.
Lama Temple is the most famous Tibetan Buddhist center outside Tibet. The courtyards leading to more courtyards give many opportunities to observe devotees in their practices.
Day 4:
Jinshanling Great Wall, Drive to Chengde, Chengde Summer Palace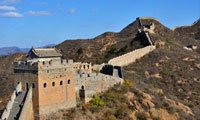 The Jinshanling Great Wall is a less touched area of the wall, with breathtaking scenery of the Wall and watchtowers surrounded by forest. From there the drive goes on to Chengde Summer Palace (WHS), the favorite retreat of the Qing Dynasty emperors. Parts were designed to be just like the Forbidden City, as it was the administrative center for several months of the year. It is a stunning place, the gardens and buildings creating a pleasing whole.
Day 5:
Chengde: Putuozongcheng Temple, Pule Temple, Puning Temple, Drive back to Beijing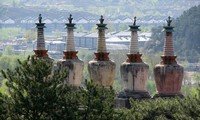 The ancient buildings in Chengde tell a story of political changes and strategies. Putuozongcheng Temple is very similar in design to the Potala Palace in Lhasa, and built by the emperor overlooking the Summer Palace to show respect to the minorities and their beliefs.
Pule Temple on the other hand was built for the benefit of the visiting Mongolian dignitaries, and combines the styles of Mongolian, Tibetan and Chinese traditions, and Puning Temple combines Tibetan and Han style buildings to commemorate a victory over Mongolian rebellion.
In the afternoon your driver takes you back to Beijing.
Day 6:
Flight to Datong, Yungang Grottoes, Nine-Dragon Screen Wall, Huayan Temple, Shanhua Monastery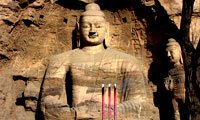 An early morning flight gives you the maximum time to enjoy the wonderful sights in the area. It took forty years to complete the Yungang Grottoes (WHS) with tens of thousands of Buddhist statues and murals, considered to be masterpieces. The visit includes two presentations of the Buddhist practices in ancient times.
Datong Nine-Dragon Screen Wall was made of vividly colored glazed tiles over 600 hundred years ago and still retains its luster. The Huayan Temple is even older, over a thousand years old and a museum of Liao Dynasty frescoes and statues. Shanhua Monastery is equally ancient, and has beautifully carved screen walls.
Day 7:
Datong: Hanging Monastery, Yingxian Wooden Pagoda , Drive to Wutaishan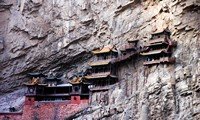 The Hanging Monastery (WHS) is built into a very steep rock face and is unique in China due to combining Buddhism, Taoism and Confucianism. Yingxian Wooden Pagoda has withstood ravages of time and earthquakes for over millennia.
A drive to Wutaishan is through some marvelous scenery; sit back and enjoy.
Day 8:
Wutaishan: Wutai Mountain Scenic Area, Taihuai Temple Forest, Drive to Taiyuan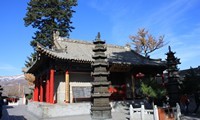 Mount Wutai (WHS) is not only a spectacular natural wonder, but due to being one of the five sacred mountains is a site of tens of temples. They were built over two millennia and record the development of religious architecture.
Day 9:
Drive to Pingyao, Pingyao Ancient Town, Wang Family Courtyard, Shuanglin Temple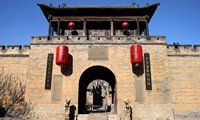 Pingyao Ancient Town (WHS) is an exceptionally well-preserved Ming Dynasty town, protected by an intact ancient wall. It is a wonderful place to wonder by yourself, watching the red lanterns sway in the breeze and capturing a feeling of ancient China through your lens.
Wang Family Courtyard nearby was built by a wealthy merchant family during the Qing Dynasty to house the whole extended family group; there was even a school within the compound. It is very well preserved as the villagers looked after the place after the Wang family had been forced to forfeit their home once Qing emperors fell.
Shuanglin Temple has been called an art gallery of painted sculptures, created over centuries; the temple itself is 1,500 years old.
Day 10:
Pingyao: Rishengchang Draft Bank, The Mingqing Street, Armed Escort Company Museum, Ancient City Wall, Overnight Trainto Xi'an
Pingyao was known as the center of banking in the late Qing Dynasty. The Rishengchang Draft Bank, founded in 1823, was the first to start issuing drafts countrywide. The building now has a fascinating museum explaining the intricacies of banking in ancient China. Armed Escort Company Museum tells of a service that made possible safe transfers of money and precious goods even in unstable times; there are also stories of some famous styles of martial arts.
The Mingqing Street was the center of the old town, and is still a bustling center lined with Ming and Qing Dynasty houses. The Ancient City Wall has a foundation from 3,000 years ago, and was last "renovated" in early Ming Dynasty.
In the evening your guide will take you to the overnight train to Xi'an and get you settled into the correct compartment before saying goodbye.
Day 11:
Xi'an: Ancient City Wall, Shaanxi History Museum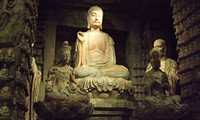 After an early arrival in Xi'an, your guide will have a light day of sightseeing prepared for you. Ancient City Wall is a charming way to get an overview of the old part of town it encircles; the sizeable wall is easily big enough for comfortable rickshaw ride or a bicycle ride, if you feel energetic.
Shaanxi History Museum tells the story of this ancient capital and the surrounding "cradle of culture" areas through magnificent displays of artifacts, explained to you by your guide.
Day 12:
Xi'an: Terracotta Army, Big Wild Goose Pagoda
The Terracotta Warriors and Horses (WHS) fascinate as the final project of the first emperor to unite China and due to the incredible detail in the statues. There are still finds made each year, as the earth reveals its treasures.
Big Wild Goose Pagoda is a landmark in Xi'an, and houses some superb Buddhist statues.
Day 13:
Flight to Beijing
Your guide will take you to the airport for your flight back to Beijing.
Just let us know your travel style!
Guide vs. Free-time ratio / Hotel Style & Interests / Dates / People
We will then adapt this tour and create a unique quote based on your individual needs.

Free Quote