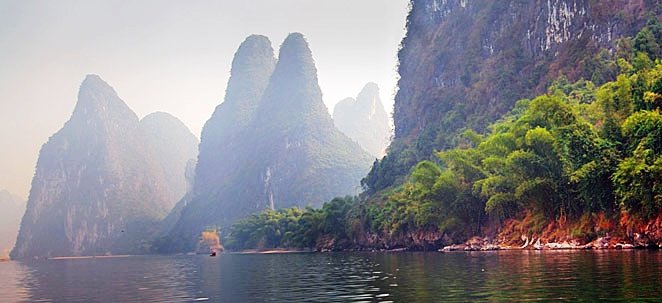 Itinerary
Day 1:
Arrive in Guilin, Flight not included
Airport Transfer (Guilin)
Day 2:
The Reed Flute Cave, Elephant Trunk Hill, and Lecture on Chinese Medicine and Qigong Tour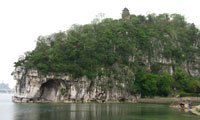 - Reed Flute Cave (1 hour): Located 5 kilometers northwest of Guilin city, the Reed Flute Cave gets the name from the reeds used for making flutes and pipes that grow at its entrance. The cave is regarded as the largest and most impressive cave in Guilin. It is 240 meters long, and the length of the tour is about 550 meters offering a magic land of stalactites, stalagmites, stone pillars, stone curtains, birds, plants and animals in fantastic shapes and colors. The visit lasts for 40 minutes and there are a lot of steps. Watch your step as the lights are dim. You guide will show you by electric torch.
- Elephant Trunk Hill (40 minutes): Elephant Trunk Hill is located at the junction of Li River and Peach Blossom River. It is the symbol of Guilin with 55 meters high and got its name because its shape resembles an elephant with its trunk drinking from the Li River. The hill is pierced with many caves and topped with a small pagoda.
- Lecture on Traditional Chinese Medicine and Qigong (3 hours): TCM is used by a large number of world's population. Unlike Western medicine, TCM treats and evaluates each person as an individual and the body as whole.
Qigong (Ch'i Kong) is an internal martial art in which one learns to sense the Qi moving in ones own body. Advanced practitioners are able to move the Qi in their body at will. Basically, Qigong is a quiet meditative activity with profound physical, mental and spiritual side effects.
Qigong is a great form of exercise, especially for those with osteoarthritis. It can help you build your leg muscles, strengthen your posture, and improve your balance, flexibility, and mobility. It also can teach you to relax and focus, even while executing the moves, and is a way to harmonize the musculoskeletal and nervous systems. In addition, it helps to develop concentration and coordination, and can reduce the risk of falls common with the elderly.
Our Lecturer Mr.Luo is a teacher at the Guilin Medical College. He suffered Epilepsy and Myasthenia gravis 20 years ago so he started to study TCM and Qigong , he recovered.
Day 3:
The Li River Cruise Tour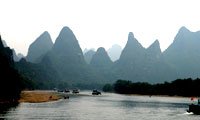 - Li River Cruise from Guilin to Yangshuo. (4 hours): A cruise along the Li River between Guilin and Yangshuo is an unforgettable experience. As you take in the stunning scenery, there's something interesting to see at almost every bend in the river. Between spectacular limestone peaks you'll see graceful bamboo groves, farmers tending rice paddies, and lumbering water buffaloes pulling carts or cooling off in the river. You may see fishermen gliding along on their narrow bamboo rafts, and if you're very lucky you might see one of the famous fishing cormorants. Boats depart from various wharves, according to the height of the river at different times of the year.The Li river cruise is by a medium size boat which can accommodate about 140 passengers.
Day 4:
The Purple Bamboo Forest Nunnery Tour
One Day Tour to Purple Bamboo Forest Nunnery: Purple Bamboo Forest Nunnery (Zizhu An) is about 30 mins' drive from Yangshuo town: The nunnery was built in 1894 and still houses 14 nuns. They lead a very simple and self sufficient lifestyle. They grow their own rice and vegetables. Today, you'll learn Buddhism meditation techniques, drink tea, practice Qigong and you'll work in the vegetable field with the nuns. You'll have a vegetarian lunch with nuns. Return to Yangshuo in the late afternoon. All the above activities will be under the instruction of Mr Luo.
Day 5:
The Buddhism TEM Clinique Tour
One Day Visit to Buddhism TCM Clinique: Under the instruction of Mr Luo, you'll see how TCM doctor treat patients using acupuncture, Fire Treatment , cupping and moxibustion. You will have the chance to use those methods to treat a patient. You'll have a vegetarian lunch with nuns. Return to Yangshuo in the late afternoon.
Day 6:
Yangshuo to Guilin to Departure City, Flight not included
Our guide and driver will escort you from Yangshuo to Guilin, Airport Transfer (Guilin)