Itinerary
Day 1:
Arrive in Shanghai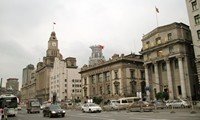 Your private guide will be waiting for you in arrivals and will escort you to your hotel in a comfortable private vehicle, which is driven by an experienced driver. Your guide will help you check in. The rest of the day is yours for acclimatization or discovering this China's largest city on your own. We take the stress out of travel, so you can enjoy China more.
GOOD TO KNOW
Evening ideas: Your guide will be with you between 9am and 5pm during a typical day. The evenings are yours for exploration or relaxation. You can ask for ideas and recommendations from your guide (an expert on Shanghai). Or see Discover More for ideas.
Free-Time Ideas
Massage and Spa: Taipan Spa is popular with expats. See our Shanghai massage guide.

Street snack discovery: Discover the common food and snacks for Shanghai people in Shanghai's most popular snack street.
Day 2:
Shanghai Discovery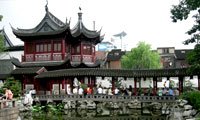 You will have your Western breakfast at your hotel. Your personal driver, and guide will be waiting in the lobby after breakfast, prepared with drinks and map, ready to maximize your time. Today is packed:
Walk on the Bund to discover the classic landmark of Shanghai.
Yu Yuan: A place of traditional Chinese garden and architectural features.
The Temple of the City God: The area around the temple used to be a venue for Shanghai people celebrating festivals, and now it is a 'heaven' of tasting Shanghai snacks.
Shanghai World Financial Center: A new landmark of Shanghai, where you can have a bird's eye view of Shanghai from the top floor of the building (474meters up).
Shanghai Museum: One of the best museums in Shanghai. This ancient-Chinese-pot-shaped building houses ancient Chinese bronzes, sculptures, ceramics, paintings, and calligraphies spanning 6,000 years. If you are into jade, calligraphy and pottery then you will find it there.
Lunch is at Home's Restaurant which specializes in Shanghai cuisine and your private guide will help you order.
GOOD TO KNOW
Shanghai Museum — Trip Advisor's 'Traveler's Choice of 2012' Rated 4.5/5.

If the traditional way of touring Shanghai does not attract you, why not try a cool Shanghai sidecar tour. You can contact us to have our travel advisor tailor-make this tour to satisfy you.
After your Western breakfast at your hotel, your private guide and driver will escort you to Shanghai Hongqiao Railway Station with prepared train tickets, and then you can experience the speed of a China's fastest train — taking a bullet train to Hangzhou. The journey takes about 50 minutes.
Lingyin Temple: Hangzhou's oldest temple was constructed about 1,600 years ago. It is a traditional temple, with Chinese architectural features, and Buddhist culture. Surrounded by graceful landscapes, including Peak Flown from Afar, you can opt to enjoy an exploration of the hill.
West Lake: You will visit this symbol and the soul of Hangzhou by boat. The 5.6 square kilometers (2.2 square miles) lake is surrounded by green hills and includes many scenic spots marked by bridges, islands, and ancient buildings.
GOOD TO KNOW
An alternative for people have no interest in temples: Biking around West Lake and experiencing local life in the morning. The cycling route around West Lake is a relaxing route with picturesque scenery.

You will have your lunch at a traditional Chinese restaurant (Zhangshengji Restaurant, 张生记) offering typical Hangzhou-style dishes.
Day 4:
Wuzhen Ancient Water Town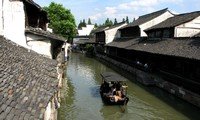 Ancient water towns are another symbol of Hangzhou. Today you will discover one of the most famous ancient water towns in China — Wuzhen Water Town, an elegant town like a traditional Chinese painting.
Before your cruise down the canals of the town, you will walk on the narrow lanes flanked by wooden buildings or the river banks. Many buildings were built in the Ming and the Qing dynasties (1368-1911) well-kept with decorative patterns on the wooden windows and doors, and stone carvings. The canals (including the record-breaking Hangzhou-Beijing Grand Canal) used to be an important mean of transportation, and many vendors traded with the residents on their boats.
Cruising down the canals of the town on a wooden boat, you can enjoy the elegant watery views of the town and see the local traditions and customs.
In two hours you will arrive at your Shanghai hotel, escorted by your Hangzhou guide and driver.
Your driver and guide will meet you at your hotel and take you to the airport. Your guide will assist you with your luggage and check in to ensure that you will have a stress-free departure. We trust that you have enjoyed your time in China and we look forward to serving you again. Have a pleasant flight home.