Itinerary
Day 1
The Lingyin Temple and Six Harmonies Pagoda Tour
You will take train G7411 from Shanghai to Hangzhou. In the morning, the train will depart at 09:17 and will arrive at Hangzhou at 10:16.
Visiting the Lingyin Temple with a history of more than 1,700 year, you will feel the peace giving by Buddhism, appreciate the well-designed ancient architectures, see the precious historical relics, and have a breath of the fresh air, in the peaceful temple surrounded by verdant trees.
The Six Harmonies Pagoda is built in the early of the North Song Dynasty (960 — 1127). Highly erected by the Qiantang River and to the south of the West Lake, the 60-meter-high pagoda is a masterpiece of architectures built by bricks and woods in ancient China. Appreciate the well-designed pagoda and the exquisite carvings on the bricks and take a bird's eye view of the Qiantang River.
Lunch is at a traditional Chinese restaurant serving Hangzhou style dishes.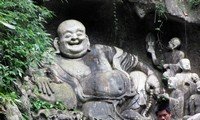 Today you will discover West Lake and return to Shanghai by a bullet train.
West Lake is the symbolization of Hangzhou covering an area of 5.6 square kilometers (2.2 square miles). You will visit the Fairy Island to see one of the Ten Best Views of West Lake — Three Pools Mirroring the Moon, which was printed on the back of one-yuan banknote. Walking on the tree-lined paths and crossing the Chinese-styled arched bridges, together with the romantic Tale of the White Serpent unlocked by your guide, you will feel more about Hangzhou, a city with a history of more than 2,200 years.
After finishing your Hangzhou Discovery, you will be transferred to your station and take bullet train G7432 back to Shanghai. The journey takes about one hour from 17:29 to 18:28.