Itinerary
Day 1:
Arrive in Kathmandu, Flight not included; Group Tour: Airport Transfer (Kathmandu), Kathmandu Durbar Square
Kathmandu Durbar Square (2 hours): The Durbar Square lies in the heart of Kathmandu. Locally also called as Hanuman Dhoka Palace Square-an ancient seat of the Nepalese Royalty. The Duibar Square Complex consists of a huge Royal Square is imposing with tremendous variety of temples dedicated to different Hindu gods and goddess. Most of the buildings seen here date from 15th to 18th century. Some of the important monuments to be seen here are: Taleju temple-, Jagannath temple, Kal Bhairav, Kumari Ghar, Kasthamandap - built from the timber of a single tree.
Day 2:
Kathmandu Group Tour: Swyambhunath Stupa (Monkey Temple), Boudha Nath Stupa, Pashupatinath Temple, Patan City
Swyambhunath Stupa (Monkey Temple) (3 hours): Located about 3k.m. west of down town Kathmandu, Swoyambhu Nath Stupa is one of the most fascinating architectural jewels of the world. This great Stoup is said to have been built around 250 B.C. The Stupa of Swoyambhunath stands on a typically stylized lotus mandala base-a long time ago believed to have originated from a legendary lake of Kathmandu Valley.This holy site in fact is the massive stupa complex ever built in Nepal. When you reach the famous site of venerated Swayambhu Stupa, you will get magnificent view of Kathmandu Valley and the breathtaking panorama of the north eastern Himalayan range.
Boudha Nath Stupa (3 hours): Located on the trade routes between Tibet and Nepal and one of the oldest and the biggest Buddhist monuments ever built in Nepal, Boudhanath is an imposing structure standing some 36 meters tall. The Stupa stands on the massive three level mandala style Platforms surrounded by colourful private family houses. The basic feature of this great stupa is very much like that of Swoyambhunath stupa except for the final display. It is much bigger than Swoyambhu stupa and lies on the valley floor whereas the former stands on the hill top. This stupa is said to have been built in 5th century A. D.
Pashupatinath Temple (1 hour): Pasupatinath with an area of 281 hectares is considered one of the holiest shrines of all the Hindu temples. The temple has remained the presiding deity of ruling Nepalese Royalty. Located on the banks of the Bagmati river, this two tiered magnificent golden temple with four triple silver doorways is unique example of the Nepalese temple architecture. It is one of the largest Hindu temple complexes in South Asia with hundreds of Shiva lingams, shrines icons of various Hindu god and goddess insides. Non Hindus are not allowed to enter this temple.
Day 3:
Kathmandu to Lhasa, Flight No. TBA
Hotel to airport Transfer (Kathmandu), Airport Transfer (Lhasa)
Day 4:
Lhasa: Potala Palace, Jokhang Temple, Barkhor Street
Potala Palace (1 hour): Former winter home of the Dalai Lama, a vast, awe-inspiring maze of corridors and stairs leading through countless rooms of richly decorated statues, tombs, murals and antiques. You will climb past the White Palace into the Red Palace, where the file of pilgrims offering silk scarves, coins or yak butter to burn in the shrines combine to make this an unforgettable experience. Note: you need to be fit for climbing up the long stairways.
Jokhang Temple (2 hours): Smaller and more manageable than the Potala, this 4-storey, golden-roofed temple is at the heart of a rich and living Tibetan Buddhism. Many locals pray here regularly; the Temple is surrounded by Barkhor Street and thronged with pilgrims and visitors. Yak butter lamps burn in front of rich statuary that includes the Sakyamuni Buddha brought to Tibet by Princess Wen Cheng in the 7th Century.
Barkhor Street (2 hours): Built about 1,300 years ago, The Barkhor (pilgrims' circuit) is found in the heart of Lhasa encircling the Jokhang Temple. In the past, it was a designated circumambulation circuit, "a saint's road" in the eyes of Tibetans. Many people call the Barkhor "the window of Tibet" as it exhibits typical Tibetan life. Watch the pilgrims, wearing their local dress from many different parts of Tibet, as they circle clockwise around Jokhang Temple with prayer wheels, or prostrate them near the front gate. Join the locals and visitors to shop for local goods at the colourful stalls, or relax in a coffee shop or tea house to enjoy the passing parade.
Day 5:
Lhasa to Shigatse: Yomdrok Lake, Tashilunpo Monastery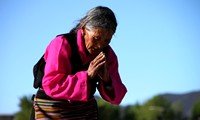 Yomdrok Lake (2 hours): Dotted with a dozen islands and abundant in natural resources, Lake Yamdrok has the highest power station in the world, and is also the largest habitat for water birds in Tibet, attracting countless swans and gulls every summer.
Tashilunpo Monastery (2 hours): Tashilhunpo Monastery was founded in 1447 by Gyalwa Gendun Drup (1st Dalai Lama) and is a historically and culturally important monastery. Its name means "heap of glory" or "all fortune and happiness gathered here". Painted in red and white, the buildings in the kloster stand closely together in terraced rows, offering a grand and majestic view. Tashilunpo Kloster represents the Tibetan super architecture art in the Last Tibetan spirit.5 story temple which contains a 26 meters (86ft) sitting statue of the Maitreya Buddha (Jamba Chyenmu) inside the grounds of the monastery. The statue was cast from 6,700 ounces of gold and over 115,000 kg of copper, making it the biggest copper Buddhist statue in the world.
Day 6:
Shigatse to Lhasa: The Palgor Chorten
The Palgor Chorten (1.5 hours): Pelkhor Choede (Kumbum), also named Palcho Monastery, is very different from other monasteries. Built as a Tibetan monastery, its structural style is very unique, reputed as the lord of Tibetan stupas. In addition, it is famous for the architecture, sculpture, and mural painting art. It lies about 270 kilometers (168 miles) south of Lhasa and 100 (62 miles) east of Shigatse at the foot of Dzong Hill.
Day 7:
Lhasa: Yangpachen, Lake Namtso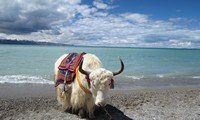 Yangpachen : It is famous for its hot spring and is a nice choice for those who want to get a close look at the Tibetan herders (drokpa) and their semi-nomadic lifestyle. Covering an area of about 150,000 square meters, Yambajan, 87 kilometers away from Lhasa, is situated in the basin at the foot of Nyainqentanglha Mountains to the northwest of Lhasa.
Lake Namtso: Lake Namtso is the second largest saltwater lake in China. The lake is beautiful with its azure water and surrounding snow capped peaks. There is a gravel road from Damxung to the lake. In the rainy season, the route can be quite difficult.
Day 8:
Depart Lhasa, Flight not included
Hotel to airport Transfer (Lhasa)