Itinerary
Your private guide will be expecting you outside the luggage claim hall upon your arrival and then transfer you to your hotel with a professionally-chauffeured vehicle. You will check-in to the hotel with the assistance of your guide. The rest of the day is for your acclimatization.
Day 2:
The Zhongshan Iron Bridge, the White Pagoda Hill, and Gansu Museum Tour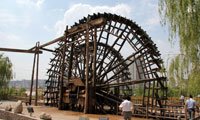 Today you will discover four attractions in Lazhou urban area.
Walking on the Zhongshan Iron Bridge unfold the history of the construction of the bridge. Designed by architects from the USA and Germany, the bridge is built in 1907 and renowned as the "first bridge on the Yellow River". All the building materials of the bridge were imported from Germany.
The Baita Hill is a park near Zhongshan Iron Bridge. The park got its name from the White Pagoda Temple on the top of the hill. This temple was built in the Yuan Dynasty (1271—1368). During hundreds of years, the White Pagoda had been attacked by several strong earthquakes, but it is still in perfect condition. Go and discover the mystery.
Strolling around the Waterwheel Garden to discover the ancient wooden irrigation tools and methods used to lift precious water from the Yellow River to supply the needs in this dry region.
Visiting Gansu Museum will allow you to unfold the long history of Gansu Province including Lanzhou with over 75,000 cultural relics. This rich historical relics count on fossils, color-painted pottery, bamboo medication slips, wooden sculptures, paintings, and silk products.
Day 3:
The Thousand Buddha Caves and Bingling Temple Tour
Today you will spend a whole day discovering a classical temple with a history of over 1,600 years — the Bingling Temple.
The Thousand Buddha Caves is a highlight of the temple. These construction of these caves continued 15 centuries from the 3rd century to the 18th century. Different from the murals in Mogao Grottoes, the clay sculptures in Maijishan Grottoes, the Thousand Buddha Caves in Bingling Temple is renowned for its great number of stone carvings on the cliffs.
Climbing up to appreciate the vivid stone carvings in the caves, you can feel the tough project of craftsmen's being hung to carve the stones in ancient times. You guide will unfold the erstwhile zigzagging destiny of the temple and the caves due to believe conflict.
As your vacation in China has come to the end, your driver and guide will meet you at your hotel and take you to the airport. Your guide will accompany you to get to the correct check-in desk. We wish you a nice trip home and hope to serve you again.