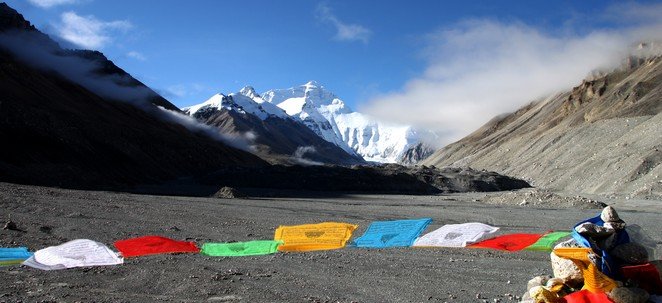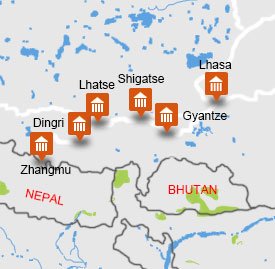 Itinerary
The guide will meet you after your arrival at the airport. Then you will reach the hotel and check in.
Day 2:
Lhasa – the Potala Palace, Jokhang Temple, Barkhor Street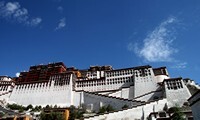 As the most magnificent ancient building and monastery in Tibet, the Potala Palace is a must-visit place. Step up a vast, awe-inspiring maze of corridors and stairs leading through countless rooms of richly decorated statues, tombs, murals and antiques. Everything in the Potala Palace is elegant and well-preserved. It is a world heritage sites.
Jorkhang Temple is at the heart of a rich and living Tibetan Buddhism. This four-story golden roofed temple is located in the city center of Lhasa. The building style of the temple combines Tang Dynasty and Tibetan features.
Situated beside Jorkhang Temple, Barkhor Street is considered "the window of Tibet". Strolling in this street, you can see the typical lifestyle of Tibetan people. Watch the pilgrims, wearing their local dress from many different parts of Tibet, as they circle clockwise around Jokhang Temple with prayer wheels, or prostrate them near the front gate.
Day 3:
Lhasa – Sera Monastery, Norbulingka, Drepung Monastery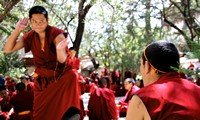 Sera' means wild roses and was called this because the monastery was surrounded by wild roses. One of the three main monasteries of Lhasa, it is here that the monks "famous daily debates" take place. You can see the debate about Buddhist doctrines among the monks at Sera Monastery at 3 pm every day.
Norbulingka is the summer resort and royal garden for the Dalai Lama. The whole building looks elegant and graceful, with typical Tibetan pavilions and decorations.
Drepung Monastery clusters round by the black mountain, its white grand buildings shining under the sunlight. You will see the grand ceremonies and activities during Shoton Festival held in Drepung Monastery in early August.
Day 4:
Gyangtze - Palgor Chorten, Yomdrok Lake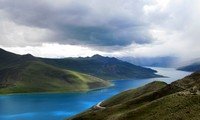 Pelkhor Choede is quite different from other monasteries in Tibet. It is reputed as 'the lord of Tibetan stupas', due to its unique structure and building style. The paintings, sculptures are elegant.
Interspersed with dozens of small islands, Yomdrok Lake makes a charming place to explore.
Day 5:
Shigatse –Sakya Monastery
Sakya Monastery is the first Sakyapa sect of Tibetan Buddhism created by its initiator Khon Konchog Gyalpo in 1073. The monastery has a colossal collection of highly valuable art pieces, including abundance handwriting sutra copied by all the Tibetan calligraphists. Sakya's collection of treasures also contains 3,000 pieces of sutras that have thousands of years of history.
Lhatse is the best town in Shigatse, locate on the upstream of the Yarlung Zangbo River. It is a good place to explore rural China, offering great photography views of the highland barley fields.
Today, our guide and driver will escort you from Sakya to Saga. After arrival, you can arrange the rest of the day on your own.
Day 7:
Payang - Mapam Yumco Lake
Mapam Yumco Lake lies 20 km southeast of Mt Kailash and is north to Namnani Peak. It is the highest freshwater lake in the world. With an altitude of 4,588 meters, the lake covers an area of 412 sq. km and has a maximum depth of 70 meters. In Payang, you can see a little face of the magnificent Maquan Lake located on the upstream of the Yarlung Zangbo River.
Day 8:
Darchen - Mt.Kailash, Lhanag-tso-the Ghost Lake
Mt.Kailash is considered the sacred mountain and the center of the world by four religions. With a height of 6638 meters above sea level, it is snow capped all year round, looking magnificent and unconquerable.
Lake Lhanag Tso, also known as Ghost Lake, is a huge, distant and lifeless lake. There are no plants around, but only blue sky and mountains. The scenery around the lake is still stunning. The lake looks like surrounded by a silver belt of pebble beach and red hills.
Day 9:
Tsada - Guge Kingdom
Guge Kingdom was founded in about the 10th century by a descendant of King Glang Darma and played an important role in the second renascence in Tibet. A lot of sculpture works and mural paintings were unearthed and many of them are preserved in good condition, although they are hundreds of years old. The ruins of Guge Kingdom are located on a mountain in Zhabran Village, which is 18 km west of the county town of Zhada.
Day 10:
Tsada - Tholing Monastery, Zanda County
Tholing Monastery is located in northwest to the county town of Zhada County. It is 300 meters from the rest house opened by the Department of the Armed Forces (Wuzhuangbu in Chinese).
Go straight toward south from Shiquenhe along the Rutog-Ngari highway, and after 255 kilometers you will arrive in Elephant Spring River Valley, where is the Zanda County.
Day 11:
Transfer to Dingri
You will have a long trip from Tsada to Dingri, passing through Darchen, Saga, and Lhatse. The scenery along the road is fabulous. Sit back and enjoy your tour.
Day 12:
Transfer to Dingri
Free day.
Day 13:
Transfer to Dingri
Free day.
Day 14:
Transfer to Dingri
Free day.
Day 15:
Dingri - Everest Base Camp, Rongbuk Monastery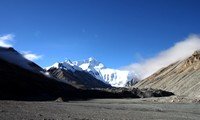 Rongbuk Monastery is the highest temple at an altitude of 5,100 meters (16728 feet). There are about 30 monks and nuns. Hermitage meditation caves dot the cliffs around the monastery, and many stones carved with prayers and sacred symbols line the paths leading up.
Mt. Everest is the highest peak on the Earth and probably the most coveted mountain in adventurous travelers' eyes. A journey to the Mt. Everest Base Camp is a both physical as well as psychological challenge to visitors, but it will definitely reward them with the most unparalleled views – a panorama of Himalayan peaks - and never-forgotten beautiful memories.
Then you will be transferred to Zhangmu and check in the hotel.
Today, the guide will get ready for your departure. The driver will send you to the airport on time. Goodbye, China Highlights is looking forward to your next China tour with us!