Itinerary
After arrival, you will meet with your tour guide at the airport and be transferred to the hotel. The guide will help you with your luggage and the check-in.
Day 2
Urumqi – Heavenly Lake, Erdaoqiao Bazaar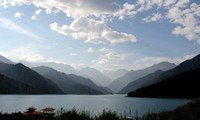 Heavenly Lake (Tian Chi) is a beautiful blue mountain lake. The blue lake water is finely contrasted with steep forested hills, high meadows and snowy Heavenly Mountain peaks behind. There you can walk, take electric carts, cable cars and enjoy a boat cruise out on the lake.
The Erdaoqiao Bazaar is the largest in Urumqi. You'll find a bustling market filled with fruit, clothing, crafts, knives, carpets and almost anything that you can imagine. On Sunday, there are more stalls and more goods to buy than any other day. The old streets around the bazaar are really worth seeing. Here is the most welcomed place by tourist especially by ladies where they can buy some traditional yugur makeup.
Day 3
Turpan - Xinjiang Uyghur Autonomous Region Museum
The Xinjiang Uyghur Autonomous Region Museum has collections of silver works of art, stone steles, currency, ceramics, wooden articles, and paintings. One of the highlights is the well-preserved collection of 4,000-year-old corpses, unearthed along the Silk Road. A modern-style building occupying 11,000 square meters, it is located on Xibei Road, 2 km north of People's (Renmin) Park.
Day 4
Turpan - Astana Tombs, Tuyoq Village and Tuyugou Canyon, Suleiman Minaret, Local vineyard visit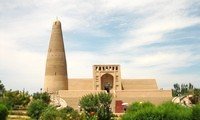 Also known as Sugong Tower, it is the biggest ancient tower existing in Xinjiang and the only ancient Islamic minaret in the country. It's close by, located a couple of kilometers southeast of Turpan's center.
At the Ancient Tombs of Astana, thousands of treasure historical relics had been unearthed, including a mummy, writings, inscriptions, paintings, earthen figurines, stone wares, pottery wares, wood wares, bronze wares, iron wares, gold wares, silver wares, cotton, silk, wool, ancient coins and so on. Therefore, the Ancient Tombs of Astana is called the "Gaochang's live history record and underground museum in the Turpan area." Although there are almost 500 tombs in this area only three tombs are open to tourists. One has two mummies and the other two have murals.
The Tuyugou Great Canyon is 46 kilometers away from Shanshan County in the east, 47 kilometers from Turpan city in the west and 13 kilometers from the Gaochang Ancient City in the southwest. Tuyoq is a traditional village of vineyards, orchards, narrow streets and irrigation channels tumbling between ancient mud brick houses and shady trees against the backdrop of the bare, red Flaming Mountains. An easy and pretty walk takes you to a group of very ancient caves carved into the mountainside. You can stop and enjoy the surroundings, or climb the steep stairways to view some of the caves, parts of their frescoes still visible, with both Buddhist and Nestorian connections.
Turpan is famous for growing grapes. The Grape Valley is very touristy so we'll arrange a visit to a local family run vineyard so that you get a real experience. They plant their grapes at the back of their house. It is a major source of income for local people. You will be able to walk around the farm and talk to local people to learn about their daily life.
Day 5
Urumqi and Transfer to Airport - the Karez Wells, the Ruins of the Ancient City of Jiaohe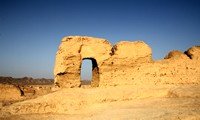 The Karez Wells connected by underground channels is considered to be one of the three great ancient projects in China. The Karez Wells Folk Garden and Museum is located adjacent to Turpan, 3 kilometers west of the city center. The famous fruit and vineyards of these hot, dry desert communities owe their existence to the Karez wells, ancient underground irrigation channels fed by wells that tap into the snowmelt from surrounding mountains. These systems are still maintained and functioning today. A small museum provides an insight into their intriguing history and construction, and takes you below ground for a first-hand view.
Jiaohe was built by the ancient Cheshi people in the Qin Dynasty (221–206 BC) and the Han Dynasty (206 BC–220 AD). Located in the Yarnaz Valley, 8 km (5 mi) west of Turpan, it was dug out of and constructed from the yellow-gray parched ground of a narrow 30-meter-high, 1.5-km-long vertical sided island in a river. It is a good vantage point for seeing the surrounding landscape of vineyards and orchards followed by desert and mountains.
You will take a flight from Urumqi to Kashgar.
Day 6
Kashgar - Lake Karakuli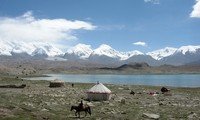 After arrival at Kashgar, you will be transferred to the hotel firstly. And then the rest of memories of Xinjiang tour continue.
Karakuli Lake is a sparking glacial lake located at the foot of "the Father of Glaciers" – Muztagata Mountains. A railway connecting China with Pakistan goes by the lake. The lake is famous for its beautiful scenery and clarity. Colors of its water range from light to dark under reflection.
Day 7
Urumqi- Kashgar Bazaar and Old Town, Id Kah Mosque, Zhiren Street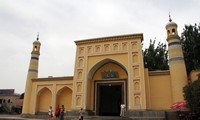 Today, you will take a flight from Kashgar to Urumqi. And then continue your tour in Urumqi.
Id Kah Mosque is one of the largest and busiest in China. At midday on Fridays around 10,000 people will gather to pray and study the Koran, and prayer 5 times a day on other days. You'll be asked to remove your shoes before entering the Main Hall, which has traditional Islamic pillars, carvings and rugs strewn over the floors. Women are advised to cover upper arms and legs, a scarf is not compulsory, but is seen as a mark of respect. This is a must visit place for tourist in Kashgar
Famous throughout Asia, this ancient market attracts locals and merchants from all over Xinjiang and nearby countries such as Pakistan and Kirghizstan. There are numerous commodities, like dried fruit and delicacies, clothes, shoes, leather, textiles, rugs and carpets as well as scarves, souvenirs and other goods in an eclectic mix that appeals to traveler and native alike. Open all week, Sunday's the big day when the farmers come to town, and those who still prefer to shop at the market rather than city shops. This bazaar is popular, especially the Sunday Bazaar, and proves a very interesting place so many foreigners', becoming almost the main purpose of a visit to Kashgar.
Zhiren Street is close to Id Kah Mosque, an old street with an amazing range of goods being crafted for sale by hand, from strictly utilitarian cookware to exotic musical instruments. There's not much light industry in Kashgar, so everything is hand-made or imported from afar. Copper, metal, porcelain, woodwork, jewelry and other goods are seen to be made and you will marvel at incredible devices, such as a small wooden object that prevent babies from wetting the bed.
As you have come to the end of your vacation, your driver and guide will meet you at your hotel and take you to the airport/train station. They will assist you with your luggage and check in to ensure that you will have a stress-free departure. We trust that you have enjoyed your time in China and we look forward to serving you again. Have a pleasant flight home.