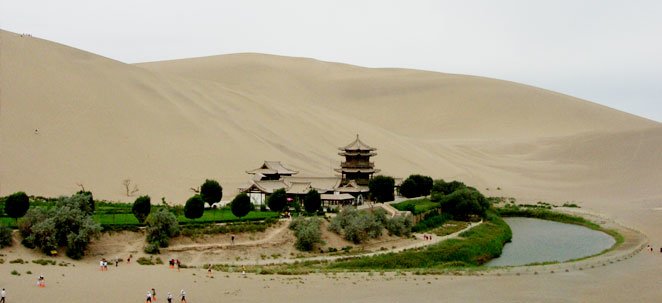 Itinerary
Day 1:
The Mogao Grottoes, Echoing Sand Mountain, and Camel Ride Tour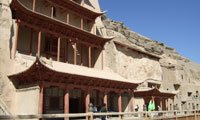 - Mogao caves (3.5 hours): Tours of Mogao caves are conducted by a guide (English, German, French and Japanese speaking guides are available) who you will share with other tourists. There are about 30 caves open to the public, but usually the tour consists of 10 which provide a representation of the total. The selection is at the discretion of the guide.
- Echoing Sand Mountain (1.5 hours): The lake and the Sounding Sand Dune which can make sounds when the wind passes are located in the place where the sand and the oasis meet.
- Riding on a Camel: Riding a camel on the desert of the Singing Sand Mountains is a great experience. You can enjoy the beautiful wavy shapes of the smooth yellow dunes against the deep blue sky, and imagine you are traveling the ancient Silk Road. Step off the camel and listen for the singing of the sand.
Day 2:
The Yumenguan Pass and the Great Wall of the Han Dynasty Tour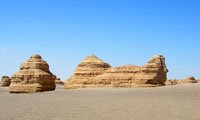 - Yumenguan Pass (30 minutes): Once as one of the west gates out of the country of the Han Dynasty (206 B. C. -220 A. D.), it is quite ruined by the shifting sands but still shows the ever splendor.
Yumeng Town: The site of China's first oil field
- The Great Wall of the Han Dynasty (30 minutes): Great wall of the Han dynasty was build for defending the nomadic Xiongnu during the Han Dynasty (206 BC--220 AD).
- Desert Discovery at Yadan Landform Park (2.5 hours): The Evil City:It locates the south to the Wubao town in Hami and 20kms far from Wubao while 100kms far from Hami city. The Evil city is famous for its night sound and vivid rocks in various shapes those look like animals or other world famous attractions in the world.
Free until be transferred to the airport for your flight back to Beijing.