Itinerary
Day 1:
Beijing to Zhangjiajie
A relaxing start to your trip begins in Beijing with a private transfer to the airport, and continues with a pickup in Zhangjiajie.
Day 2:
Zhangjiajie National Forest Park, Jinbian Brook Tour
Zhangjiajie National Forest Park is a part of Wulingyuan Scenic Area but often the names are used interchangeably. The park is vast, and offers stunning scenery comprised of lakes, forest, and the magnificent mountains which inspired the scenery in the animated movie Avatar.
A cable car ride takes you to a high trek near Huangshi Village to enjoy the spectacular views over the area, and following Jinbian Brook takes you through some amazing scenery in 2.5 hours.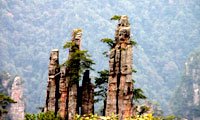 Tianzishan is part of the scenic area, and has the most stunning mountain formations, sometimes shrouded in mist. The cable car takes you up in comfort, and you can admire the peaks from above.
Tips; It usually takes 30 minutes to wait for the cable car.
Day 4:
Mengdong River Scenic Spot, Return to Beijing
Mengdong River flows through canyons and you have a chance to join a rafting experience before returning to Beijing.