Itinerary
Day 1:
Beijing to Zhangjiajie
Airport Transfer (Zhangjiajie)
Day 2:
The Zhangjiajie National Forest Park and the Jinbian Brook Tour
- Zhangjiajie National Forest Park : Zhangjiajie is a famous tourism destination in Hunan province. The scenic area often called Zhangjiajie actually refers to Wulingyuan Scenic Area, covering an area of 264 square kilometers with over 97% forest coverage, which comprises the Zhangjiajie National Forest Park, Tianzi Mountain, Huanglongdong (Yellow Dragon Cave), Baofenghu (Baofeng Lake) and the Suoxi Valley.
At Wulingyuan, you witness the incredible scenery at Baofeng Lake, Huanglong Cave, Shi Painted Corridors, Peculiar Stone Bridge and other natural attractions. Great experiences are offered on the cable ride at Huangshi Village, or a sightseeing lift at Shuirao Simen and Bailong (White Dragon).
Minority culture and folklores are represented in nearby villages and towns, inhabited by Tujia, Bai, Miao and Hui people, making worthwhile side trips.
- Huangshizhai Cable Car: It lies to the west of Zhangjiajie Forest Park with an altitude of 1200m and covers an area of 250mu. You can take a cable car to Huangshizhai where you will appreciate the daunting rock columns. From the top, travellers can enjoy spectacular views of the forest with rough landscape.
- Jinbian Brook (2.5 hours): Located in Zhangjiajie National Forest Park, it covers a distance of 7.5 km from north to south, winding across mountains and valleys. The brook is limpid through the year, with many scenic spots along the way. It is famous for Jinbian Cave-which has a height of 382km and looks like a huge flying eagle. Wear good walking shoes and protection from the weather.
Day 3:
The Moun Tianzishan Tour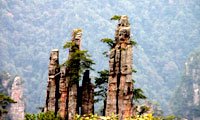 - Mt. Tianzishan Cable Car: It is known for 4 natural spectacles - the clouds of mist that circle the peaks of the mountain,the amazing views of the rising sun,the moonlit nights and snowcapped winter peaks.They include more than 80 natural platforms to take in the magnificent scenery.Take the cable to enjoy the views downhill and relax.
Tips; It usually takes 30 minutes to wait for the cable car.
Day 4:
The Mengdong River Scenic Spot and Zhangjiajie Departure
- Mengdong River Scenic Spot: Mengdong River Scenic Spot is within the confines of Yongshun County, Xiangxi Tujiazu Miaozu Autonomous Prefecture, Hunan. It is reputed as "the back garden"of Zhangjiajie.