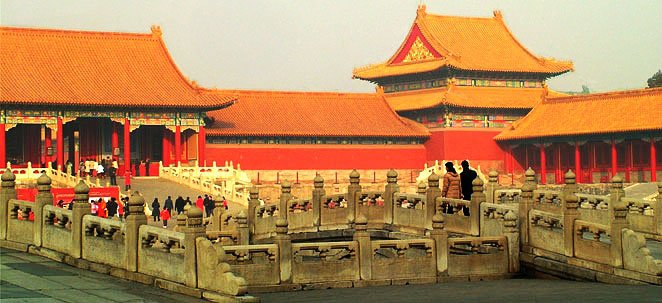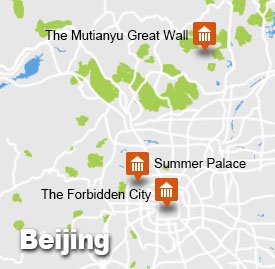 Itinerary
Your guide will meet you at the airport, ready to take you to the hotel and give you tips for places to explore independently if time allows, and advice on the best places to have dinner.
Day 2:
Forbidden City, Tiananmen Square, Hutong Tour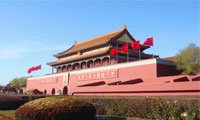 The Forbidden City is an enchanting place to visit, best appreciated in the mornings before all the other interested guests arrive. Your guide will show you the best parts in this sprawling palace, and makes sure you understand the rich symbolism and history in each beautiful carving and statue.
Tiananmen Square is surrounded by very imposing buildings making its vast size seem somehow appropriate. Chairman Mao's Mausoleum in the very center adds poignancy to this historic place.
The Hutong Tour in the charming alleyways takes you deeper, to visit a local family in their courtyard home. A rickshaw ride lets you see more in the same time, as well as enjoy the feeling of being transported back in time.
Day 3:
Great Wall at Mutianyu, Temple of Heaven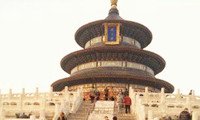 The Mutianyu Great Wall has it all: stunning scenery, the most watchtowers, cable car, and fewer tourists. Also the drive there is through countryside instead of a high speed road.
The Temple of Heaven was an important sacrificial center in Ming and Qing dynasty, and is still an amazing complex of circular buildings whispering of former glory. It resides in a vast parkland filled with ancient trees and insights into the local culture.
Day 4:
Jundushan Ski Resort & Jiuhua Hot Spring Resort Spa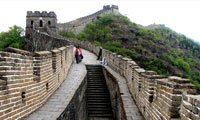 Your guide and driver will pick you up to take you to Jundushan Ski Resort, which has not only have trails for skiers but also cross-country paths for snowmobiles, ensuring half the day here is spent in a flurry of action.
Jiuhua Hot Spring Resort Spa is the next stop, to enjoy the hot spring pools rich in minerals, just the right thing to indulge in after a day of fresh air.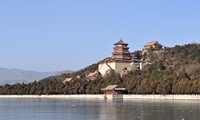 The Summer Palace was created to be a place to beauty and relaxation for the imperial family. Now everyone can enjoy the serene lake and the lovely gardens surrounding it. The Garden of Virtue and Harmony within the grounds is actually a three-storey theater with an intricately decorated wooden structure.