Itinerary
Day 1
Arrive in Beijing, Flight not included
Airport Transfer (Beijing)
Day 2
The Mutianyu Great Wall(with round way cable car), Temple of Heaven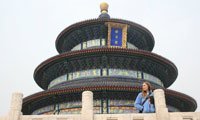 - The Mutianyu Great Wall(with round way cable car) (2 hours): This less-crowded section of the Great Wall is a about 2.5 hours' drive from downtown Beijing. A cable car takes you to a good section (avoiding a very steep climb), where you can walk along the wall, through the watch towers and enjoy superb views as it snakes across the hills and mountains. You can return by cable car, walk down or walk along the wall for about an hour to descend by chairlift. Wear good walking shoes and protection from the weather.
- Temple of Heaven (1.5 hours): Built in 1420 during the Ming Dynasty, Temple of Heaven is a complex of Taoist buildings where emperors of Ming and Qing dynasties visited for annual ceremonies of pray for good harvests. Located in the south of Central Beijing, it covers an area of 273 hectares. Temple of Heaven was enrolled as a World Heritage Site by UNESCO in 1998.
Day 3
Tiananmen Square, The Forbidden City, Hutong Tour in Xicheng District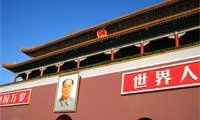 - Tiananmen Square (50 minutes): Tian'anmen Square is the largest city square in the centre of Beijing, named after the Tiananmen (literally, Gate of Heavenly Peace) which sits to its north, separating it from the Forbidden City. It has great cultural significance as it was the site of several key events in Chinese history. As the world's largest city square and enduring symbol of China's national pride, it is surrounded by many imposing buildings including the Heavenly Gate (entry to the Forbidden City), Museums, government buildings and Chairman Mao's Mausoleum.
- The Forbidden City (2.5 hours): The Forbidden City was home to 24 emperors between 1368 and 1911.This "city within a city" is a World Heritage Site, and is the largest and the best preserved ancient imperial architecture complex in the world, with great square, halls and gates contrast with intricate halls, gardens, courtyards and quarters. The exhibitions, both permanent and temporary, are all important treasures of ancient China.
- Hutong Tour in Xicheng District (1 hour): Hutong is a maze of historic alleyways with old single storey traditional courtyard houses, which are now fast disappearing. In this one hour tour, you can hop on a rickshaw to ride through the narrow alleys as well as visit a local family then walk on the Silver Ingot Bridge (Yinding Bridge) and find out about the different thresholds of the courtyards.
Day 4
Beijing Capital Museum, Lama Temple, Beijing Zoo, Guozijian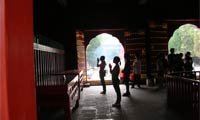 - Beijing Capital Museum (1.5 hours): It is the most advanced and modern comprehensive museum and the symbol construction of Beijing. Hundreds of exhibitions have been held here covering a wide variety of subjects, history, cultural relics, revolutionary history, folk customs, etc.
- Lama Temple (1 hour): The colourful Yonghe Lamasery is the largest and most famous Tibetan Buddhist temple outside Tibet. It's still very active, and the beautiful halls and courtyards are thronged with devotees come to worship or seek good luck. You can see the world's largest wooden statue (the Matreiya Buddha) and Tibetan exhibitions.
- Beijing Zoo (1 hour): Beijing Zoo was initially named Ten Thousand Animal Garden which was built in 1908, proving that it already has had a history of more than 90 years. Beijing Zoo mainly exhibits wild and rare animals growing in China, such as the Panda.
- Guozijian (30 minutes): The Guozijian - "School of the Sons of State" was also called the "Imperial Academy" and was the national central institute of learning after the Sui (581-618 AD). This school was the highest place of learning in China's traditional educational system and an integral part of the Confucian system of education for government officials. Originally founded as far back as 3 CE, when a standard nationwide school system was established during the reign of Emperor Ping of Han (9 BC – AD 6), it was called the Taixue. The central schools of Taixue were disbanded during the 1898 reform of the Qing Dynasty, the Guozijian was replaced by the Imperial Capital Academy which later became Peking University.
Day 5
798 Art District, Exterior visit of Beijing Olympic Stadiums(Bird's Nest and Water Cube), Summer Palace with boat Cruise and the Garden of Virtue and Harmony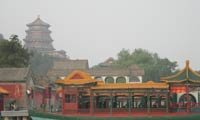 - 798 Art District (1.5 hours): Since 2002, the large number of artists' studios and contemporary art institutions began stationed here, and rented a scale of idle factories, and gradually developed into a gallery, the Arts Centre, artists'studios, design companies, fashion shops, bars and other catering space. The 798 Art District has promoted to the nation's largest and most influential international arts in recent years.
- Exterior visit of Beijing Olympic Stadiums(Bird's Nest and Water Cube) (1 hour): Located at the north end of the central axis of Beijing City, with a large area of 1215 hectares, it contains National museum, exhibition area, Olympic Village and Olympic competition avenues. Approximately 31 venues are used in Beijing Olympics, including National Stadium, the Bird's Nest and National Aquatics Center. You will explore the park, but it doesn't include going inside the Bird's Nest and Water Cube.
- Summer Palace with boat Cruise and the Garden of Virtue and Harmony (2 hours): The palace is about 12 kilometers northwest of the city center and is equally as famous as the Forbidden City, the Summer Palace is called 'Yiheyuan'(Garden of Nurtured Harmony) in Chinese. It is the best preserved and the largest imperial gardens in China and one of Beijing's premier attractions. It is also possible to cruise on the lake which takes 10 minutes by the ferry boat.
Day 6
Depart Beijing, Flight not included
Airport Transfer (Beijing)