Itinerary
Day 1:
Beijing to Overnight train, Train No. K89 (Beijing West Railway Station Railway Station) Dep 21:00 - Arr 07:20
Train station Transfer (Beijing)
Day 2:
Overnight train to Hohhot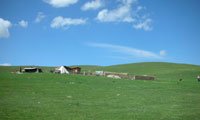 Train station Transfer (Hohhot), One Hour Horse Riding on the Plain, Xilamuren Grassland, Plain pasturing area
- One Hour Horse Riding on the Plain: The horse is lead for safety reasons on this 35-minute ride. You will have chance to taste hand-made cheese, milk tea and other local specialities when you visit a local herdsmen's family. Sunglasses, hat are recommended when you take this nomad-life experience.
Xilamuren Grassland: Xilamuren is 90 km from Hohhot. Over the years, Xilamuren Grassland is a favorite place to escape from the summer heat. With its abundance of wild flowers, Xilamuren looks like an expansive green blanket dotted with floral patterns. Sheep, horses, cattle and camels roam about alone or in herds, tended to by tribesmen in colorful native attires. Hospitable nomads often invite visitors to their yurts to share local spirits or taste their special yogurts.
Day 3:
Hohhot to Overnight train, Train No. K90 (Beijing West Railway Station Railway Station) Dep 21:10 - Arr 07:20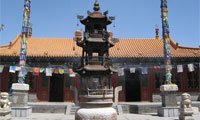 Dazhao Lamasery, Inner Mongolia Museum, Five Pagoda Temple, Hotel to Train station Transfer (Hohhot)
- Dazhao Lamasery (1.5 hours): Situated in Dazhao-qian Street, Yuquan District, Hohhot, the Dazhao Lamasery was built by Alatan Khan--chief of Tumd Mongolian Tribe in the 7th year of Wanli Age of the Ming Dynasty. It is the oldest and best known of all lamaseries of Geluk Tibetan Buddhism as well as the biggest and most complete wooden structure ever built in Hohhot which is still retaining its former grandeur today. The Lamasery boasts a large collection of religious and cultural relics, among which the silver statue of Buddha, dragon sculpture and frescos are the most cherished treasures.
- Inner Mongolia Museum (3 hours): The Inner Mongolia Museum is a regional-level museum focused on collecting artifacts relating to ethnic history especially the northern tribes called Xiongnu, Xianbei, Qidan, Mongolians and others. It holds 44,000 objects among which quite a few are rare treasures seldom seen in China. Besides this, the museum is renowned for its extensive collection of massive dinosaurs, mastodons, and many other kinds of fossilized remains from the Mesozoic period that have attracted global attention.
- Five Pagoda Temple (1.5 hours): Five-Pagoda was originally part of the Cideng Temple built in 1732. Over the years, the Temple had turned to ruins but the Pagoda remained. Built of stone and bricks, the structure is 13 meters high and has three parts: the base, the seat and the top. There are five small dagobas (Tibetan style pagodas) on the pedestal of the Pagoda. In the lower part of the seat there are exquisite inscriptions of Diamond Sutra written in Mongolian, Tibetan and Sanskrit. The upper part of the seat has a niche for a statue of Buddha and four Devarajas. More than 1500 relief sculptures of Buddhas are engraved on the five dagobas. The astronomical chart with Mongolian inscriptions on the northern wall is the only one of its kind in the world.
Day 4:
Overnight train to Beijing
Train station Transfer (Beijing)