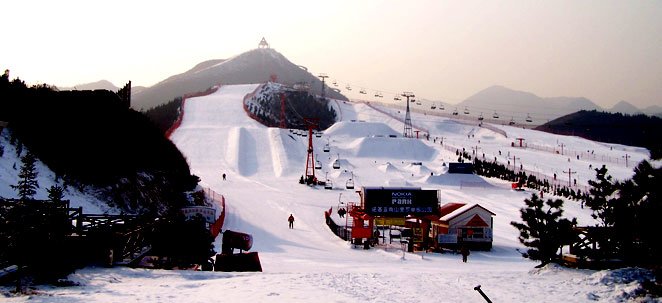 Itinerary
Day 1:
Arrive in Beijing, Flight not included
Airport Transfer (Beijing)
Day 2:
The Forbidden City, Tian'anmen Square, and the Hutongs Tour
- The Forbidden City (2.5 hours): The Forbidden City was home to 24 emperors between 1368 and 1911.This "city within a city" is a World Heritage Site, and is the largest and the best preserved ancient imperial architecture complex in the world, with great square, halls and gates contrast with intricate halls, gardens, courtyards and quarters. The exhibitions, both permanent and temporary, are all important treasures of ancient China.
- Tiananmen Square (50 minutes): Tian'anmen Square is the largest city square in the centre of Beijing, named after the Tiananmen (literally, Gate of Heavenly Peace) which sits to its north, separating it from the Forbidden City. It has great cultural significance as it was the site of several key events in Chinese history. As the world's largest city square and enduring symbol of China's national pride, it is surrounded by many imposing buildings including the Heavenly Gate (entry to the Forbidden City), Museums, government buildings and Chairman Mao's Mausoleum.
- Hutong Tour in Xicheng District (1 hour): Hutong is a maze of historic alleyways with old single storey traditional courtyard houses, which are now fast disappearing. In this one hour tour, you can hop on a rickshaw to ride through the narrow alleys as well as visit a local family then walk on the Silver Ingot Bridge (Yinding Bridge) and find out about the different thresholds of the courtyards.
Day 3:
The Great Wall at Mutianyu and the Temple of Heaven Tour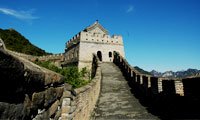 - The Mutianyu Great Wall(with round way cable car) (2 hours): This less-crowded section of the Great Wall is a about 2.5 hours' drive from downtown Beijing. A cable car takes you to a good section (avoiding a very steep climb), where you can walk along the wall, through the watch towers and enjoy superb views as it snakes across the hills and mountains. You can return by cable car, walk down or walk along the wall for about an hour to descend by chairlift. Wear good walking shoes and protection from the weather.
- Temple of Heaven (1.5 hours): Built in 1420 during the Ming Dynasty, Temple of Heaven is a complex of Taoist buildings where emperors of Ming and Qing dynasties visited for annual ceremonies of pray for good harvests. Located in the south of Central Beijing, it covers an area of 273 hectares. Temple of Heaven was enrolled as a World Heritage Site by UNESCO in 1998.
Day 4:
The Nanshan Ski Resort and Chunhuiyuan Hot Spring Resort Tour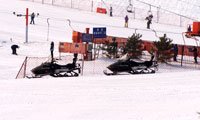 - Nanshan Ski Resort: Located in the south of Miyun County and covering an area of more than 4000mu,this skiing resort is the largest of its kind in Beijing with the most advanced and complete facilities. There are activities such as skiing, water skiing, grass skiing, sliding and gliding, an ideal place for sightseeing and relaxation.
- Skiing and Ski Gear Rental (Optional):
Today is a free day for you. Arrange your own time and have fun in the ski resort.
Skiing Fee and Ski Gear Rental Fee for reference:
2 hours ski:¥120(weekday)¥180(weekend)¥200(holidays)

3 hours ski:¥140(weekday)¥220(weekend)¥240(holidays)

4 hours ski:¥160(weekday)¥240(weekend)¥280(holidays)

Full day ski:¥240(weekday)¥360(weekend)¥390(holidays)
Ski Gear Rental:
Ski suit rental:¥30 per set/per time

Deposit of ski suit:¥200 per set

Locker: ¥10 per one

Deposit of locker:¥20 per one

Skis rental: ¥30 per person/per time

Snow cubing: ¥10(per person/per time)¥60(half hour/per one)¥100(one hour/per one)

Deposit of snow cubing: ¥100 per one

Sight-seeing lift: ¥20 per person/per way
Note:
The information of the skiing fee is for reference only. Please double check the up-to-date prices on arrival.

Weekdays are Monday to Thursday. Weekends are Friday to Sunday. Holidays are December 31 - January 3 and January 22 - January 30.

The skiing fee above includes a set of ski gear (skis, ski boots and ski poles) and sight-seeing lift fee.
- Chunhuiyuan Hot Spring Resort: Chunhuiyuan Hot Spring Resort is one of the two most famous hot springs near Beijing. The hot spring at Chunhuiyuan rises from 2,300 meters underground and the water temperature is 60°C permanently. The spring contains abundant chemical elements and minerals which are beneficial to skin health. There are countless indoor and outdoor hot spring pools of various sizes and temperatures. Try the outdoor lakeside hot spring, where views over an expanse of water are prettily lit by the buildings opposite.
Day 5:
The Chunhuiyuan Spa Tour
- Chunhuiyuan Spa & Resort Restaurant: Chunhuiyuan Spa & Resort Restaurant offers Sichuan cuisine, Hangzhou cuisine, as well as Beijing's native cuisine and Hot Pot. Japanese cuisine and other western cuisine are also available.
Day 6:
The Summer Palace Tour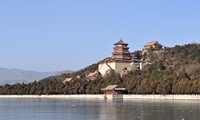 - Summer Palace with the Garden of Virtue and Harmony: The palace is about 12 kilometers northwest of the city center and is equally as famous as the Forbidden City, the Summer Palace is called 'Yiheyuan'(Garden of Nurtured Harmony) in Chinese. It is the best preserved and the largest imperial gardens in China and one of Beijing's premier attractions.
The Garden of Virtue and Harmony was built as a theater for the Empress Dowager. Its construction began in the 17th year of Emperor Guangxu's reign (1891) and lasted for five years. The three-storey theater stage is the biggest and best-preserved wooden stage of delicate design and magnificent structure, and is therefore of much scientific and artistic value. Famous opera singers of the day performed for the Empress Dowager at the theater, which was regarded as the"Cradle of Beijing Opera". The Empress Dowager granted special permission for some of the princes, dukes and cabinet ministers also to watch the Beijing opera at the theater.