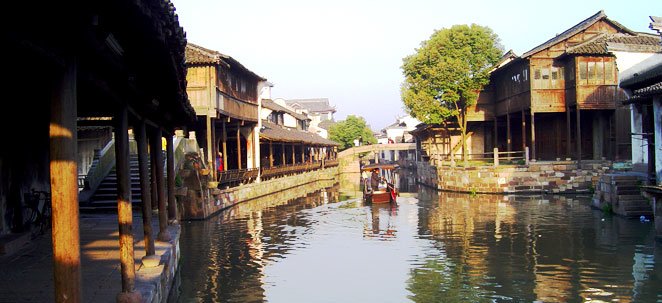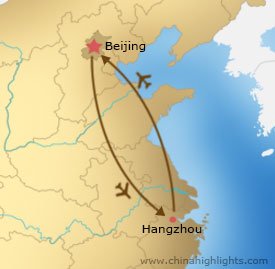 Itinerary
Day 1:
West Lake and Lingyin Temple Tour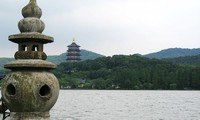 After arriving in Hangzhou on the high speed train from Beijing, you will get to see the West Lake with its tranquil waters and beautiful views of pagodas reflecting on the surface. The Fairy Island in the middle has lovely bridges and tree lined walkways leading to the most scenic areas.
Lingyin Temple has marvelous halls and a famous grotto, Feilai Feng, nearby to make it a well worth while visit. As one of the most important and wealthiest Buddhist temples in China, Lingyin Temple boasts plenty of pagodas and Buddhist grottoes; we take some time to explore and explain the meanings and customs.
Day 2:
Wuzhen Ancient Water Town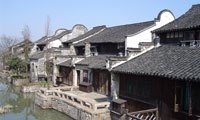 The Ancient Village Wuzhen has a special claim to being called a Water Town: the area is surrounded by two rivers as well as has the Grand Canal running through it. A wooden boat tour is a charming way to explore this 'Venice like little town' and its local traditions and customs.
Day 3:
Six Harmonies Pagoda, Hu Qingyu Hall Chinese Traditional Herbal Medicine Museum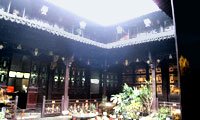 Today you will explore the ancient parts of Hangzhou. The thousand years old Six Harmonies Pagoda, also called the Liuhe Pagoda, on the north bank of the Qiantang River is the backdrop to the scenery of the West Lake, but also a graceful example of brick-and-wood structures built in ancient China.
Hu Qingyu Hall Chinese Traditional Herbal Medicine Museum is in an ancient herbal medicine shop, and gives a fascinating introduction to the origin, development, and application of traditional Chinese medicine.
Qinghefang Pedestrian Street still has the ancient slab-stone surface and the buildings are well preserved, traditional red lanterns swaying in the breeze on the shop fronts.
Your guide will escort you to the train station for your journey back to Beijing.