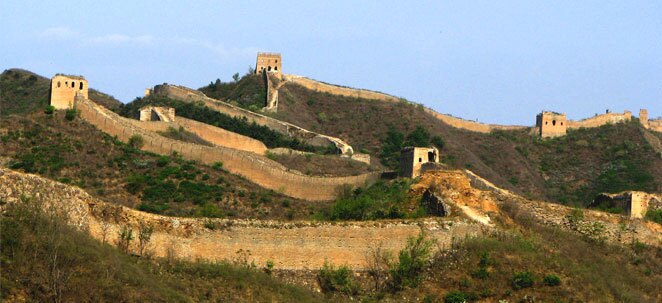 Itinerary
Day 1:
Treeking from Jinshanling to Gubeikou
Today you will trek about 8 kilometers on the rugged Great Wall from Jinshanling to Gubeikou. The trek takes about 5 hours.
In the morning your private guide will pick you up and drive you to the Great Wall at Jinshanling with a professionally-chauffeured vehicle. This drive takes about 2 hours.
When we arrive at the Great Wall at Jinshanling, a freshly-cooked lunch will be served at a family-styled restaurant near the Great Wall. After lunch and some relaxing time, you will start the trekking up the Jinshanling towards the Great Wall at Gubeikou. This section offers breathtaking views of the valley and the bleak yet picturesque Great Wall scenery. Set up our camp at the Great Wall. When the night falls, you will hear nothing but the night itself. This is going to be the most special experience in your China tour. Simple picnic dinner is available.
Good to Know
The Great Wall at Jinshanling is honored as a photography gallery. Get your camera ready to record the breathtaking scenery along the hike.

If you do not adapt to camping on field, you can choose the option of stay at a local family-styled hotel, a clean bed and breakfast style homestay. Tested and inspected by our staff.
Day 2:
Jiankou to Mutianyu Hike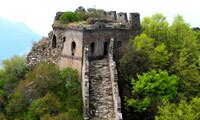 Get up early to view the magnificent sunrise at the watch tower, which is one more highlight for a Great Wall trekking. And then you will have a simple breakfast and get down the Great Wall. Transfer to the Great Wall at Jiankou, which takes about two hours.
You will trek about 5 hours from the most challenging Great Wall at Jiankou to the well-restored Great Wall at Mutianyu. The rugged Great Wall at Jiankou is so challenging that you will climb almost vertically. So watch your step! When you arrive in Mutianyu Section, not only does the hike now get easier but we have a surprise! Here, you will take a toboggan ride down to the meeting point of your private car and driver.
Good to Know
When going down the Great Wall at Mutianyu, there is another option — taking a cable car ride down.