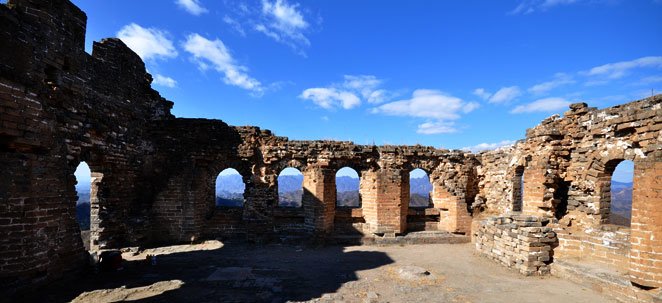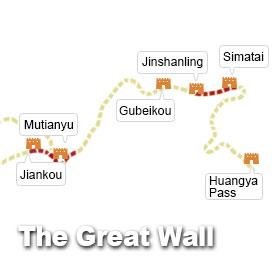 Itinerary
Your private guide will be waiting for you in arrivals. A comfortable professionally-chauffeured vehicle will transfer you to your hotel. The rest of the day is free for your acclimation and discovering Beijing of your own. Feel free to ask your guide for suggestions.
Day 2:
Jiankou (Most Photographed Section) to Mutianyu (Largest Restored Section): 5 hours, 10 km
You will experience the original Great Wall at Jiankou and the restored Great Wall at Mutianyu. Built along the rolling ridgeline, the hoary walls and the verdant vegetation set each other off, offering graceful scenery.
Your private guide and diver will pick you up at your hotel after breakfast and drive you to the foot of Jiankou. It takes about 2½ hours. Your hike will begin at Xizhazi Village, a small village at the foot of the mountain.
Built with local material — hoary dolomite, the Great Wall at Jiankou is eye-catching at a distance. Zhengbei Building, a nearly-intact watchtower standing at the peak of Jiankou, will offer you a panoramic view of the beauty of Jiankou.
Continue your hike eastwards. After the challenging walk on the original rugged steps and broken wall, you will arrive at the Mutianyu section of the Great Wall. There you will enjoy a leisurely walk on fully-restored Great Wall. You can try the fun toboggan down the mountain instead of hiking downhill or taking a cable car.
Enjoy a picnic lunch and stay a night at a local farmer's guesthouse at Gubeikou Village.
Day 3:
Rugged and Rural Section with Panoramic Views: Jinshanling to Simatai West (3 hours, 5 km)
It takes about 20 minutes from your guesthouse to the Great Wall at Jinshanling. Arriving at the wall early, you can photograph the amazing scenery with balanced light and no (much fewer) tourists. You will hike about 3 hours eastward and on the Wall descend from Kylin (Qilin) Tower. The east section of Simatai is closed, so you cannot continue eastward.
Compared to the Great Wall at Jiankou, there are more tourists. However, your guide will guide you to some parts of Simatai West where travelers rarely go, and you can have the wall to yourself.
Simatai West is extremely photogenic with panoramic views. Hike and record the bleak but beautiful scenery with wild and ruined walls. The watch towers and varied gradients give constantly wide views and changing perspectives.
There are 15 watch towers along this section, built with flat roofs or upturned eaves. In some two-story or three-story watch towers, you can have a wider view over the Great Wall.
Good to Know
The Great Wall at Jinshanling is known as a photography gallery. Get your camera ready to record the breathtaking scenery along the hike.
Your private car, driver, and guide will be ready and waiting at your hotel lobby to get you to the airport on time. Take a load off your mind (and hands) as they help you check-in and escort you to the correct security gate.