Itinerary
Day 1
Arrive in Beijing, Flight not included
Airport Transfer (Beijing)
Day 2
The Forbidden City, Tiananmen Square, Hutong Tour in Xicheng District, Donghuamen Night Market, WangFujing Shopping Street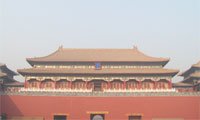 - The Forbidden City (2.5 hours): The Forbidden City was home to 24 emperors between 1368 and 1911.This "city within a city" is a World Heritage Site, and is the largest and the best preserved ancient imperial architecture complex in the world, with great square, halls and gates contrast with intricate halls, gardens, courtyards and quarters. The exhibitions, both permanent and temporary, are all important treasures of ancient China.
- Tiananmen Square (50 minutes): Tian'anmen Square is the largest city square in the centre of Beijing, named after the Tiananmen (literally, Gate of Heavenly Peace) which sits to its north, separating it from the Forbidden City. It has great cultural significance as it was the site of several key events in Chinese history. As the world's largest city square and enduring symbol of China's national pride, it is surrounded by many imposing buildings including the Heavenly Gate (entry to the Forbidden City), Museums, government buildings and Chairman Mao's Mausoleum.
- Hutong Tour in Xicheng District (1 hour): Hutong is a maze of historic alleyways with old single storey traditional courtyard houses, which are now fast disappearing. In this one hour tour, you can hop on a rickshaw to ride through the narrow alleys as well as visit a local family then walk on the Silver Ingot Bridge (Yinding Bridge) and find out about the different thresholds of the courtyards.
- Donghuamen Night Market (1 hour): Located west of Wangfujing Street, Donghuamen Night Market has dozens of stalls selling street food. It serves more common things like dumplings, noodles and fresh strawberry kabobs, but also some of the exotic snacks such as silk worm, scorpion, starfish, centipede and many other unusual delicacies. It's safe to try the food.
- WangFujing Shopping Street: Wangfujing is considered the central heart of the city of Beijing. Along the 810-metre-long street and in an area of about 810 square meters are over 200 shops. The new street provides convenience for pedestrians since vehicles are prohibited from most of the shopping area. In spite of being modern, the renovated Wangfujing Street has retained its traditional cultural atmosphere. The street combines traditional and modern styles with culture and commerce.
Day 3
The Mutianyu Great Wall(with round way cable car), Liang Zi Massage Center (Foot Massage. 90 minutes)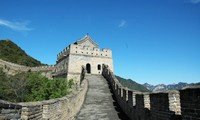 - The Mutianyu Great Wall(with round way cable car) (2 hours): This less-crowded section of the Great Wall is a about 2.5 hours' drive from downtown Beijing. A cable car takes you to a good section (avoiding a very steep climb), where you can walk along the wall, through the watch towers and enjoy superb views as it snakes across the hills and mountains. You can return by cable car, walk down or walk along the wall for about an hour to descend by chairlift. Wear good walking shoes and protection from the weather.
Liang Zi Massage Center (Foot Massage. 90 minutes): Offer health, pass and inherit culture With many years of clinic explore and research, combine with health care idea of Traditional Chinese Medicine, buddish health care allegory in Buddhism, the morality cultivate edigos of Taisht and Confucianism, the Liangzi Group has created some characteristic health care projects such as the Life Tree, the Buddhish massage etc. by using the orignal health care method these projects escort and convoy for your health! Jianguomen Store is the flagship store in the new undertaking of Liangzi. It blends the oriental traditional heath care culture and modern fitness concept, succeeds with high starting point and taste and takes the lead in business circle leisure in Beijing.
Time: 11:00-01:30
Day 4
Temple of Heaven, Panjiayuan Market, Xiushui Street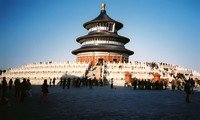 - Temple of Heaven (1.5 hours): Built in 1420 during the Ming Dynasty, Temple of Heaven is a complex of Taoist buildings where emperors of Ming and Qing dynasties visited for annual ceremonies of pray for good harvests. Located in the south of Central Beijing, it covers an area of 273 hectares. Temple of Heaven was enrolled as a World Heritage Site by UNESCO in 1998.
- Panjiayuan Market (1 hour): This weekend market is a huge, eclectic mix of goods from all over China: old, new, curios, antiques, fakes, craft and treasure, with some amazing items for sale. It's fascinating just to wander, even more fun if you can find a bargain. It's well-organised, full of life and color, the stalls are under cover, open-air, and in shops, and mostly closed on weekdays. Open from Saturday to Sunday.
- Xiushui Street: Xiushui Street (Silk Market) has a variety of goods: silk, cashmere, clothes, leather goods, garment, hats, shoes, carpet, souvenir, jewelry, almost anything imaginable can be found in this glitzy mall. Many fake versions of world famous brands are available despite the government making efforts to stamp out the trade. Most of the vendors in Xiushui can speak a little English and they usually show the price on a calculator. You need to be good at bargaining.
Day 5
Lama Temple, Yaxiu Cloth Market, Sanlitun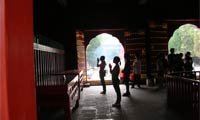 - Lama Temple (1 hour): The colourful Yonghe Lamasery is the largest and most famous Tibetan Buddhist temple outside Tibet. It's still very active, and the beautiful halls and courtyards are thronged with devotees come to worship or seek good luck. You can see the world's largest wooden statue (the Matreiya Buddha) and Tibetan exhibitions.
- Yaxiu Cloth Market: Located on Sanlitun Lu, Chaoyang District, near the northeast embassy area, is similar to the Silk Market. It's an indoor 4-floor store, Beijing's clothing market. Here you can find a lot of clothing and other daily necessities, including calligraphy materials, army surplus gear, tea sets, farmer's paintings and luggage.
- Sanlitun: Sanlitun covers a wide area of Chaoyang District which houses many bars and clubs (popular with both expatriates and locals) and international brand-name stores and other entertainment. It is one of the most famous entertainment areas in Chao Yang district. You can spend your day exploring the stores and the night in one of its many bars. The Ya Show market is also in Sanlitun area and is a popular destination for tourists wishing to buy fake name-brand clothes.
Day 6
Depart Beijing, Flight not included
Hotel to airport Transfer (Beijing)