Itinerary
Your Guilin tour starts the moment you touch down. Your arrival in Guilin airport, a dedicated private guide, along with a private car and experienced driver will be ready to greet you in arrivals.We will transfer you to the hotel and assist you with the luggage and check-in process.
Stay connected: A Free SIM Card Wi-Fi Rental
Day 2:
Guilin: 'The Dragon's Backbone' Rice Terraces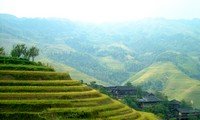 A couple of hours from Guilin is the nearby town of Longsheng, home to over 66 square kilometers of rice terraces that makeup the area known as The Longji Rice Terraces. Carved out of the hill in the early Yuan Dynasty by the Zhuang minority, and completed in the Qing Dynasty. To this day Zhuang villages are dotted throughout the terraces, their peoples unique vibrant clothes make the minority people easy to spot. On this tour you'll visit "The Dragon's Backbone", taking its name from the view, said to resemble the scales on a dragons back and enjoy an authentic lunch in the village.
Good to Know
Guilin: More than a tour, not only introduces the sights but its people and culture. Speak to one of our travel advisors and ask about visiting a guides local family friends, try some stuffed bamboo rice, a specialty of the area.
Day 3:
Li River Cruise and Yangshuo Countryside
Take the Li River Cruise from Guilin to Yangshuo, and experience scenes often depicted in classical Chinese painting. You'll pass by bamboo groves, water buffalo, and small villages nestled over the banks.
The Chinese Karst hills along the river jet out from the land with impressive presence, despite their relatively low height, their various shapes have inspired their names, such as Moon Hill. A simple lunch is served on the four hour cruise. You will arrive at the Yangshuo pier by approximately 2pm.
In the afternoon your guide will lead you into the Yangshuo countryside. Venture into the villages by bike or an electric cart; your chance to meet some local families and explore some ancient rural villages, with the help of our professional local guides.
Day 4:
Classic Guilin and Flight to Chengdu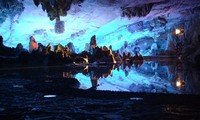 After breakfast check-out from your Yangshuo hotel, your guide and driver will transfer you back to Guilin. A chance to see Guilin's most famous sights, Reed Flute Cave, and Elephant Trunk Hill, before taking lunch. If you would prefer a beyond the classics style tour, we also offer trips to a nearby ancient town and a tea plantation. Any tour can be customized and it often has little effect on the price of your trip.
Good to Know
Customization suggestion: If Reed Flute Cave or Elephant Trunk Hill do not appeal to you, or if you are more interested in ancient villages, we can arrange for you to visit Daxu Ancient Town.
Why not speak to a travel advisor today, and create your unique China tour.
Tonight you'll fly to Chengdu. Once again China Highlights will transfer you to the airport and ensure you make the flight. In Chengdu your guide will be ready and waiting to receive you.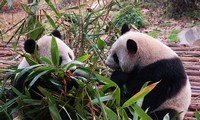 Chengdu's Panda Breeding and Research Center has become known as the home to the Giant Panda, this is your chance to see it! The research center also has some endagered species and as Red Pandas. We will visit the nursery and learn about the institutes work, as well as visiting the Giant Panda Museum.
Good to Know:
You've got some insider knowledge with us! A few of China Highlights guides use to work at the institute before training as guides.
There is a donation program which allows you take pictures and hold a panda by donating RMB 2,000 Yuan (about 300 USD for reference only). They only accept cash. A limit is set for the number of tourists allowed to hold pandas each day. If you want to hold a panda, you must book it one day in advance and is subject to availability of pandas on the day.
Todays not over! Enjoy an authentic Sichuan lunch at a famous local restaurant. Your guide will also introduce Wu Hou Temple and Jinli Old Street. Jinli and Kuan Zhai Lane are lively artistic areas, and buzz with activities, snacks and interesting shops. This is an ideal place to relax and watch China race by.
Day 6:
Chengdu to Jiuzhaigou Huanglong Area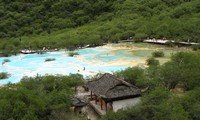 An early morning flight to Jiuzhaigou maximizes your time in this enchanting nature reserve on the Qinghai-Tibet Plateau. On arrival you'll be greeted and enjoy a lunch, before long you'll be on a chair lift rising up to the Huanglong Scenic and Historic Area. The area is famous throughout China for its colorful ponds and snow-capped peaks, valleys and autumn colors. The colors of this area are truly breathtaking, a heaven for photographers, like something out of a fairytale.
We arrange an evening meal as part of the tour, as your choice is limited in this remote region.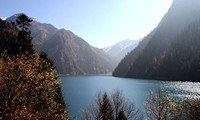 Today your take the national parks sight-seeing shuttle bus service, visiting the Jiuzhaigou Valley area. Three meals are once again provided on the tour today.
Day 8:
Fly back to Chengdu
Today you will be transferred back to Jiuzhaigou airport and fly to Chengdu, as your tour comes to an end. If you need assistance with onward flights to other cities in China or require extra guiding or transfer services inside of Chengdu please feel free to contact one of our travel advisors.
Just let us know your travel style!
Guide vs. Free-time ratio / Hotel Style & Interests / Dates / People
We will then adapt this tour and create a unique quote based on your individual needs.

Free Quote