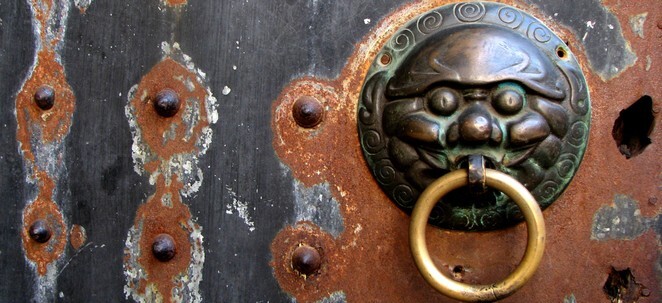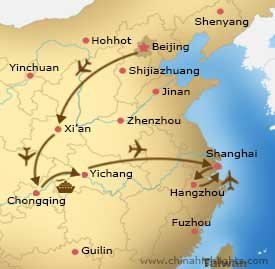 Itinerary
Day 2:
Beijing: The Forbidden City, Tiananmen Square, Treasure Houses, Hutong Tour in Xicheng District
Tian'anmen Square is the largest city square in the centre of Beijing, named after the Tiananmen (literally, Gate of Heavenly Peace) which sits to its north, separating it from the Forbidden City. It has great cultural significance as it was the site of several key events in Chinese history. As the world's largest city square and enduring symbol of China's national pride, it is surrounded by many imposing buildings including the Heavenly Gate (entry to the Forbidden City), Museums, government buildings and Chairman Mao's Mausoleum.
The Forbidden City was home to 24 emperors between 1368 and 1911.This "city within a city" is a World Heritage Site, and is the largest and the best preserved ancient imperial architecture complex in the world, with great square, halls and gates contrast with intricate halls, gardens, courtyards and quarters. The exhibitions, both permanent and temporary, are all important treasures of ancient China.
Treasure house has undergone 4 time renovations, the present one takes up almost 220 square metres, more than 440 treasures on display belonged to Qing dynasty royalty, half of which have not never been on display in the old one. It's worthy of visiting.
Hutong is a maze of historic alleyways with old single storey traditional courtyard houses, which are now fast disappearing. In this one hour tour, you can hop on a rickshaw to ride through the narrow alleys as well as visit a local family then walk on the Silver Ingot Bridge (Yinding Bridge) and find out about the different thresholds of the courtyards.
Day 3:
Beijing: The Mutianyu Great Wall, Temple of Heaven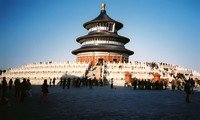 The Mutianyu Great Wall is less-crowded section of the Great Wall is a about 2.5 hours' drive from downtown Beijing. A cable car takes you to a good section (avoiding a very steep climb), where you can walk along the wall, through the watch towers and enjoy superb views as it snakes across the hills and mountains. You can return by cable car, walk down or walk along the wall for about an hour to descend by chairlift. Wear good walking shoes and protection from the weather.
Temple of Heaven was Built in 1420 during the Ming Dynasty, Temple of Heaven is a complex of Taoist buildings where emperors of Ming and Qing dynasties visited for annual ceremonies of pray for good harvests. Located in the south of Central Beijing, it covers an area of 273 hectares. Temple of Heaven was enrolled as a World Heritage Site by UNESCO in 1998.
Day 4:
Beijing to Xi'an flight. Summer Palace with boat Cruise and the Garden of Virtue and Harmony, Exterior visit of Beijing Olympic Stadiums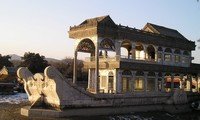 Summer Palace is about 12 kilometers northwest of the city center and is equally as famous as the Forbidden City, the Summer Palace is called 'Yiheyuan'(Garden of Nurtured Harmony) in Chinese. It is the best preserved and the largest imperial gardens in China and one of Beijing's premier attractions. It is also possible to cruise on the lake which takes 10 minutes by the ferry boat.
Located at the north end of the central axis of Beijing City, with a large area of 1215 hectares, Beijing Olympic Stadiums contains National museum, exhibition area, Olympic Village and Olympic competition avenues. Approximately 31 venues are used in Beijing Olympics, including National Stadium, the Bird's Nest and National Aquatics Center. You will explore the park, but it doesn't include going inside the Bird's Nest and Water Cube.
Day 5:
Xi'an: Terracotta Warriors and Horses, Big Wild Goose Pagoda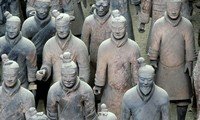 The Terracotta Warriors and Horses was discovered accidentally in 1974. This incredible army of over 7000 soldiers, archers, horses and chariots in full battle array has guarded Emperor Qin's tomb since 210BC. Each figure is unique, and the painstaking repair and excavation continues in 3 pits which are protected inside huge hangars. 1.5 hours from Xian, there is also an excellent museum and film about the history of the vaults. Photos (no flash) are allowed. Wear comfortable walking shoes.
Big Wild Goose Pagoda is a major Buddhist site, the simple, elegant brick Pagoda stands in the grounds of the attractive Da Ci'en Temple. The Pagoda was built in the 7th century to house the Buddhist materials that Xuanzang (Tripitaka) brought back from his epic journey to India. The Temple complex has several large halls with some great Buddhist statues and murals.
Day 6:
Xian: Shaanxi History Museum, Xian City Wall with Bicycle, Forest of Stele Museum, Great Mosque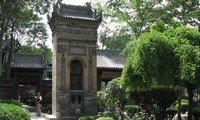 The Terracotta Warriors and Horses was discovered accidentally in 1974. This incredible army of over 7000 soldiers, archers, horses and chariots in full battle array has guarded Emperor Qin's tomb since 210BC. Each figure is unique, and the painstaking repair and excavation continues in 3 pits which are protected inside huge hangars. 1.5 hours from Xian, there is also an excellent museum and film about the history of the vaults. Photos (no flash) are allowed. Wear comfortable walking shoes.
The walls, ramparts, gates and watchtowers form one of the oldest and most complete city defenses still around. Built in the 13th century on the foundations of the original Tang Forbidden City surrounding the city centre, Xian City Wall is a major landmark, and the best preserved, as well as the oldest and largest of the city defense systems in China. We operate this with bicycle. If the weather is not good for biking on the city wall, we will substitute a visit to the Bell Tower. Your guide will be very glad to take you the Bell Tower after you have been to look at the city wall.
Forest of Steles in Xi'an was originally built in Northern Song Dynasty (1090 A.D.) when a large Confucian collection of steles cut in A.D. 837 - the oldest existing texts of the Confucian classics - was moved to it for safekeeping. All kinds of calligraphy and scripts tell stories, poems and reports from around the Empire. Other exhibits include early sculptures and objects from Imperial tombs.
In the heart of Xian's Muslim quarter, close to the city centre, the Great Mosque is one of the largest Islamic mosques in China. Remarkable for the combination of Chinese architecture with Islamic practice, the courtyards align from east to west facing Mecca. The pavilions, halls and gateways are wonderfully decorated, and this is an active place of worship for the Hui descendants of Silk Road traders and travelers.
Day 7:
Xian to Chongqing Flight; Pier Transfer to Board Yangtze River Cruise; Ciqikou Old Town, Hanging Village, Panda Room in Chongqing Zoo
Ciqikou Old Town is a lively old area has been partly restored, and remains an authentic and busy community. The old wooden houses and narrow streets furthest from the river are mostly unimproved, closer to the river there are craft and souvenir shops, teahouses and music, and lots of local food and snacks. The locals certainly love their food – this is a good chance to try some.
Hanging Village has 13 floors of shops cling to the cliff face beside the river, built in traditional style. There are arts and crafts, clothing, modern shops and of course a lot of food and snack stalls and souvenirs. Much of it is under cover, and there's a theatre at the top which puts on some spectacular shows, both traditional and modern.
Located in the western suburbs of the city, Chongqing Zoo occupies an area of 45 hectares. There are some rare animals including Golden hair monkeys and South China Tigers. In Panda Room, visitors can see the giant and lesser pandas and their offspring. In the mornings, many local people practice Tai chi at the zoo. Join them if you wish.
Board the ship from 5:00pm to 8:00pm and the cruise departs Chongqing at 9:00pm.(Dinner is not included).
Day 8:
On Cruise: Welcoming Banquet, Dancing Party, Shibaozhai.Optinal tour to Fengdu Ghost City
Shibaozhai, literally means Stone Treasure Fortress, Located in Zhong County, it was first built in Qing Dynasty in 1750. Shibaozhai is one historic site that will look much different in 2009. The wooden architecture stands on the riverside. It is built by catch upon a rectangular rock with sheer cliffs with a height of 56 meters and 12 stories. And every floor of the wooden structure contains interesting artifacts. Each of the 12 floors of Shibaozhai is dedicated to a famous general of the Three Kingdoms period (220-265AD), a local scholar or a renowned Chinese poet.
Day 9:
On Cruise: Qutang Gorge, Wu Gorge, Shennong Stream, Crew's Performance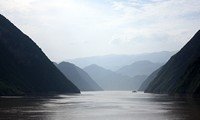 Taichi exercise in early morning. Pass through the 1st gorge - Qutang Gorge, the 2nd gorge---Wu Gorge. Shore excursion to Shennong Stream. You have the option of visiting White Emperor City at extra cost (reference price: 260 yuan per person). Crew's Performance in the evening. Sail through the 5-steps Ship locks.
Shennong Stream is another tributary of the Yangtze River, and its fast-flowing, crystal clear water runs southwards through deep gorges. The stream races past large and small karst caves, flocks of swallows, sheer cliffs, deep gorges, waterfalls, three-colored springs, rapids, the ancient plank path, a suspended coffin in the cliff, groups of ancient tombs and marvelous karst formations.
Day 10:
Yangtze to Yichang pier transfer, Yichang to Shanghai Flight. Three Gorges Dam Site.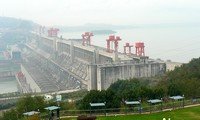 Shore excursion to The Three Gorges Dam Site. Arrive in Yichang at 1:00pm. Three Gorges Dam, the largest water conservancy project ever undertaken by man and it has been a dream for several generations of Chinese people. The construction of the dam formally began in 1994. The body of the dam was completed in 2003, and the whole construction has been completed in 2009. It will be 2,335 meters long, 185 meters high, 18 meters wide on the top and 130 meters wide at the bottom.The tourists can get access to the top of the dam and enjoy different kinds of photo opportunities.
Day 11:
Shanghai: Yuyuan Garden, The Bund, Shanghai Museum, The Shanghai World Financial Center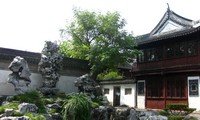 Yuyuan Garden is located in the center of Shanghai old quarters. It was a private garden built in 1559 during the Ming Dynasty, with typical Chinese classic architecture and style. The complex covers an area of 2 hectares, with rockeries, pavilions, ponds and corridors. Yuyuan Garden is surrounding by a busy market place, where visitors can find everything from popular local snacks, handicrafts, antiques and souvenirs to some famous time-honored restaurants.
The Bund is a 1.5-kilometer-long embankment running along the western bank of Huangpu River. On its west side it is the "architecture gallery" with 52 well-preserved old European style buildings. Once the major trading and commercial center of old Shanghai, the Bund has now taken on new vitality, with futuristic developments, chic restaurants, top end shops and bars offer plenty to see and do-and by night it's magic!
Shanghai Museum is the biggest, and many think the best museum in China. The galleries in this outstanding building display stunning collections of bronzes, sculptures, ceramics and porcelain, paintings, calligraphy, seals, jade, coins, furniture, ethnic artefacts from minority groups, temporary travelling exhibitions from places like the Guggenheim, and so much more ... give yourself time to enjoy it.
Shanghai World Financial Center is located in Pudong District, reaching a height of 492 meters (1,615 feet). It is now a new landmark of prosperous Shanghai. It was the second tallest building in the world when it was completed in 2007. Its observation deck, at 474 meters (1,555 feet) above the ground, is currently the tallest in the world. The multi-function skyscraper consists of hotels, apartments, restaurants, shopping malls, offices and observation decks.
Day 12:
Shanghai to Hangzhou: Ancient Village Wuzhen, Wu Zhen boat cruise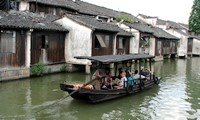 Private transfer from Shanghai to Hangzhou.
Ancient Village of Wuzhen lies in the far north-east of Zhejiang province, about 90 minutes by road from Shanghai. The name "water town" is especially apt; besides lying on the Grand Canal, the settlement is completely encircled by two rivers - the Dong Shi and a smaller tributary, which meet at a T-junction. The wooden boat takes 8 people at maximum and cruise is around 20 minutes. Tourists can enjoy the atmosphere of the traditional cultures and the original ancient features of the town that have been preserved intact, the elegant watery views and the strong local colored traditions and customs.
Day 13:
Private transfer from Hangzhou to Haining; The West Lake, Lingyin Temple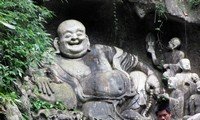 The West Lake has an area of 5.6 square kilometers (2.2 square miles) and is the symbol of Hangzhou which lies on its banks and is a place of tranquility. A visit to Fairy Island is worth it to see on of the Ten Best Views of West Lake - Three Pools Mirroring the Moon. The occasional pagoda and Chinese-style arched bridges add atmosphere to the tree-lined walkways, verdant islands and hills make West Lake a very special part of any China experience.
As one of the most important and wealthiest Buddhist temples in China, Lingyin Temple boasts plenty of pagodas and Buddhist grottoes.
During the Eastern Jin Dynasty in 328 AD, Hui Li, a monk from India brought Buddhism to this area and founded this temple. At that time, nine multi-storey buildings, 8 pavilions, 72 halls and more than 1,300 dormitory rooms had made up this temple, and it was the national worship center.
Day 14:
Private transfer from Haining to Hangzhou; Qiantang Tide Watching, Tide Bore Watching Park, The Folklore Culture Street, Cheng Historic House
Originating in Han Dynasty (A.D.100-A.D.600), the annual Qiantang Tide is a marvelous spectacle which is only rivaled by the Amazon River's tide surge. It is celebrated by both the local people and the visitors from abroad. Yanguan in Haining is the best place to watch the swelling tidal wave. The tide is the biggest on the eighteenth day of the eighth lunar month .The maximum tide reach a height of 30 feet and make a deafening sound like thunder or thousands of horses galloping.
Tide Bore Watching Park is located south of Yanguan Town; the park has a total length of 1360 meters and an area of 16.24 hectares. Visitors can see Zhanao tower from Ming Dynasty, a small Putuo Temple, the Sun Yat-sen tide Pavilion - the Pavilion Tianfenghaitao, and the MaoZedong tide monument in the park. Iit is as the best place to watch the Qiantang's Tidal swell.
Folklore Culture Street is located in the town of Yanguan. Many of the buildings in the town can tracked back to Qing Dynasty. Some of the original buildings are home to souvenir sellers, up market restaurants and craftsmen and women. The street is a good place to experience the culture of Jiangnan.
Cheng Historic house is located in the town of Yan Guan, and was a palace-style mansion which belonged to Cheng yuanlong , a scholar in Wenyuan Pavilion and a teacher for Yongzheng, an emperor from the Qing Dynasty. The old house has a history of about 400years. The buildings are very elegant and traditional while a tree which is reputed to be as old as 600 years, stands in the garden.
Day 15:
Hangzhou to Shanghai; Shanghai Departure
Hangzhou to Shanghai by Train No. D5658 (Hangzhou Railway Station - Shanghai South Railway Station) Dep 10:07 - Arr 11:25; Airport Transfer (Shanghai)
Just let us know your travel style!
Guide vs. Free-time ratio / Hotel Style & Interests / Dates / People
We will then adapt this tour and create a unique quote based on your individual needs.

Free Quote