Itinerary
Day 2:
Beijing: Temple of Heaven, The Mutianyu Great Wall(with round way cable car)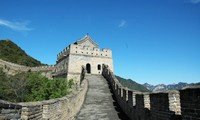 The Mutianyu Great Wall is less-crowded section of the Great Wall is a about 2.5 hours' drive from downtown Beijing. A cable car takes you to a good section (avoiding a very steep climb), where you can walk along the wall, through the watch towers and enjoy superb views as it snakes across the hills and mountains. You can return by cable car, walk down or walk along the wall for about an hour to descend by chairlift. Wear good walking shoes and protection from the weather.
Temple of Heaven was Built in 1420 during the Ming Dynasty, Temple of Heaven is a complex of Taoist buildings where emperors of Ming and Qing dynasties visited for annual ceremonies of pray for good harvests. Located in the south of Central Beijing, it covers an area of 273 hectares. Temple of Heaven was enrolled as a World Heritage Site by UNESCO in 1998.
Day 3:
Beijing: The Forbidden City, Tiananmen Square, Hutong Tour in Xicheng District
Tian'anmen Square is the largest city square in the centre of Beijing, named after the Tiananmen (literally, Gate of Heavenly Peace) which sits to its north, separating it from the Forbidden City. It has great cultural significance as it was the site of several key events in Chinese history. As the world's largest city square and enduring symbol of China's national pride, it is surrounded by many imposing buildings including the Heavenly Gate (entry to the Forbidden City), Museums, government buildings and Chairman Mao's Mausoleum.
The Forbidden City was home to 24 emperors between 1368 and 1911.This "city within a city" is a World Heritage Site, and is the largest and the best preserved ancient imperial architecture complex in the world, with great square, halls and gates contrast with intricate halls, gardens, courtyards and quarters. The exhibitions, both permanent and temporary, are all important treasures of ancient China.
Hutong is a maze of historic alleyways with old single storey traditional courtyard houses, which are now fast disappearing. In this one hour tour, you can hop on a rickshaw to ride through the narrow alleys as well as visit a local family then walk on the Silver Ingot Bridge (Yinding Bridge) and find out about the different thresholds of the courtyards.
Day 4:
Beijing to Xian Flight; Summer Palace with boat Cruise and the Garden of Virtue and Harmony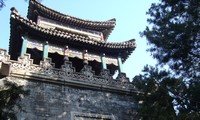 Summer Palace with boat Cruise and the Garden of Virtue and Harmony (2 hours): The palace is about 12 kilometers northwest of the city center and is equally as famous as the Forbidden City, the Summer Palace is called 'Yiheyuan'(Garden of Nurtured Harmony) in Chinese. It is the best preserved and the largest imperial gardens in China and one of Beijing's premier attractions. It is also possible to cruise on the lake which takes 10 minutes by the ferry boat.
Day 5:
Xian: The Terracotta Warriors and Horses, Big Wild Goose Pagoda, Xian City Wall with Bicycle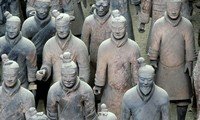 The Terracotta Warriors and Horses (2 hours): Discovered accidentally in 1974, this incredible army of over 7000 soldiers, archers, horses and chariots in full battle array has guarded Emperor Qin's tomb since 210BC. Each figure is unique, and the painstaking repair and excavation continues in 3 pits which are protected inside huge hangars. 1.5 hours from Xian, there is also an excellent museum and film about the history of the vaults. Photos (no flash) are allowed. Wear comfortable walking shoes.
Big Wild Goose Pagoda (1 hour): A major Buddhist site, the simple, elegant brick Pagoda stands in the grounds of the attractive Da Ci'en Temple. The Pagoda was built in the 7th century to house the Buddhist materials that Xuanzang (Tripitaka) brought back from his epic journey to India. The Temple complex has several large halls with some great Buddhist statues and murals.
Xian City Wall with Bicycle (1.5 hours): The walls, ramparts, gates and watchtowers form one of the oldest and most complete city defenses still around. Built in the 13th century on the foundations of the original Tang Forbidden City surrounding the city centre, it is a major landmark, and the best preserved, as well as the oldest and largest of the city defense systems in China. We operate this with bicycle. If the weather is not good for biking on the city wall, we will substitute a visit to the Bell Tower. Your guide will be very glad to take you the Bell Tower after you have been to look at the city wall.
Day 6:
Xian to Guilin Flight; Great Mosque, Muslim Quarters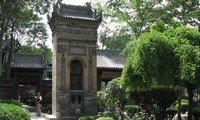 Great Mosque (1 hour): In the heart of Xian's Muslim quarter, close to the city centre, this is one of the largest Islamic mosques in China. Remarkable for the combination of Chinese architecture with Islamic practice, the courtyards align from east to west facing Mecca. The pavilions, halls and gateways are wonderfully decorated, and this is an active place of worship for the Hui descendants of Silk Road traders and travelers.
Muslim Quarters (1 hour): The Muslim quarters lies 100 meters west of the Bell tower in downtown Xi'an. The 500 meters long avenue paved by bluestones are dotted with many unique stall, souvenir shop, café and bars which are mostly run by Muslim people. Tourists, especially from overseas come and shop here.
Day 7:
Guilin: Li River Cruise from Guilin to Yangshuo, Yangshuo Countryside Cycling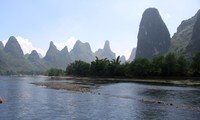 Li River Cruise from Guilin to Yangshuo. (4 hours): A cruise along the Li River between Guilin and Yangshuo is an unforgettable experience. As you take in the stunning scenery, there's something interesting to see at almost every bend in the river. Between spectacular limestone peaks you'll see graceful bamboo groves, farmers tending rice paddies, and lumbering water buffaloes pulling carts or cooling off in the river. You may see fishermen gliding along on their narrow bamboo rafts, and if you're very lucky you might see one of the famous fishing cormorants. Boats depart from various wharves, according to the height of the river at different times of the year.The Li river cruise is by a medium size boat which can accommodate about 140 passengers.
Yangshuo Countryside Cycling: Experience the hustle & bustle of the Yangshuo traffic for 10 minutes before you escape onto the country roads, lanes and tracks of the distinctive and beautiful Yangshuo countryside. Biking alongside the paddy field and orchards that surround the famous mountains will give a fascinating insight into life in rural China. You will have a family visit on the half way. It is an opportunity to see a real country life and talk to the local farmers.
Day 8:
Guilin: One Day Bike Tour to the Reed Flute Cave and Yao Mountain, Reed Flute Cave, Yao Mountain with roundway chair lift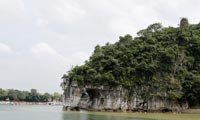 One Day Bike Tour to the Reed Flute Cave and Yao Mountain: Get up early in the morning to avoid large crowds on the streets. It takes about 40 minutes for you to get to the Reed Flute Cave. On the way to the Cave, you will see paddy fields and Peach Blossom River. After lunch in downtown, you will head for the Tea plantation and Yao Mountain. 1.5 hours are needed for the ride. Many kinds of tea are on sale here. Picking tea and the process of making tea can also be demonstrated. The Yao Mountain is the highest mountain in the city area with a height of 909 meters high. You can take a cable car to the top of the mountain and get a bird view of Guilin. At last, ride to the hotel in about 1 hour on Main Street.
Reed Flute Cave (1 hour): Located 5 kilometers northwest of Guilin city, the Reed Flute Cave gets the name from the reeds used for making flutes and pipes that grow at its entrance. The cave is regarded as the largest and most impressive cave in Guilin. It is 240 meters long, and the length of the tour is about 550 meters offering a magic land of stalactites, stalagmites, stone pillars, stone curtains, birds, plants and animals in fantastic shapes and colors. The visit lasts for 40 minutes and there are a lot of steps. Watch your step as the lights are dim. You guide will show you by electric torch.
Yao Mountain with roundway chair lift service: Yao Mountain lies in the east of Guilin, 12 km away from the downtown. The top peak is 909 meters high and 760 meters by relative height and is the biggest and the highest mountain in Guilin.Tourist can have a panoramic view on the peak, and also can enjoy azalea blossom in spring all over the mountain.
Day 9:
Guilin to Hong Kong Flight; Elephant Trunk Hill; Hotel to airport Transfer (Guilin), Airport Transfer (Hong Kong)
Elephant Trunk Hill (40 minutes): Elephant Trunk Hill is located at the junction of Li River and Peach Blossom River. It is the symbol of Guilin with 55 meters high and got its name because its shape resembles an elephant with its trunk drinking from the Li River. The hill is pierced with many caves and topped with a small pagoda.
Day 10:
Hong Kong: Half day Hong Kong Island Orientation Drive to Victoria Peak, Aberdeen, Repulse Bay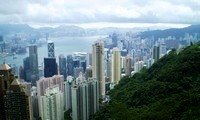 You will be picked up from your hotel by your guide who will accompany you on your tour. The tour will last a time of maximum 5 hours. Hong Kong is a fascinating combination of East and West but it has its own unique and distinctive culture. Your half day tour will take in Victoria Peak, Hong Kong's number one tourist destination. It features the 112 year old Peak Tram and Hong Kong's most unusual building, The Peak Tower. Next stop is Aberdeen Harbor which is home to hundreds of people living on fishing junks. If you would like close up look at this unusual way of life, you can take a sampan ride (US$10-12). Repulse Bay is the last stop today; it is one of Hong Kong's most exclusive residential areas. (meals not inclusive)
Day 11:
Depart Hong Kong, Flight not included
Hotel to airport Transfer (Hong Kong)
Just let us know your travel style!
Guide vs. Free-time ratio / Hotel Style & Interests / Dates / People
We will then adapt this tour and create a unique quote based on your individual needs.

Free Quote