Itinerary
You will be greeted at the airport with your own guide, who will take you in a private car to your hotel to freshen up. The rest of the day is for you to explore; ask the guide for suggestions according to your taste.
Stay connected: A Free SIM Card Wi-Fi Rental
Day 2:
Urumqi: Heavenly Lake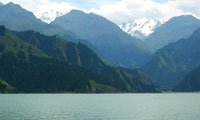 Heavenly Lake in the mountains lives up to its name; the snowcapped peaks reflect in its startlingly blue surface. You can take a boat ride to get closer to that amazing clear water.
Back in Urumqi, a visit to Erdaoqiao Bazaar is a complete opposite experience: bustling people bartering and buying almost anything you could think of.
Local Uighur cuisine accompanied by some authentic music is a real treat for your lunch time stop.
Day 3:
Islamic Highlights of Kashgar (Fly to Kashgar)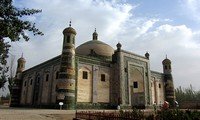 Your morning flight takes you to Kashgar, the westernmost Chinese city.
Id Kah Mosque is the largest in China, where 10,000 believers gather each Friday. Abakh Khoja Mausoleum was built for the most revered teacher of Koran and a politician in the 17th century. Among his descendants also buried here is the Fragrant Concubine, who captivated Emperor Qianlong's heart. Ask your guide her story.
Dine in a nearby restaurant, decorated in the traditional Uighur style, and serves delicious Muslim food.
Day 4:
Kashgar: Bazaars and Old Town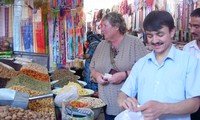 The Livestock Market in Kashgar is a spectacle on Sundays, when farmers bring their pride and joys, have breakfast together and then launch on a fierce bartering contest. The Bazaar here is so famous that nearby countries' merchants come here also, along with country people.
For lunch we recommend some locally raised lamb and chicken, probably straight from the market.
Kashgar Old Town has remnants of the old City Wall, and narrow lanes, still giving a sense of what the town was like in its heyday.
Day 5:
Kashgar: Visit to Baishkeranm Village
30km cycle away from Kashgar, Mauri Pagoda juts from the surrounding arid hills. It was part of an ancient Summer Palace of the Karakhanid Dynasty 1500 years ago.
Baishkeranm Village has the biggest orchards in this area, and a lovely ancient feel. Many old Uighur customs are still practiced here, ask your guide to tell you more.
Day 6:
Drive to Turpan (First fly to Urumqi)
The day is a journey, first to the airport in Urumqi and then by private car to Turpan.
Day 7:
Turpan: Ancient City of Jiaohe and Karez Wells
The ruins of the Ancient City of Jiaohe built by the Cheshi people 2000 year ago, are a fascinating glimpse into life so different but sophisticated.
The Karez Wells on the other hand, are still in use centuries after they were constructed. They are considered as one of the great engineering achievements in ancient China, and make the lush orchards and vineyards here viable.
Suleiman Minaret is the only ancient minaret in China still standing, and quite beautiful with its intricate brick work. The Grape Valley is a gloriously green haven from the dusty desert surrounding it; interestingly grapes here are for making raisins, not wine.
Day 8:
Turpan: Tuyog Village and Gobi Desert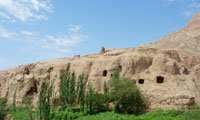 The colorful history of the area near Turpan takes you further to the desert and Tuyugou Great Canyon. Tuyog Village near the Flaming Mountains is built in traditional mud brick style, and short distance away very ancient caves have some interesting frescoes.
Astana Tombs are sometimes called underground museums, due to the sheer number of finds, including silver and gold artifacts and mummies. These are now displayed in the new building in town. Gaochang Ruins nearby was an ancient city for 15 centuries and an important step in the Silk Road. Now it is disappearing fast into the desert sands.
Today your guide and driver will take you to the Urumqi Airport, to connect with your outbound flight. We hope you enjoyed this adventure and look forward to serving you again.
Just let us know your travel style!
Guide vs. Free-time ratio / Hotel Style & Interests / Dates / People
We will then adapt this tour and create a unique quote based on your individual needs.

Free Quote