Itinerary
Day 2:
Beijing: The Forbidden City, Tiananmen Square, Treasure Houses, Temple of Heaven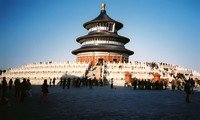 - The Forbidden City (2.5 hours): The Forbidden City was home to 24 emperors between 1368 and 1911.This "city within a city" is a World Heritage Site, and is the largest and the best preserved ancient imperial architecture complex in the world, with great square, halls and gates contrast with intricate halls, gardens, courtyards and quarters. The exhibitions, both permanent and temporary, are all important treasures of ancient China.
- Tiananmen Square (50 minutes): Tian'anmen Square is the largest city square in the centre of Beijing, named after the Tiananmen (literally, Gate of Heavenly Peace) which sits to its north, separating it from the Forbidden City. It has great cultural significance as it was the site of several key events in Chinese history. As the world's largest city square and enduring symbol of China's national pride, it is surrounded by many imposing buildings including the Heavenly Gate (entry to the Forbidden City), Museums, government buildings and Chairman Mao's Mausoleum.
- Treasure Houses (30 minutes): Treasure house has undergone 4 time renovations, the present one takes up almost 220 square metres, more than 440 treasures on display belonged to Qing dynasty royalty, half of which have not never been on display in the old one. It's worthy of visiting.
- Temple of Heaven (1.5 hours): Built in 1420 during the Ming Dynasty, Temple of Heaven is a complex of Taoist buildings where emperors of Ming and Qing dynasties visited for annual ceremonies of pray for good harvests. Located in the south of Central Beijing, it covers an area of 273 hectares. Temple of Heaven was enrolled as a World Heritage Site by UNESCO in 1998.
Day 3:
Beijing: The Mutianyu Great Wall(with round way cable car), Exterior visit of Beijing Olympic Stadiums (Bird's Nest and Water Cube)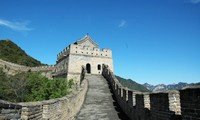 - The Mutianyu Great Wall(with round way cable car) (2 hours): This less-crowded section of the Great Wall is a about 2.5 hours' drive from downtown Beijing. A cable car takes you to a good section (avoiding a very steep climb), where you can walk along the wall, through the watch towers and enjoy superb views as it snakes across the hills and mountains. You can return by cable car, walk down or walk along the wall for about an hour to descend by chairlift. Wear good walking shoes and protection from the weather.
- Exterior visit of Beijing Olympic Stadiums(Bird's Nest and Water Cube) (1 hour): Located at the north end of the central axis of Beijing City, with a large area of 1215 hectares, it contains National museum, exhibition area, Olympic Village and Olympic competition avenues. Approximately 31 venues are used in Beijing Olympics, including National Stadium, the Bird's Nest and National Aquatics Center. You will explore the park, but it doesn't include going inside the Bird's Nest and Water Cube.
Day 4:
Beijing to Xian Flight; The Terracotta Warriors and Horses, Big Wild Goose Pagoda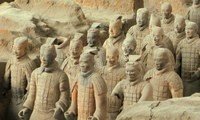 -The Terracotta Warriors and Horses (2 hours): Discovered accidentally in 1974, this incredible army of over 7000 soldiers, archers, horses and chariots in full battle array has guarded Emperor Qin's tomb since 210BC. Each figure is unique, and the painstaking repair and excavation continues in 3 pits which are protected inside huge hangars. 1.5 hours from Xian, there is also an excellent museum and film about the history of the vaults. Photos (no flash) are allowed. Wear comfortable walking shoes.
- Big Wild Goose Pagoda (1 hour): A major Buddhist site, the simple, elegant brick Pagoda stands in the grounds of the attractive Da Ci'en Temple. The Pagoda was built in the 7th century to house the Buddhist materials that Xuanzang (Tripitaka) brought back from his epic journey to India. The Temple complex has several large halls with some great Buddhist statues and murals.
Day 5:
Xian to Beijing Flight; Shaanxi History Museum, Xian City Wall with Bicycle; Xi'an Departure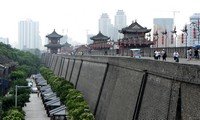 - Shaanxi History Museum (1.5 hours): The history of Shaanxi is said to be the history of China, and this museum is quite simply one of the nation's best. Four major galleries in large, Tang-style buildings house a vast and impressive collection, beautifully displayed. Most of the item labels are in English, although some other information on the exhibitions is not, but your guide can help here. Wear comfortable walking shoes.
- Xian City Wall with Bicycle (1.5 hours): The walls, ramparts, gates and watchtowers form one of the oldest and most complete city defenses still around. Built in the 13th century on the foundations of the original Tang Forbidden City surrounding the city centre, it is a major landmark, and the best preserved, as well as the oldest and largest of the city defense systems in China. We operate this with bicycle. If the weather is not good for biking on the city wall, we will substitute a visit to the Bell Tower. Your guide will be very glad to take you the Bell Tower after you have been to look at the city wall.
After the tour, transfer to the airport for your departure flight (flight not included).
Just let us know your travel style!
Guide vs. Free-time ratio / Hotel Style & Interests / Dates / People
We will then adapt this tour and create a unique quote based on your individual needs.

Free Quote