China Tour From Chicago
10-Day Beijing, Xi'an and Shanghai Tour with International flights

4.8
( reviews)

This average score is generated from the feedback for attractions, hotels, restaurant and guide for each tour.
X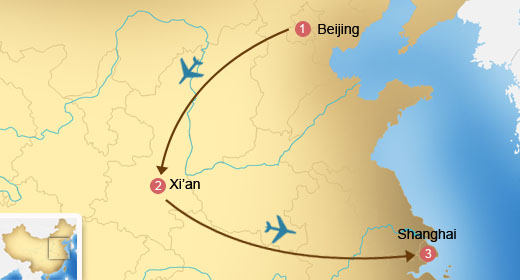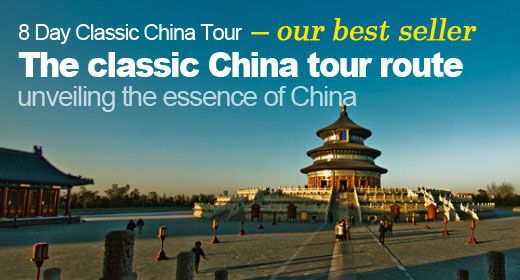 A 10-day, all-inclusive tour with UNBEATABLE price and value — you will discover China's ancient culture and modern miracles. The essence of China is there to be discovered alongside the world phenomenon of "New China". International flights are included — no hassle, just enjoy the trip!

Why 10,000+ Choose Us Per Year:
Centrally Located Hotels
Authentic Chinese Food
Phone Rental / Wifi Package
China Highlights Awarded by TripAdvisor
Highlights
Visit:
The Forbidden City
Temple of Heaven
Great Wall of China
Summer Palace
Hutongs
Terracotta Warriors
Xi'an City Wall
Yuyuan Garden
World Financial Center
The Bund
Experience
Walk on the Great Wall. Cycle along the Xi'an city wall. Rickshaw through the Hutongs.
Watch imperial life at the Forbidden City come to life with the help of your private guide.
Explore Shanghai's colonial history, combining ancient cultures and modern miracles.
From $2,479 P/P Price detail
Tour Code: CHT-DA-8S
Departure Date: from Sep. 8 to Nov. 17
Tour Type:Private Car, Driver and Guide
Your enjoyable China trip begins. Board your flight at Chicago O'Hare International Airport (ORD) for a relaxing holiday. No meals are included today.
Flight Number and Time: HU498 from ORD every Tuesday and Sunday: 1530 - 1820(+1)
Your private guide will be on time and waiting in arrivals. A comfortable private car(non-smoking) & experienced driver willtransfer you to the hotel.
Good to Know:
Free-time Ideas: A Nightcap in this former 1920's US Embassy, in the Litigation Quarter.
Hotels – Choose to suit your budget and preference. (3 nights in Beijing)
Holiday Inn Express Beijing Minzuyuan

/ Sunworld Hotel

/ Crowne Plaza Hotel Beijing Chaoyang U-Town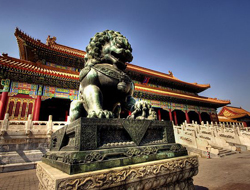 The Forbidden City
A buffet breakfast & real fresh coffee will kick start your day. Your private car, driver and our guide will be on time, prepared with drinks, snacks, and map ready to maximize your time. First stop, Tian'anmen Square. The history and meanings of the Forbidden City (Palace Museum & Imperial Palace) will be unlocked by our guide. Glean the history out of a place where the guidebooks leave you short.
Photograph the old lanes and courtyard houses in the neighboring Hutongs, but first choose dishes with help from our guide at the best Traditional Courtyard Restaurant. Depending on your mood & the weather take a rickshaw or bike to explore this charming world. A highlight is a visit to a family who've lived in the Hutongs for generations, offering unique insights from a local perspective.
Good to Know:
Courtyard 7 – Trip Advisor's 'Traveler's Choice of 2012' Rated 4.5/5.
Hutong Family Visit – Highly recommended by customers and travel reviews as 'making the hutongs worth it'.
Free-time Ideas: The Best Acrobatics Show in Beijing. Chaoyang Theatre has breathtaking performances making this Beijing's #1 attraction after the Great Wall. Your guide can help you get tickets.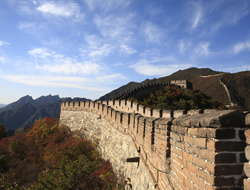 The Great Wall of China
An early start and chance to exercise or stroll with locals among the 60,000 ancient trees in the Temple of Heaven's Grounds. Watch locals exercise, practice martial arts, play traditional instruments.
The Temple of Heaven provided a place for emperors to pray to 'the most high God in heaven' for a good harvest. The Round Altar, Echo Walland Imperial Vault of Heaven are the rated as key sights; we will cover these and more.
We'll drive into the mountains to a farmhouse garden restaurant, famous for its rainbow trout & salmon. A short drive along the mountain backbones and you'll arrive fresh & ready to climb the Great Wall of China (Mutianyu), less crowded with the most spectacular views.
Beijing Roast Duck is the most famous and must-taste dish of Beijing. We will arrange Roast Duck dinner for you at Fangzhuang Branch of Quanjude Roast Duck Restaurant.
Good to Know:
Ranked #1 Section – The Mutianyu section is ranked #1 of 900+ attractions in Beijing.
"A Guide is Essential" – Beijing's Expat Travel Writer Sara Naumann recommends definitely using a guide, even for an independent traveller. She recommends Mutianyu "the views are awesome and the wall itself is in great shape".
Day 5
Beijing to Xi'an by flight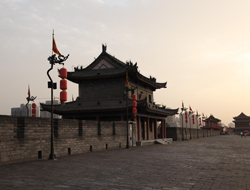 Ancient City Wall
After an early breakfast at your hotel, your private guide, car, and driver will be waiting for you to escort you to the airport for your flight to Xi'an. In two hours you will meet your Xi'an guide and be transferred to your hotel by private car.
Walking on Xi'an's Ancient City Wall: Relax yourself while seeing an overview of the city. Your guide will unfold the wall's 600+ years of undulating history in his/her explanation. Stroll around, merging into the local atmosphere, and discover the local Muslim heritage of Muslim Street, dating back to the Silk Road era.
Good to Know:
Xi'an City Wall & Bike Ride – The city wall and ride are ranked no. 2 and 3 attractions on most websites after the Terracotta army. Rickshaw, ride, or walk, You call the shots.
Bell Tower & Forrest of Steles – Customer feedback on the Steles was low so we do not visit this. Our recommended hotels are close to the Bell Tower so it's easy to see in your own time.
Free-time Ideas:Early Rise – An early walk to watch the dancing, exercise or Tai chi with swords in nearby parks.
Hotels: – Choose your Xi'an hotel to suit you. (2 nights in Xi'an)
Xi'an Skytel Hotel

/ Grand Noble Hotel

/ Sofitel On Renmin Square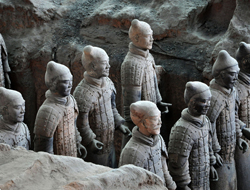 The Terracotta Warriors
One of the most important archaeological discoveries of the 20th century, the Terracotta Warriors. Enjoy lunch a place known nationwide for its Hunan & Sichuan dishes. Big Wild Goose Pagoda is build in AD652. Chinese-style architecture combined with Buddhist historic statues, murals and scriptures topped off by the best panoramic view over Xi'an.
Good to Know:
No Tricks (Big/Little) Pagoda – Look closely at other companies and large group tour operators and you'll see they take you to the free Little Goose Pagoda, - experience + profits.
Adrenaline Boost – Add an extra day and visit Hua Shan. Test your nerves on a crazy cliff hanging path in amazing mountain scenery.
Free-time Ideas:
Tang Dynasty Music and Dance Show is rated in many Top 10's. Your guide can help you buy tickets.
A short walk to see the Bell Tower/Drum Tower. This area has many high end restaurants, but if you're ready for something western, there is a Starbucks, Dairy Queen and Dunkin Donuts.
Day 7
Xi'an to Shanghai by Flight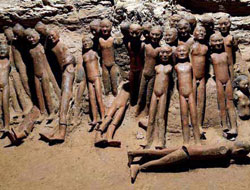 Han Yang Ling Museum
Hanyang Ling (Hanyang Tomb) Museum is not only a museum, but also an archeological site dedicated to the Han Dynasty (206 BC – 220 AD). It has been reviewed on TA as "In Some WaysBetter than the Terra Cotta Warriors Your private car, driver, and guide handle the transfer to the airport. Sit back and relax.
Your private guide, car, and driver will be waiting at Shanghai . They will escort you from the airport to your hotel and help you check-in.
Good to Know:
Han Yang Ling Museum (Hanyang Tomb) –The attraction is on the way to Xi'an airport, so it is best to visit it the day you leave. If you have already seen the Terracotta Warrior Museum and the History Museum, you may elect to skip this sight and do something else.
Hotels: –Choose your Shanghai hotel to suit you. (2 nights in Shanghai)
Kingtown Hotel Plaza Shanghai

/ The Bund Hotel

/ Radisson Shanghai New World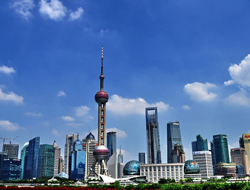 The Bund
Charming Yuyuan Garden, one of the most beautiful Suzhou style gardens in China. Next your walk though old and modern and stop on route at a neat place, a real hit with our customers. The Shanghai Urban Planning Exhibition Hall is an amazing display of the progress and future of Shanghai. We'll have lunch, enjoy the panoramic views from World Financial Center, before a visit to another era, the Bund, which still retains its colonial charm.
Good to Know:
Old Shanghai Restaurant– 130 years old, serving traditional typical Shanghai foods.
We revolve around you! – Customize the trip to suit you. e.g. A history and art fan might like to visit Shanghai Museum, it's rated by many as the best Museum in China.
Free-time Ideas:The Bund Evening Walk & Drink – Great for an evening walk. When the skyline lights go out at 10pm head over to Glamour for a Shanghai Cocktail.
Day 9
Shanghai to Beijing by Flight
Zhujiajiao Watertown is a relaxing, beautiful, old water town outside Shanghai. Walk on the centuries-old stone paths and through old buildings, and experience a traditional lifestyle which goes back hundreds of years. Time seems to stand still. Have lunch at this charming town. You will have free time in the afternoon to explore the old town on your own.
The day ends with a flight to Beijing. You will stay in a hotel close to the airport on your final night. There are buses at the airport to transfer you to the hotel.
Good to Know:
Old Teahouse– You may like to sit down and drink a cup of tea at a traditional local tea house in the afternoon. Try the Time of China at 34 Donghu Street (东湖街34号).
There is a fortune teller at 19 Donghu Street (东湖街19号). He is a friendly and eccentric old man who dresses in traditional yellow silk clothing and a black top hat.
Hotels – Choose to suit your budget and preference. (3 nights in Beijing)
Days Hotel Beijing New Exhibition Center

/ CITIC Hotel Beijing Airport

/ Langham Place, Beijing Capital Airport

Day 10
Beijing to Chicago (International Flight)
The hotel bus will take you to the airport for your flight back to Chicago.
Price Per Person in US Dollars ($ 332 for Single Room Supplement)
Normally hotels allow a maximum of 3 adults per room with an extra bed, at extra charge.
Tour price is indicative only, please inquire for a detailed quotation.
More people more discounts.
X
| Depart US | Return Us | Price | Availability |
| --- | --- | --- | --- |
| Sep. 8, 2013 | Sep. 17, 2013 | From $ 2559 | |
| Sep. 15, 2013 | Sep. 24, 2013 | From $ 2559 | |
| Sep. 22, 2013 | Oct. 1, 2013 | From $ 2549 | |
| Oct. 13, 2013 | Oct. 22, 2013 | From $ 2549 | |
| Oct. 20, 2013 | Oct. 29, 2013 | From $ 2549 | |
| Oct. 27, 2013 | Nov. 5, 2013 | From $ 2489 | |
| Nov. 10, 2013 | Nov. 19, 2013 | From $ 2479 | |
| Nov. 17, 2013 | Nov. 26, 2013 | From $ 2479 | |
Tour Code: CHT-1     Destinations: Beijing, Xian, Shanghai     Tour Length: 8 Days     Accommodation: Economy
Price Inclusion
Price Exclusion
Centrally Located Hotels
Authentic Chinese Food
Private Cars and Drivers
Private Guides
Flights & Transfers in China
Airport Taxes and Fuel Fees
Entrance Fees
Service Charge & Government Taxes
Insurance
Luggage Transfers
China Entry Visa Fees
Excess Baggage Charges
Personal Expenses
Single Room Supplement.
Terms & Conditions:
Tour must be confirmed and flight tickets issued 30 days before the departure date.
Tickets are non-refundable, non-changeable and non-assignable once issued.
Pay USD 100 / Person of the airfare for deposit at reservation.
The balance should be paid within 15 days after the reservation is done.
Price may change during some Chinese festivals.
The tour price is based on a group of 2-5 people.

Feedback About This Tour
 Loading...
You May Also Like...