Itinerary
Day 2:
Shanghai: Yuyuan Garden, Oriental Pearl TV Tower, Shanghai Urban Planning Exhibition Hall, The Bund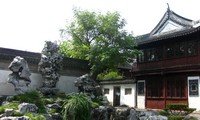 Yuyuan Garden (1 hour): Yuyuan Garden is located in the center of Shanghai old quarters. It was a private garden built in 1559 during the Ming Dynasty, with typical Chinese classic architecture and style. The complex covers an area of 2 hectares, with rockeries, pavilions, ponds and corridors. Yuyuan Garden is surrounding by a busy market place, where visitors can find everything from popular local snacks, handicrafts, antiques and souvenirs to some famous time-honored restaurants.
Oriental Pearl TV Tower (1.3 hours): One of the tallest TV towers in the world, known for its distinctive spheres, or "pearls", it stands across the river from the Bund, among the exciting architecture of the east bank. The Shanghai History Museum is Located on the first floor of the Oriental TV Tower. There you can see the four major exhibition units reflecting Shanghai's history, modern and recent revolutionary history respectively.
Shanghai Urban Planning Exhibition Hall (1 hour): A short walk across Renmin Square from the Shanghai Museum, this is a fascinating insight into Shanghai's future. The 2nd floor has a giant walkaround model of the city, and other floors have great displays, interactive exhibitions and walkthroughs of aspects such as the ports, greening, leisure etc.
The Bund (40 minutes): This 1.5-kilometer-long embankment runs along the western bank of Huangpu River. On its west side it is the "architecture gallery" with 52 well-preserved old European style buildings. Once the major trading and commercial center of old Shanghai, the Bund has now taken on new vitality, with futuristic developments, chic restaurants, top end shops and bars offer plenty to see and do-and by night it's magic!
Day 3:
Shanghai to Hangzhou Train No. D5653 (Shanghai Railway Station - Hangzhou Railway Station) Dep 08:01 - Arr 09:46; Leisure Bicycle around the West Lake, Lingyin Temple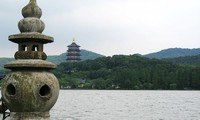 Leisure Bicycle around the West Lake: It is romantic and easy to tour around the West Lake by bicycle. You can feel the picturesque scenery of the West Lake, breathe the fragrant air of the nature and exercise your body as well.
Lingyin Temple (2 hours): As one of the most important and wealthiest Buddhist temples in China, Lingyin Temple boasts plenty of pagodas and Buddhist grottoes.
During the Eastern Jin Dynasty in 328 AD, Hui Li, a monk from India brought Buddhism to this area and founded this temple. At that time, nine multi-storey buildings, 8 pavilions, 72 halls and more than 1,300 dormitory rooms had made up this temple, and it was the national worship center.
Day 4:
Private Transfer from Hangzhou to Wuzhen; Ancient Village Wuzhen and Boat Cruise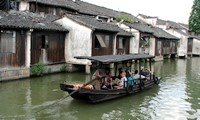 Ancient Village Wuzhen (1 hour): Wuzhen lies in the far north-east of Zhejiang province, about 90 minutes by road from Shanghai. The name "water town" is especially apt; besides lying on the Grand Canal, the settlement is completely encircled by two rivers - the Dong Shi and a smaller tributary, which meet at a T-junction.
The Wuzhen wooden boat takes 6 people at maximum and cruise is around 20 minutes. tourists can enjoy the atmosphere of the traditional cultures and the original ancient features of the town that have been preserved intact, the elegant watery views and the strong local colored traditions and customs.
Day 5:
Wuzhen to Shanghai; Shanghai Departure Flight, Flight not included
Your guide and driver will escort you from Wuzhen to Shanghai Pudong International Airport for your departure flight leaving Shanghai.
Just let us know your travel style!
Guide vs. Free-time ratio / Hotel Style & Interests / Dates / People
We will then adapt this tour and create a unique quote based on your individual needs.

Free Quote