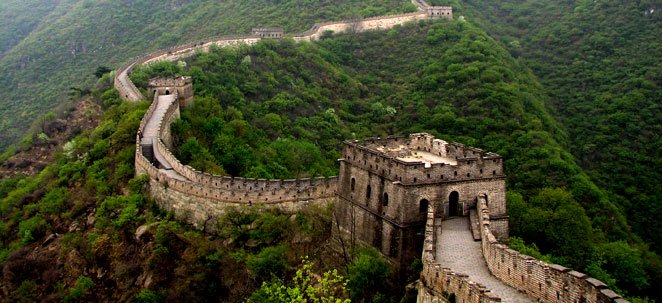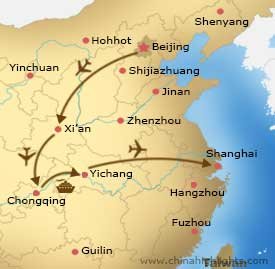 Itinerary
Your guide will be waiting at the airport, ready to whisk you to your romantic courtyard hotel in the ancient part of Beijing Hutongs.
The rest of the day is for you to relax or have a leisurely walk in the surrounding small roads. If you would like, your guide can give you recommendations of where to eat dinner.
Stay connected: Wi-Fi RentalA Free SIM Card
Day 2:
Beijing: Forbidden City, Tiananmen Square, Hutong Tour, Chinese Knot Making
The Forbidden City is an unforgettable experience, walking through the halls and vast courtyards one cannot but wonder what it must have been like in its heyday; full of beautiful ladies in silk robes, and important officials in their intricate outfits.
Lunch is booked in an intimate courtyard restaurant serving delicious French cooking. Hutong Tour takes you through a maze of alleyways on a rickshaw, and to visit a local family. They have lived here for generations and have plenty of stories to tell. Tiananmen Square is quite a shock after intimate courtyards; here thousands of visitors mill wondering at Mao's Mausoleum and across the iconic square.
Learning to make a Chinese knot out of silk yarn is a charming end to the day. This ancient art form is not only decorative, but the different designs have rich meanings, such as happiness, prosperity and love.
Day 3:
Beijing: Mutianyu Great Wall, Liang Zi Massage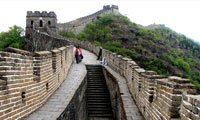 Mutianyu Great Wall is very popular but still has a rural feel, perhaps because the wall is in many parts so steep that you can't see the other visitors. A cable car ride up ensures you get to the top looking fresh for those memorable photos.
Chinese massage is a wonderful experience and Liangzi has created a blend of oriental traditional heath care culture and modern fitness. If you are not comfortable with having a massage, please tell your travel advisor, and they can change the itinerary for you. At China Highlights you can customize any trip!
Haidilao Hot Pot is a very popular local restaurant specializing in a double flavor hot pot. If you need to wait, you can have your shoes polished, or nails done whilst in the line.
Day 4:
Beijing: Summer Palace, Temple of Heaven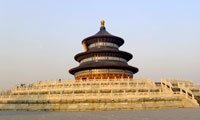 The Summer Palace must be one of the most romantic places in Beijing; the aptly named Garden of Virtue and Harmony surrounds the pagodas and towers of the palace, and a large lake reflects the beautiful scene. You can rent small boats to go on a private little cruise, or just walk among the willow trees.
Temple of Heaven is an impressive complex of buildings, connected by ceremonial passages and gates, where the emperors came to sacrifice for good harvest. An essential iconic sight that should feature on any tour of China.
Day 5:
Xi'an: Big Wild Goose Pagoda, Xian City Wall with Bicycle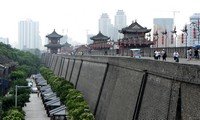 This morning you will be picked up from the hotel and taken to the airport for your flight to Xi'an. After lunch in a restaurant famous for authentic Qianzhou Four Treasures style cooking, Big Wild Goose Pagoda awaits. It is set on the grounds on Da Cien Temple, and gives great views of the nearby lake and park.
Xian City Wall with Bicycle is another experience only available in here: the wall is the largest defense system of an ancient city in China, and 14km long.
Day 6:
Xi'an: Terracotta Army, Dumpling Making
The Terracotta Warriors and Horses are one of the most famous archeological finds in the world, and intricately detailed. Among the newer finds are acrobatics and musicians; seems like the emperor was determined to be entertained in the afterlife too.
For dinner we have organized an experience of making dumplingsand learn something of the meaning placed on different fillings and methods. Afterwards of course you will savor these delicious little morsels.
Day 7:
Xi'an: Shadow Play in the Gao Courtyard, Muslim Quarters
Gao's Courtyard is a beautiful ancient home of imperial officials, where time seems to have stood still. Part of the experience is a shadow puppet play, an ancient form of storytelling accompanied by traditional music.
The nearby Muslim Quarter has a long avenue with original bluestone paving, with many stalls selling all manner of handcrafts and souvenirs.
Later on in the day your guide will take you to the airport to catch your flight onwards to Chongqing. As always we will handle the bags, confirm your departure flight is on time, while ensuring you are at the right terminal and security gate in good time.
Day 8:
Chongqing: Panda Room in Chongqing Zoo, Ciqikou Old Town, Huguang Guild Hall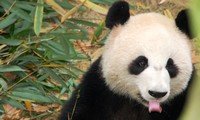 Today the Panda Room in Chongqing Zoo is a highlight of the day, although there are many other endangered species as well, such as the majestic South China Tigers.
Ciqikou Old Town still has the feeling of an authentic community, although it is frequented by visitors coming to savor the famous local snacks. Huguang Guild Hall from the Qing Dynasty has beautiful wooden carved figures and fittings, all delicately detailed.
In the afternoon your guide will escort you to the dock to board the Yangtze cruise boat, which will set off after dinner.
Day 9:
Yangtze Cruise: Shibaozhai , Welcoming Banquet, Dancing Part
Shibaozhai is stunning red pavilion, considered as one of the great feats of architecture of ancient times, now protected by a small dam from the risen water level.
There is an optional excursion to the Fengdu Ghost City; a cable car can take you to the top of a small mountain for beautiful views. Captain's Welcoming Banquet and Dancing Party will while away the evening.
Day 10:
Yangtze Cruise: Qutang Gorge, Wu Gorge, Shennong Stream, Crew's Performance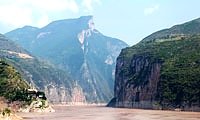 The boat will pass through two of the gorges today, Qutang Gorge and Wu Gorge. In the afternoon a shore excursion to Shennong Stream, a tributary of the Yangtze, will take you to fairyland of misty valleys where crystal clear water cascades down waterfalls.
Visiting White Emperor City is optional; this ancient town is now a small island due to the risen water level.
The crew's performance provides the entertainment while you cruise along the glistening Yangtze, on this last evening of the cruise.
Day 11:
Yangtze Cruise: Three Gorges Dam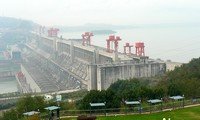 Before arrival to Yichen (the end of the journey) a shore excursion to the Three Gorges Dam Site allows you to marvel at this gigantic human achievement close up.
From Yichang a private car will whisk you to the airport for your flight to Shanghai, often called 'The Paris of the Orient'.
Day 12:
Shanghai: Yuyuan Garden, The Bund, Jade Buddha Temple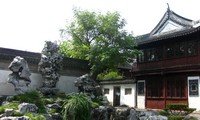 Yuyuan Garden in the old quarter is a gorgeous haven in the middle of a metropolis; after wards you can shop till you drop in the surrounding Yuyuan Market, filled with beautiful things.
The Bund is a living memorial to the European connections of Shanghai, and a thriving center of cafes and up market shops and bars. It is at its best after dusk; you must come back for an evening stroll along this colonial stretch of Shanghai.
Jade Buddha Temple is a prosperous Buddhist temple amongst locals and Buddhists. It has two statues of Buddha imported from Burma by sea, carved from rare single blocks of white jade adorned with precious stones.
Day 13:
Shanghai: Free Day
Today is yours to do some shopping, meander on the Bund and stop in elegant coffee shops before perhaps taking an evening river cruise to end this fabulous honeymoon.
Our commitment to your comfort doesn't end until your guide has take you to the airport and seen you checked in for your flight home.
Just let us know your travel style!
Guide vs. Free-time ratio / Hotel Style & Interests / Dates / People
We will then adapt this tour and create a unique quote based on your individual needs.

Free Quote