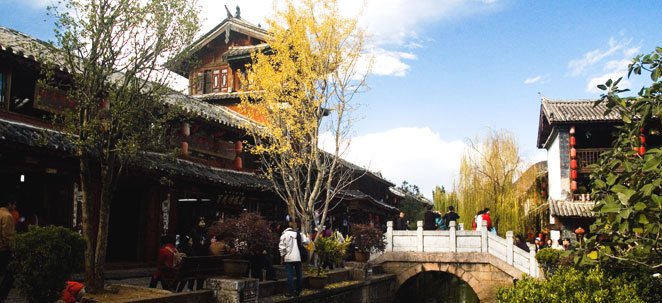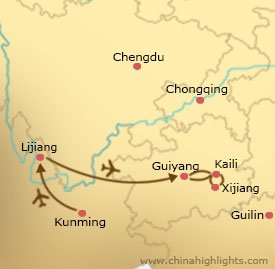 Itinerary
Your personal guide will be ready and waiting you at airport arrivals. Our private car and drive will get you to the hotel in no time.
Stay connected: A Free SIM Card Wi-Fi Rental
Day 2:
Kunming: Stone Forest
The Stone Forest is a vast area filled with limestone pillars formed through erosion. It belongs to Sani people, who show some of their customs in the park. It is fairly far from Kunming, but a private car makes it a breeze, and you can see the beautiful countryside while sipping a cold drink in comfort. For lunch we enjoy Roast Duck in a restaurant nearby.
Day 3:
Kunming: Yuantong Temple, Grand View Tower, Green Lake Park, Flight to Lijiang
Over 1,000-year-old Yuantong Temple and the Grand View Tower, built during the Qing Dynasty, can be found in the grounds of a lovely park, which tell of the history of Kunming.
We're also see Green Lake Park, which forms a charming oasis in the middle of the city, where willows lean to see their reflection on the clear water.
Yikeyin Old House Restaurant at the exit of Bird and Flower Market serves traditional Yunnan Cuisine. The main building of the restaurant was built in 1852 and is a very typical example of the "Yikeyin" courtyard.
Your guide will escort you to the airport for you flight to Lijiang in the heart of the Yunnan minority area.
Day 4:
Lijiang: Baisha Murals at Baisha Village, Jade Dragon Snow Mountain
On the way up the mountain in your private car you will get a chance to see the famous Baisha Murals in the Baisha Village. These thousand-year-old paintings successfully combine Tibetan, local Naxi and Han Chinese cultures. The village restaurant provides a real taste of Naxi cuisine.
The Jade Dragon Snow Mountain is accessed by a cable car form the Yak Meadow up to 3,800m. The cloud base is spectacular from this height.
Day 5:
Lijiang: Shuhe Ancient Town
Some say Shuhe Ancient Town is what Lijiang was ten years ago, not quite separated from the world, but more rural and peaceful. You have time to wonder the ancient streets, shoot some photos and sit in a local cafe people watching.
Day 6:
Lijiang: Ancient Town, Flight to Guiyang via Kunming
In the morning you have time to really get to know Lijiang Ancient Town and explore the streets. In the evening your guide will take you to the airport to catch a flight to Kunming and transfer to Guiyang.
Day 7:
Guiyang: Tianlong Village, Huangguoshu Waterfall and Tianxing Qiao Scenic Area, Batik Museum
Guiyang has stunning scenery in the mountains where minority people groups live. Tianlong Village inhabitants are the descendants of the Ming Dynasty garrison troops, stationed to guard the area. Their traditional opera is called Dixi, and has stayed the same for centuries in this remote village.
Huangguoshu Waterfalls are formed of hundreds of smaller waterfalls, connected by tranquil ponds and small lakes. Adjoining Tianxing Qiao Scenic Area has stunning limestone caves. The Batik Museum explains the process of making batik, a method used by many minorities in this area.
Day 8:
Guiyang: Shiqiao Village, drive to Kaili: Kaili Ethnic Minorities Museum, Qingman Village
You will set off this morning for a two day exploration of the Miao villages on the mountains. The Miao ethnic group is known for numerous festivals throughout the year; find out from your travel advisor which ones coincide with your visit.
In Shiqiao Village the art of making paper by hand from mulberry tree has been preserved for over a thousand years. In Kaili the Ethnic Minorities Museum introduces you to the cultures and customs in Guizhou province, and prepares you for further exploration.
In a local restaurant you will be welcomed with a traditional ceremony, and be served with a small taste of sour fish soup.
Qingman Village people wear stunning colorful costumes and striking silver jewelry and headdresses. The welcome ceremony includes drinking local famous wine, and then watching how the traditional indigo dyed fabric is processed to create the unique silk-like appearance.
The night will be spent in a small hotel in KaiLi.
Day 9:
KaiLi: Jidao Village, Embroidery Museum, Drive to Xijiang Village
Jidao Village has hundred years old wooden dwellings built in a traditional way, without nails. The village is known for their weaving and spinning skills, which you are invited to watch. Embroidery Museum nearby illustrates the different patterns and colors used traditionally to decorate their clothing. Xijiang Village has a folk performance which combines the outfits, music and dancing to a stunning show.
Day 10:
KaiLi to Guiyang Airport
Your guide will accompany you to Guiyang to take you to catch your onward flight. We are sure this trip will not only offer you an adventure, but bring some understanding of the minority people of this area, as well as some fantastic views and experiences along the way.
Just let us know your travel style!
Guide vs. Free-time ratio / Hotel Style & Interests / Dates / People
We will then adapt this tour and create a unique quote based on your individual needs.

Free Quote