Itinerary
We take care of you from the moment you walk through that arrivals gate; your guide and driver will be waiting for you, ready to take you to the hotel.
Day 2:
Guilin Natural Wonders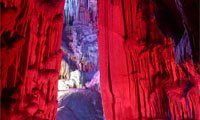 Your guide and driver will meet you at your hotel and take you to see the natural wonders of Guilin, known for the spectacular karst mountains: Reed Flute Cave, Elephant Trunk and Fubo Hill.
Lunch at a restaurant decorated in traditional northern style has a variety of tastes sure to delight.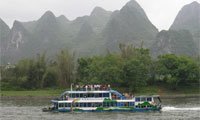 The cruise along the Li River from Guilin to Yangshuo is an unforgettable experience; the stunning scenery is truly unique (Watch the Video ). Lunch is served on board in buffet style, and after arrival to Yangshuo you can explore the town and its narrow streets. You may even see one of the famous cormorant fishermen.
We also offer the option to take a bamboo style motor raft through the most scenic section, it takes about 2 hours. You start the journey with a 45-60 minute coach ride to the wharf. The raft holds up to four people. Contact us for more information about the options we can offer you.
In the evening set on a 2-kilometer stretch of the Li River, there will be a spectacular show based on the life of the famous folk heroine Liu Sanjie. As a creation of renowned Chinese director Zhang Yimou, the music, dance, lights and natural beauty of the backdrop ensure that you will not be disappointed. If you are interested in watching the show, you can ask your tour guide for more information.
Day 4:
Yangshuo Countryside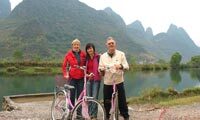 The beautiful countryside surrounding Yangshuo is your destination today; you get up close and personal with nature by cycling along the paddy fields and through the fragrant orchards. We'll take you to meet a lovely local family, They offer a warm welcome and love to share about their life in the countryside.
After return to Guilin your guide will take you to the airport for your flight to Kunming, where you will be met and taken directly to your hotel.
Day 5:
Kunming and Stone Forest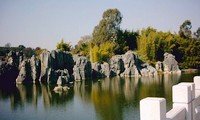 You will be taken in a private car with your guide to Yunnan province's amazing Stone Forest, a fantastic natural formation of karst rocks. The lunch nearby includes the famous roast duck.
After return to Kunming, the next stop is Green Lake Park, where locals like to practice Taiji and local opera. In November and December, flocks of red-beaked gulls migrate there from Siberia, forming a stunning spectacle.
Day 6:
Dali and Erhai Lake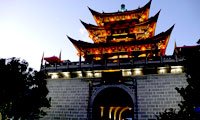 In the morning you will fly to Dali, where fresh mountain air greets you. The traditional houses and gardens of the Bai people in Xizhou and Dali Old Town are famous throughout all of China for their beauty and exquisite decorations. If you have an interest in photography, you may wish to spend more time here; just discuss it with your guide. At China Highlights we are happy to customize and adjust any tour to your needs.
After lunch in one of the most popular coffee shops, which offers western style and Asian food, a cruise on the Erhai Lake allows you time to take in the breathtaking views. A visit to a working fishing village gives you an insight into life of the local people.
Day 7:
Lijiang Ancient Town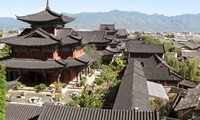 Your guide will take you in a private car to the famous Lijiang Ancient Town, well preserved minority town more than 2400 meters above sea level. You're guide will help you to explore the older parts of the city.
The lunch gives you a taste of the local Naxi cuisine, one specialty is a type of cheese.
Day 8:
Jade Dragon Mountain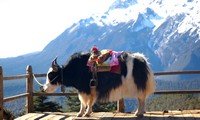 Today your guide and driver will take you further to the mountains, first to see the murals at Baisha Village, painted over a thousand years ago, and after lunch in Naxi style the Shuhe Ancient Town, also called a "village forgotten by time".
The main destination of the day is the Jade Dragon Mountain, a paradise above the clouds accessed by a cable car taking you to over 4.5 km above sea level. You can also visit Ganhanzi, Baishuihe (White Water River), and Glacier Park from this cableway.
You guide will take you to Lijiang airport and look after you until that last wave before you go through the passport check.
Just let us know your travel style!
Guide vs. Free-time ratio / Hotel Style & Interests / Dates / People
We will then adapt this tour and create a unique quote based on your individual needs.

Free Quote