Itinerary
Your guide will be waiting at the arrivals, eager to meet you. A private air-conditioned car takes you to the hotel.
Stay connected: A Free SIM Card Wi-Fi Rental
Day 2:
Urumqi : Erdaoqiao Market, Heavenly Lake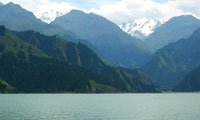 As soon as you arrive at Erdaoqiao Market it becomes clear you've entered a different world. It is like the Thousand and One Nights, with vendors busy selling carpets, knives and crafts with a great commotion. The old streets nearby are a great way to see the past of the city, get a feel for the culture, and capture an impression of the area through the lens.
The drive to the Heavenly Lake is well worth the trip: its waters reflect the meadows and mountain peaks. A short cruise gives you a different perspective on the vastness and beauty of the area.
Meals:Lunch
Day 3:
Urumqi: Xinjiang Museum (Fly to Kashgar)
The Xinjiang Museum is perhaps best known for the 4,000-year old mummies found in the desert. The mummies have survived better than their Egyptian counterparts; among them is the Beauty of Luolan, a Caucasian woman with red hair.
In the afternoon your flight takes you to Kashgar, the westernmost city in Xinjiang.
Meals:Lunch
Day 4:
Kashgar: Id Kah Mosque, Zhiren Street, Kashgar Old Town, Livestock Market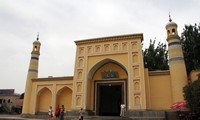 Id Kah Mosque is a center of worship for well over 10,000 Muslims on Fridays, during midday prayers. Zhiren Street nearby has all kinds of artisans perfecting their wares and selling their crafts, you may wish to spend some time here to browse. Our guide is at hand and happy to help train you in the art of bartering.
Kashgar Old Town has a unique 600-year old Uighur living area called Gaotaiminju, where each generation adds their living quarters on top of the existing ones. There is also a folk museum depicting Uighur clothing and customs.
Livestock Market on Sundays starts early with people coming from all over the province to sell their livestock and bargain in good humor; quite an experience.
Meals:Lunch
Day 5:
Flight to Urumqi and Drive to Turpan
Today is dedicated to flying to Urumqi, and then driving to Turpan in a private car with a guide.
Meals:Lunch
Day 6:
Turpan: Astana Tombs, Tuyoq Village and Tuyugou Canyon, Suleiman Minaret, Local Vineyard
Astana Tombs in the Gobi desert are the finding place of exquisitely preserved mummies and fine burial wares. Tuyoq Village, also called Tuyugou, is a traditional community of narrow streets and mud brick houses near the enchanting Flaming Mountains.
Suleiman Minaret, or Emin Minaret, is the only remaining ancient tower of its kind in China and a landmark in the surrounding town.
Turpan is famous for growing grapes, thank to the Karez Wells, which you get to see tomorrow. A visit to a local family run vineyard lets you see and taste the results in practice.
Meals:Lunch
Day 7:
Turpan: Karez Wells, Ruins of the Ancient City of Jiaohe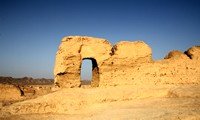 The Karez Wells are a stunning ancient feat of engineering and planning of an irrigation system. It is considered equal to Great Wall and Grand Canal in significance and makes farming possible in this extremely arid land. The Ruins of the Ancient City of Jiaohe, built by the Caucasian origin Cheshi or Guishi people, was deserted after Silk Road travel diminished.
In the late afternoon your guide will take you to board an overnight train to Liuyuan Train Station. Arrival at Liuyuan in early morning, and be met and transfer to Dunhuang by your local tour guide, driver and car.
Meals:Breakast, Lunch
Day 8:
Dunhuang: Singing Sand Dunes and Crescent Spring, Mogao caves, Camel Ride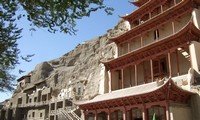 Singing Sand Dunes have been the wonder of generations; right wind conditions create an eerie sound. Crescent Spring is a lush oasis in the middle of the desert sands, seemingly out of place in this parched place. Camel ride here makes you truly feel like you are on the Silk Road, headed for distant lands.
Mogao Caves formed through centuries of hard work by the monks, are decorated with stunning frescoes and statues. Only some are open and groups are combined to be guided by a local to protect them from erosion.
Meals:Lunch
Day 9:
Drive to Jiayuguan: Jiayuguan Pass, Great Wall on the Cliff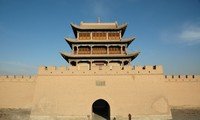 In the morning your guide and driver will take you to Jiayuguan, and to see the Jiayuguan Pass, the westernmost pass of the Great Wall, a great fortress surrounded by stunning mountains. The adjacent museum has many artifacts telling the story of this magnificent place.
The Great Wall on the Cliff was built in such a steep ridge that it seems to cling to the mountain side.
Meals:Lunch
Day 10:
Drive to Zhangye; Danxia Landform Geological Park
Today you will be transferred from Jiayuguan to Zhangye. On the way, visit Danxia Landform Geological Park, with the breathtakingly beautiful mountains of Zhangye where layered red sandstone forms undulating lines in the landscape, seemingly painted by an impressionist painter, are a sight to touch even the heart of a seasoned traveler.
Meals:Lunch
Day 11:
Drive to Wuwei: Lei Tai, Wuwei Wen Temple (Wen Miao), Tiantishan Grottoes
Today your journey takes you to Wuwei, an ancient center of travel on the Silk Road. Lei Tai Han Tomb is famous for having been the finding place of a beautiful bronze galloping horse. Wuwei Wen Temple (Wen Miao) and Tiantishan Grottoes tell of the influence of Buddhism in the area. The latter is the earliest grotto in China and is regarded as their forefather.
Meals:Lunch
Day 12:
Drive to Lanzhou: White Pagoda Hill, Waterwheel Garden
White Pagoda Hill by the Yellow River gives a great view over Lanzhou. Waterwheel Garden is a memorial to the devices once used to lift water from the river to irrigate the fields, vital in this dry land.
Meals:Lunch
Day 13:
Drive to Xiahe: Labrang Monastery
A drive to Xiahe to see the Labrang Monastery will take most of the morning, but is well worth it. It is one of the major centers for the Yellow Hat Sect of Tibetan Buddhism, and the most important temple outside Tibet. The colorful halls and sculptures are a stunning backdrop to the monks in their ceremonial clothing.
Meals:Lunch
Day 14:
Xiahe: Songke Grasslands
After night in Xiahe, you will see the Songke Grasslands, green as far as eye can see and a roaming place for the Tibetan nomadic tribes. You can try your skills in horseback riding and listen to the traditional songs.
In the afternoon your driver takes you back to Lanzhou.
Meals:Lunch
Day 15:
Flight to Xi'an: Shaanxi History Museum, Ancient City Wall, Muslim Quarters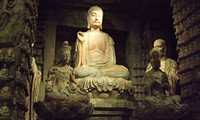 Shaanxi History Museum gives you a great introduction to this ancient cradle of culture, it is said to be one of China's best. The Ancient City Wall is unique in China for you can ride a bicycle on the top, or even have a rickshaw ride, it is so wide.
Muslim Quarters area testimony to the Islamic heritage, and has a charming ancient blue stone pavement on one section, flanked by stalls selling traditional goods.
Meals:Lunch
Day 16:
Xi'an: Terracotta Army, Big Wild Goose Pagoda
The morning is dedicated to the reason why most people come to Xi'an: the Terracotta Warriors and Horses. They are truly magnificent, each one individually finished to have different features.
Big Wild Goose Pagoda in the city center is a major Buddhist site from the 7th century on the grounds of the Da Ci'en Temple.
Meals:Lunch
If your flight leaves later, you can explore and arrange with your travel advisor a later pick up to the airport; that is the beauty of individualized travel with China Highlights.
Just let us know your travel style!
Guide vs. Free-time ratio / Hotel Style & Interests / Dates / People
We will then adapt this tour and create a unique quote based on your individual needs.

Free Quote