Itinerary
Day 1:
Arrive in Shanghai
Your vacation gets off to a great start at the airport, when your reliable guide and private car are ready to take you straight to your hotel.
Stay connected: A Free SIM Card Wi-Fi Rental
Day 2:
Shanghai: Yuyuan Garden, Shanghai World Financial Center, The Bund, Shanghai Museum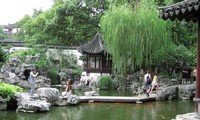 Yuyuan Garden has an ancient feeling, the beautiful landscaping is said to represent the finest of Ming Dynasty style. In nearby Yuyuan Market you can also try your skills at bargaining, the place is full of interesting souvenirs and crafts.
Shanghai World Financial Center has one of the tallest observation decks in the world; the glass floor section offers an option challenge. The Bund, the epitome of the "Paris of the Orient" as Shanghai was once called, has architectural gems lining the streets, whispering of a grand life, but the new cafes and restaurants make sure this is no museum.
Shanghai Museum has a collection of finest artifacts in China; especially intriguing is the exhibition of the ethnic minorities' art and crafts.
Day 3:
Flight to Chengdu, Du Fu Thatched Cottage
The morning flight to Chengdu gets you there in time for lunch and the afternoon offers a visit to the famous Du Fu Thatched Cottage. This cottage introduces you to the cultural history of the city: Du Fu was a famous poet who lives in these gardens in the 8th century.
Day 4:
Chengdu: Panda Breeding and Research Center, Wu Hou Temple, Wenshu Monastery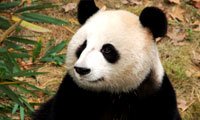 The Panda Breeding and Research Center has a long history in protecting these lovely animals and their success in especially evident in the nursery. Wu Hou Temple is dedicated to the memory of a famous military strategist, and Wenshou Monastery is of Zen Buddhist sect, exquisitely decorated with statues and artwork.
Good to Know:
If you would like to hold a panda, ask from your travel advisor for more information, as there is a donation program for this experience.
The day is spent travelling to Lhasa; our private transfer makes sure you can relax and enjoy the journey.
Day 6:
Lhasa: Sera Monastery, Norbulingka, Drepung Monastery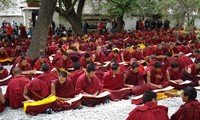 Today is dedicated to seeing some of the most important Buddhist sights in and near Lhasa.
Sera Monastery is one of the three most important centers in Lhasa. Your guide will be able to give you an insight into the debates of the Buddhist scholars and monks, a daily event. Norbulingka, the former summer palace of the Dalai Lamas, has stunning gardens where locals come for picnics on warm days.
Drepung Monastery is the largest of all the monasteries in Tibet, and hosts the annual Shonton Festival in early August.
Day 7:
Lhasa: Potala Palace, Jokhang Temple, Barkhor Street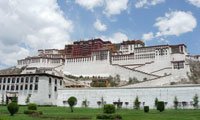 Potala Palace is a sight one does not easily forget: the magnificent red and white walls soaring to the sky, accessed by the famous steps. Jokhang Temple is the most important temple in Tibet, and has a throng of pilgrims spinning the prayer wheels and offering sacrifices. The surrounding Barkhor Street is also a great place to watch the devotees circle the temple or to buy some local goods.
Day 8:
Lhasa: Yamdrok Lake, Drive to Shigatse, Palgor Chorten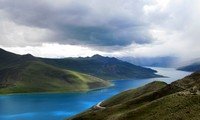 The way to Shigatse offers you views of the stunning Yamdrok Lake, a sacred place to the Tibetans and a talisman to the whole country. The view offers snow capped mountains reflecting in the dazzlingly blue surface. The Palgor Chorten, also named Palcho Monastery, is known for the authentic architecture and one of the most striking stupas, a circular sacred structure housing holy relics.
Day 9:
Shigatse: Tashilunpo Monastery, Drive to Lhasa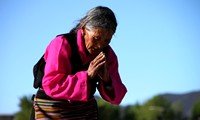 Tashilunpo Monastery is the reason visitors come to Shigatse: a vast complex of red and white buildings, in the style of Potala Palace, which house a magnificent Maitreya Buddha.
In the afternoon your driver will take you back to Lhasa through some stunning scenery.
Today is a journey to Xi'an; you will be picked up at the airport and taken to your hotel.
Day 11:
Xi'an: Terracotta Army, Big Wild Goose Pagoda
The Terracotta Warriors and Horses keep on astounding with the new discoveries made each year. Interestingly there were not only soldiers buried with the Fist Emperor, but acrobats, musicians and much more, our guide will open up this underground world.
Big Wild Goose Pagoda back in Xi'an has a lovely feel to it; the 7th century creation is surrounded by a tranquil garden and has an outlook to a gorgeous lake.
Day 12:
Xi'an: Shaanxi History Museum, Ancient City Wall, Flight to Beijing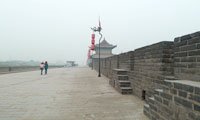 Shaanxi History Museum has one of the best collections in the country, and the artifacts are beautifully exhibited. If there is only one museum to visit in China, this is a strong contender.
Cycling on the Ancient City Wall must be the most fun way to sightsee and have a bird's eye view in the old town of Xi'an. There are rickshaws to hire if cycling is not your style.
In the afternoon your guide will accompany you to the airport, ensuring you'e on time for your flight to Beijing.
Day 13:
Beijing: Great Wall, Temple of Heaven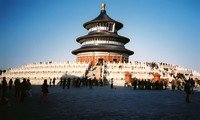 The Mutianyu Great Wall section is the best place to combine comfort with a grand section of the wall: the crows are much smaller, but there is a cable car to take you to the top, saving you time to actually enjoy the views. And what amazing views they are: as this was a strategically important section, watchtowers were built closer to each other than anywhere else, creating a stunning view across the mountains.
The Temple of Heaven is perhaps less well known structure than the other imperial buildings but it is amazing, a culturally priceless complex. Ceremonial walkways lead to circular temples, all surrounded by centuries old pine trees. Locals now are free to roam in the park, and use the privilege to exercise and practice their hobbies in fresh air, which is a unique experience to watch.
Day 14:
Beijing: Forbidden City, Tiananmen Square, Hutong Tour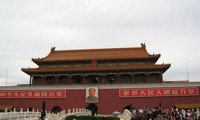 The imperial grandeur of the Forbidden City and Tiananmen Square are still as impressive as they were centuries ago; the golden roofed gates leading to vast courtyards and reception halls. The rich symbolism and court etiquette influencing the design of the structures is best explained by your knowledgeable guide, symbolism is everywhere.
A Unique Hutong Tour is quite a contrast to the palace complex; here narrow alleyways lead to humble courtyard houses. A visit to a local family lets you see inside a real home here, a taste of reality. This experience offers you another perspective on history, the chance to hear some family stories spanning a number of generations.
Your guide is ready to take you to the airport at a time that best suits you, for example you may wish to do some more shopping or explore by yourself.
Just let us know your travel style!
Guide vs. Free-time ratio / Hotel Style & Interests / Dates / People
We will then adapt this tour and create a unique quote based on your individual needs.

Free Quote