Itinerary
Day 2:
Lhasa, Potala Palace, Jokhang Temple, Barkhor Street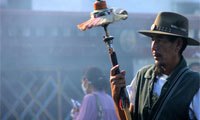 - Potala Palace (1 hour): Former winter home of the Dalai Lama, a vast, awe-inspiring maze of corridors and stairs leading through countless rooms of richly decorated statues, tombs, murals and antiques. You will climb past the White Palace into the Red Palace, where the file of pilgrims offering silk scarves, coins or yak butter to burn in the shrines combine to make this an unforgettable experience. Note: you need to be fit for climbing up the long stairways.
- Jokhang Temple (2 hours): Smaller and more manageable than the Potala, this 4-storey, golden-roofed temple is at the heart of a rich and living Tibetan Buddhism. Many locals pray here regularly; the Temple is surrounded by Barkhor Street and thronged with pilgrims and visitors. Yak butter lamps burn in front of rich statuary that includes the Sakyamuni Buddha brought to Tibet by Princess Wen Cheng in the 7th Century.
- Barkhor Street (2 hours): Built about 1,300 years ago, The Barkhor (pilgrims' circuit) is found in the heart of Lhasa encircling the Jokhang Temple. In the past, it was a designated circumambulation circuit, "a saint's road" in the eyes of Tibetans. Many people call the Barkhor "the window of Tibet" as it exhibits typical Tibetan life. Watch the pilgrims, wearing their local dress from many different parts of Tibet, as they circle clockwise around Jokhang Temple with prayer wheels, or prostrate them near the front gate. Join the locals and visitors to shop for local goods at the colourful stalls, or relax in a coffee shop or tea house to enjoy the passing parade.
Day 3:
Drepung Monastery, Sera Monastery, Norbulingka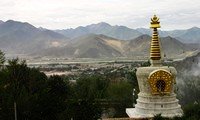 - Drepung Monastery (3.5 hours): Drepung Monastery lies in west of Lhasa under Mt. Gambo Utse, clustered round by the black mountain, its white grand buildings shining under the sunlight. Built in 1416, it is considered as one of the largest monasteries in the six principle monasteries of Gelu Sect in China. Drepung Monastery used to be the living palace of Dalai Lamas before the reconstruction of Potala palace (after the 5th Dalai Lamas was bestowed by Qing emperor Qianlong). The grand Shonton Festival is held in the early part of August every year. That is the busiest day there with crowds of people. It is an opportunity to enjoy the atmosphere of this festival.
- Sera Monastery (3 hours): Located in the northern suburbs of Lhasa, The Sera Monastery is a complex of 4 structures; the Great Assembly Hall and three colleges. It was founded in 1419 by Jamchen Chojey of Sakya Yeshe of Zel Gungtang (1355–1435), a disciple of Tsongkhapa. 'Sera' means wild roses and was called this because the monastery was surrounded by wild roses. One of the three main monasteries of Lhasa, it is here that the monks "famous daily debates" take place.
Tips: Every day (except Mondays) at 15:00, there is a debate about Buddhist doctrines among the monks at Sera Monastery. The debating is held in the grounds and is a necessary way of learning sutras and scriptures. Visitors can watch the debate, but it is advised to keep quiet.
- Norbulingka (2.5 hours): Norbulingka means "Jeweled Garden". Constructed as a summer palace for the Dalai Lama, it later served the whole government administration. It was built by the 7th Dalai Lama and served both administrative and religious purposes.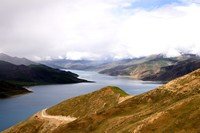 Yomdrok Lake, Our guide and driver will escort you from Lhasa to Shigatse, The Palgor Chorten
- Yomdrok Lake (2 hours): Dotted with a dozen islands and abundant in natural resources, Lake Yamdrok has the highest power station in the world, and is also the largest habitat for water birds in Tibet, attracting countless swans and gulls every summer.
- Local Restaurant: The limited restaurant options mean that there is no choice available however our guide will organize the best available based on the season and the surroundings.
- The Palgor Chorten (1.5 hours): Pelkhor Choede (Kumbum), also named Palcho Monastery, is very different from other monasteries. Built as a Tibetan monastery, its structural style is very unique, reputed as the lord of Tibetan stupas. In addition, it is famous for the architecture, sculpture, and mural painting art. It lies about 270 kilometers (168 miles) south of Lhasa and 100 (62 miles) east of Shigatse at the foot of Dzong Hill.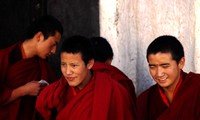 Tashilunpo Monastery, Our guide and driver will escort you from Shigatse to Lhasa
- Tashilunpo Monastery (2 hours): Tashilhunpo Monastery was founded in 1447 by Gyalwa Gendun Drup (1st Dalai Lama) and is a historically and culturally important monastery. Its name means "heap of glory" or "all fortune and happiness gathered here". Painted in red and white, the buildings in the kloster stand closely together in terraced rows, offering a grand and majestic view. Tashilunpo Kloster represents the Tibetan super architecture art in the Last Tibetan spirit.5 story temple which contains a 26 meters (86ft) sitting statue of the Maitreya Buddha (Jamba Chyenmu) inside the grounds of the monastery. The statue was cast from 6,700 ounces of gold and over 115,000 kg of copper, making it the biggest copper Buddhist statue in the world.
Day 6:
Lhasa to Chengdu, Flight No. TBA
Hotel to airport Transfer (Lhasa), Airport Transfer (Chengdu)
Day 7:
Chengdu, Panda Breeding and Research Center, Wu Hou Temple, Jinli Old Street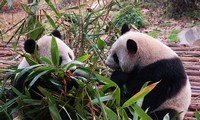 - Panda Breeding and Research Center (2.5 hours): Located 6 miles north of Chengdu City, it is home to giant pandas, red (or lesser) pandas, and other endangered species. Visit the nursery to see the highly successful breeding program, among the bamboo groves and shady walkways, and to view the pandas at rest or play. There is a panda museum where you can learn some information about giant pandas.
Note: The Panda Breeding and Research Center has a donation program which allows you take pictures with holding a panda one minute by donating RMB 2,000 Yuan (for reference only). Only 40 tourists are allowed to hold pandas a day. If you want to hold a panda, you must book it one day in advance.This program is subject to the availability of pandas on that day. Please bring enough RMB cash as payment by credit card is not accepted there.
- Wu Hou Temple (1.5 hours): The Marquis of Wu, Zhuge Liang (181-234) was the outstanding military strategist immortalized in "The Romance of the Three Kingdoms" and in the saying wise as "the Marquis of Wu". Peaceful and attractive gardens surround several halls, including one dedicated to his memory and another to that of his emperor Liu Bei, some impressive statues, a small museum, a famous Tang Dynasty stele and the classic red wall leading to Liu Bei's tomb. A delightful complex.
- Jinli Old Street (1 hour): Once the commercial heart of the old kingdoms this ancient street has been fully restored in traditional Sichuan style. Picturesque, bustling, and cheerful, you can sample local arts and craft, traditional Chinese goods, food and delicacies, and even a Starbucks, local style.
Day 8:
Chengdu to Leshan to Emeishan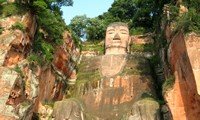 Cruise to have a overlook at Leshan Giant Buddha, Our guide and driver will escort you from Chengdu to Leshan, Leshan Giant Buddha, Our guide and driver will escort you from Leshan to Emeishan
Day 9:
Emeishan to Chengdu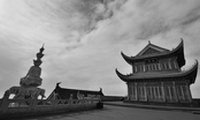 Cable Car leading to Monastery of Ten Thousand Years, Monastery of Ten Thousand Years, Our guide and driver will escort you from Emeishan to Chengdu, Emei Mountain
- Cable Car leading to Monastery of Ten Thousand Years (20 minutes): The Wannian Monastery is the largest of the eight monasteries to be found on Mount Emei. It is dedicated to Bodhisattva Puxian who famous for his preaching.
- Monastery of Ten Thousand Years (1 hour): 1,043 meters above sea level, was built in the 4th century. It was burned several times in the following centuries. The present brick building was reconstructed in the Ming dynasty (1368-1644). The Brick Hall, a domed building with small stupas on it, was built of bricks. In the hall is a statue of the Bodhisattva. Puxian on a white elephant, 8.5 meters high, cast in copper and bronze. It weight is estimated 62 tons. And this statu was here in 980AD.
- Local Restaurant: The limited restaurant options mean that there is no choice available however our guide will organize the best available based on the season and the surroundings.
- Emei Mountain (50 minutes): One of the most famous mountains for Buddhism in China. It has many temples and beautiful scenery.Baoguo Temple lies right at the foot of Mt. Emei.
Day 10:
Depart Chengdu, Flight not included
Hotel to airport Transfer (Chengdu)
Just let us know your travel style!
Guide vs. Free-time ratio / Hotel Style & Interests / Dates / People
We will then adapt this tour and create a unique quote based on your individual needs.

Free Quote