Itinerary
Day 1:
Arrive in Urumqi to Kashgar, Flight not included, connect Flight No. TBA
Airport Transfer (Kashgar)
Stay connected: A Free SIM Card Wi-Fi Rental
Day 2:
Kashgar, Id Kah Mosque, Abakh Khoja Tomb, Bazaar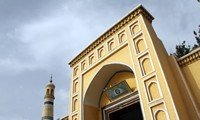 - Id Kah Mosque (40 minutes): This 15th century mosque is one of the largest and busiest in China. At midday on Fridays around 10,000 people will gather to pray and study the Koran, and prayer 5 times/day on other days. You'll be asked to remove your shoes before entering the Main Hall, which has traditional Islamic pillars, carvings and rugs strewn over the floors. Women are adviced to cover upper arms and legs, a scarf is not compulsory, but is seen as a mark of respect. This is a must visit place for tourist in Kashgar .
- Abakh Khoja Tomb (40 minutes): It is a tiled mausoleum holding the tomb of Abakh Khoja, who is a revered sufi preacher and political leader in the 17th century. There are 58 other tombs remaining of the original 72, including that of 'the Fragrant Concubine', a descendant of Abakh Khoja , who was so loved by the Emperor Qianlong that he even built her a special Uighur style house in the Forbidden City. Her body was brought back to Kashgar by her sister-in-law, according to Uighur custom. This is a must visit place for tourist in Kashgar .
- Bazaar (2 hours): Famous throughout Asia, this ancient market attracts locals and merchants from all over Xinjiang and nearby countries such as Pakistan and Kirghizstan. There are numerous commodities, like dried fruit and delicacies, clothes, shoes, leather, textiles, rugs and carpets as well as scarves, souvenirs and other goods in an eclectic mix that appeals to traveler and native alike. Open all week, Sunday's the big day when the farmers come to town, and those who still prefer to shop at the market rather than city shops. Bazaar especially Sunday Bazaar is a very interesting place so many foreigners'main purpose in Kashgar is to visit the Bazaar.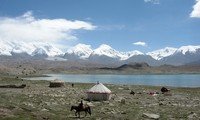 - Lake Karakuli (2 hours): Karakuli Lake is a sparking glacial lake located at the foot of "the Father of Glaciers" – Muztagata Mountains. A railway connnecting China with Pakistan goes by the lake. The lake is famous for its beautiful scenery and clarity. Colors of its water range from light to dark under reflection.
Day 4:
Kashgar to Urumqi to Turpan, Flight No. TBA
Hotel to airport Transfer (Kashgar), Airport Transfer (Urumqi), Our guide and driver will escort you from Urumqi to Turpan
Day 5:
The Karez Wells, Gaochang Ruins, The Flaming Mountain, Suleiman Minaret, Local Family Visit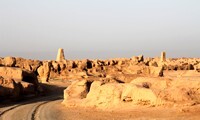 - The Karez Wells (40 minutes): This irrigation system of wells connected by underground channels is considered to be one of the three great ancient projects in China. The Karez Wells Folk Garden and Museum is located adjacent to Turpan, 3 kilometers west of the city center. The famous fruit and vineyards of these hot, dry desert communities owe their existence to the Karez wells, ancient underground irrigation channels fed by wells that tap into the snowmelt from surrounding mountains. These systems are still maintained and functioning today. A small museum provides an insight into their intriguing history and construction, and takes you below ground for a first-hand view.
- Gaochang Ruins (1.5 hours): The city's name means 'the King City'. It was founded during the first century B.C. and abandoned during the 15th century, an important point on the Silk Road.Ascending a height to enjoy a distant view, you can see the whole city in a plane shape of an irregular square, which is divided into three parts the exterior city, interior city and the palace city. The total area is about two million square meters.

Now the desert is reclaiming its own. Donkey carts can take you among the ancient ruins, some identifiable,others disappearing into the dust. A few are partly restored and the outlines of the outer, inner and palace cities are clear. This desolate, ancient city evokes an overwhelming sense of history and the march of time. There are no trees in this city so it will be very exposure in summer.
- The Flaming Mountain (30 minutes): The Flaming Mountains, the hottest place in China, overshadow the cradle of the Turpan ancient civilization and oasis agriculture. They provide a spectacular backdrop to the oases and scenery of the Turpan area, and have given rise to many legends and stories, such as the classic "Journey to the West". There are stone reliefs showing the monkey king Sun Wukong, the monk Tang Sen and the pig-man Zhu Bajie and their adventures in an underground cavern built at the foot of the Flaming Mountains to introduce its culture to visitors. The view of the Flaming Mountains depends heavily on the weather condition, especially temperature. The period from August to October is the best time to visit, also during noon time at around 3 o'clock the Flaming Mountains take on the reddest color.
- Suleiman Minaret (40 minutes): Also known as Sugong Tower, it is the biggest ancient tower existing in Xinjiang and the only ancient Islamic minaret in the country. It is located 2 kilometers southeast of Turpan's center.
- Local Family Visit (40 minutes): Uygur people are very hospitable. Visit their traditional houses and be welcomed by their unique food and drinks, and learn about their daily life and customs. Follow your tour guide's suggestion and respect local customs.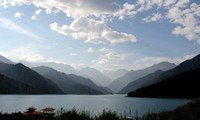 Our guide and driver will escort you from Turpan to Urumqi, Erdaoqiao Market, Heavenly Lake, Boat for Cruise on the Heavenly Lake
- Erdaoqiao Market (1 hour): The Erdaoqiao Bazaar is the largest in Urumqi. You'll find a bustling market filled with fruit, clothing, crafts, knives, carpets and almost anything that you can imagine. On Sunday, there are more stalls and more goods to buy than any other day. The old streets around the bazaar are really worth seeing.Here is the most welcomed place by tourist especialy by ladies where they can buy some traditional yugur make up cosmetic.
- Heavenly Lake (1 hour): Heavenly Lake (Tian Hu) is a beautiful blue mountain lake. The blue lake water is finely contrasted with steep forested hills, high meadows and snowy Heavenly Mountain peaks behind. There you can walk, take electric carts, cable cars and a boat cruise on the lake.
- Boat for Cruise on the Heavenly Lake (40 minutes): It is a different way to visit Heavenly Lake by boat.
Day 7:
Urumqi to Chengdu to Lhasa, China Southern Airlines CZ6941 Dep 09:05 - Arr 12:15, connect Sichuan Airlines 3U8697 Dep 14:00 - Arr 16:00
Hotel to airport Transfer (Urumqi), Airport Transfer (Lhasa)
Day 8:
Potala Palace, Jokhang Temple, Barkhor Street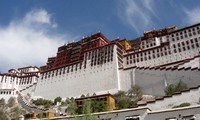 - Potala Palace (1 hour): Former winter home of the Dalai Lama, a vast, awe-inspiring maze of corridors and stairs leading through countless rooms of richly decorated statues, tombs, murals and antiques. You will climb past the White Palace into the Red Palace, where the file of pilgrims offering silk scarves, coins or yak butter to burn in the shrines combine to make this an unforgettable experience. Note: you need to be fit for climbing up the long stairways.
- Jokhang Temple (2 hours): Smaller and more manageable than the Potala, this 4-storey, golden-roofed temple is at the heart of a rich and living Tibetan Buddhism. Many locals pray here regularly; the Temple is surrounded by Barkhor Street and thronged with pilgrims and visitors. Yak butter lamps burn in front of rich statuary that includes the Sakyamuni Buddha brought to Tibet by Princess Wen Cheng in the 7th Century.
- Barkhor Street (2 hours): Built about 1,300 years ago, The Barkhor (pilgrims' circuit) is found in the heart of Lhasa encircling the Jokhang Temple. In the past, it was a designated circumambulation circuit, "a saint's road" in the eyes of Tibetans. Many people call the Barkhor "the window of Tibet" as it exhibits typical Tibetan life. Watch the pilgrims, wearing their local dress from many different parts of Tibet, as they circle clockwise around Jokhang Temple with prayer wheels, or prostrate them near the front gate. Join the locals and visitors to shop for local goods at the colourful stalls, or relax in a coffee shop or tea house to enjoy the passing parade.
Day 9:
Sera Monastery, Drepung Monastery, Norbulingka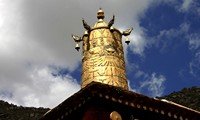 - Sera Monastery (3 hours): Located in the northern suburbs of Lhasa, The Sera Monastery is a complex of 4 structures; the Great Assembly Hall and three colleges. It was founded in 1419 by Jamchen Chojey of Sakya Yeshe of Zel Gungtang (1355–1435), a disciple of Tsongkhapa. 'Sera' means wild roses and was called this because the monastery was surrounded by wild roses. One of the three main monasteries of Lhasa, it is here that the monks "famous daily debates" take place.
Tips: Every day (except Mondays) at 15:00, there is a debate about Buddhist doctrines among the monks at Sera Monastery. The debating is held in the grounds and is a necessary way of learning sutras and scriptures. Visitors can watch the debate, but it is advised to keep quiet.
- Drepung Monastery (3.5 hours): Drepung Monastery lies in west of Lhasa under Mt. Gambo Utse, clustered round by the black mountain, its white grand buildings shining under the sunlight. Built in 1416, it is considered as one of the largest monasteries in the six principle monasteries of Gelu Sect in China. Drepung Monastery used to be the living palace of Dalai Lamas before the reconstruction of Potala palace (after the 5th Dalai Lamas was bestowed by Qing emperor Qianlong). The grand Shonton Festival is held in the early part of August every year. That is the busiest day there with crowds of people. It is an opportunity to enjoy the atmosphere of this festival.
- Norbulingka (2.5 hours): Norbulingka means "Jeweled Garden". Constructed as a summer palace for the Dalai Lama, it later served the whole government administration. It was built by the 7th Dalai Lama and served both administrative and religious purposes.
Day 10:
Depart Lhasa, Flight not included
Hotel to airport Transfer (Lhasa)
Just let us know your travel style!
Guide vs. Free-time ratio / Hotel Style & Interests / Dates / People
We will then adapt this tour and create a unique quote based on your individual needs.

Free Quote