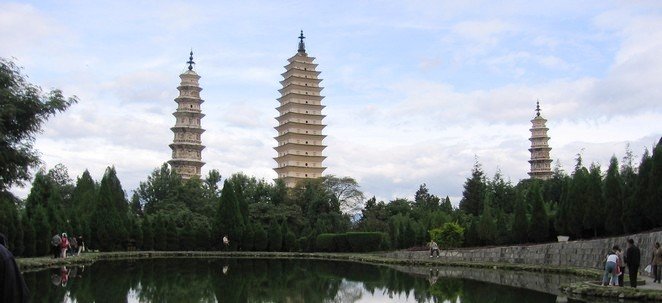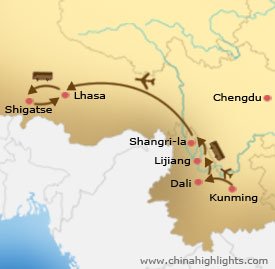 Itinerary
Day 2:
Kunming, The Stone Forest, Green Lake Park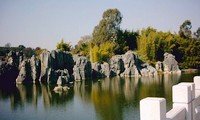 - The Stone Forest (2 hours): A fantastic natural phenomena located 90 km southeast of Kunming. The various shapes of karst landscape was formed due to millions of years' movement of Earth. The Stone Forest area is the home of the Sani people, their folk customs has become one spectacular scene, the colorful embroidery and minority dances combine with the natural sceneries, which will surely leave you a deep impression.

- Green Lake Park (1 hour): Located just opposite Yunnan University, it is one of the most picturesque parks in downtown Kunming. There are nine spring outlets at north of the lake, so it was also named "Nine Dragon Pond" in ancient times. Here you may take a leisure walk or enjoy the performance (playing Taiji, Mahjong and local operal) by local people. In November and December every winter, huge flocks of red-beaked gulls migrate there from Siberia, constructing a nice scene.
Day 3:
Kunming to Dali (Watch the Video ), Flight No. TBA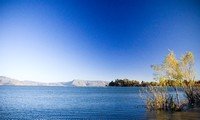 Hotel to airport Transfer (Kunming), Airport Transfer (Dali), Ancient City of Dali, Cruise on the Erhai Lake, Three Pagodas

- Ancient City of Dali (1 hour): The ancient city of Dali is 13 kilometers away from Xiaguan, Dali city, and is located at the foot of Cangshan Mountain. It was built in the year Hongwu 15 of Ming Dynasty (1382 AD). It ranks in the first list of Famous Historic and Cultural Cities of China. There runs clear springs, and lives simple and unsophisticated local Bai people. The local people have a habit of growing flowers in their gardens, with the clear streams of water, finely decorated the traditional houses, a city well worth visiting.

- Cruise on the Erhai Lake (2 hours): The area around Lake Erhai is blessed with a mild climate and fertile land with forests containing valuable stocks of timber, medicinal herbs and rare animals. A cruise around the lake and its islands is an excellent way to explore the area and visit a working fishing village. Fifteen minutes' wait is sometimes required if there are less than five people to take the boat.

- Three Pagodas (1.5 hours): The Three Pagodas between the Cangshan Mountain and Erhai Lake are considered the landmark of Dali. Towering aloft in a triangle shape, the Three Pagodas were built more than 1,000 years ago. Stored in the pagodas are valued Buddhist scripts and scriptures.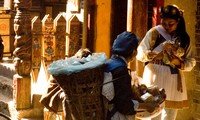 Our guide and driver will escort you from Dali to Lijiang, Lijiang Ancient Town

- Lijiang Ancient Town (2 hours): It is situated in the middle area of the county, which is more than 2400 meters high above sea level. It enjoys beautiful scenes, an indeed famous city with long history and splendid culture, it is very rare in China that such well-preserved minority ancient city still exists. The old town is quite busy in the afternoon and evening with an active atmosphere of the lights and crowd. An early morning visit will be less crowded.
Day 5:
Baisha Murals at Baisha Village, The Jade Dragon Mountain (with Large Cable Car from Ganhaizi)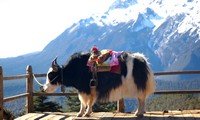 - Baisha Murals at Baisha Village (30 minutes): Painted over a thousand years ago, the murals combine the cultures of Han, Tibetan and Naxi people displaying the life stories of the Tibet Buddhism, Confucian and Taoism.

- The Jade Dragon Mountain (with Large Cable Car from Ganhaizi) (3.5 hours): Noted as the highest tourist cable in China, the Large Cable way goes up to Shanzidou (Shanzi Peak) the main peak of the snow mountain, with the an entire length of 2,914m, a top altitude of 4,506 km, and a perpendicular ascent of 1,150m. The cable car will take you into the clouds, where you will be far away from the worldly hurly-burly, and find yourself in a real paradise. Many visit Ganhanzi, Baishuihe (White Water River), and Glacier Park from this cableway.
Day 6:
Lijiang to Shangri-la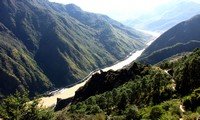 Tiger Leaping Gorge, Our guide and driver will escort you from Lijiang to Shangri la, View the first bent of Yangtze River at The Stone Drum Town(Shigu Town)

- Tiger Leaping Gorge (1.5 hours): As one of the deepest and most marvelous gorges, Tiger Leaping Gorges are located in Hutiaoxia Town, 105 kilometers away from Zhongdian/Shangri-La County. Spring is the best time to visit, as melting snow flowing down from mountains makes the river turbulence at its peak.

- View the first bent of Yangtze River at The Stone Drum Town(Shigu Town) (30 minutes): Stone Drum Town stands the base of the mountain flanking First Bay on the Yangtze River. This town derives its name from a white marble carved monument in the shape of a drum. It has a diameter of 15 m and is 0.7 m tall. This historically relevant stone monument was erected during one of the earliest periods of history of the Lijiang area.
- Pudacuo National Park (4 hours): Located near Shangri-La in China's Yunnan Province in southwest China, the Pudacuo National Park covers a total area of nearly 2,000 square kilometers. This park has an average altitude of 3,500 meters and retains a well-preserved ecosystem within the virgin forests. The must-see scenery in this park includes Lake Bita and Lake Shudu. "Bita" means "a place with a dense oak forest" in the Tibetan language and "Bitahai" means a quiet lake. The Bitahai Lake is surrounded by mountains covered with ancient pines, oaks and rhododendrons, and appears like an emerald in the heart of the mountain. Shudu Lake is located in northeast of Shangri-la and it is one of the largest fresh water lakes on the Diqing plateau. The lake is surrounded by a forest of fir, spruce and silver birch, and is home to lots of wild animals such as bears, golden cats, deer and pheasants.
Day 8:
Shangri la to Lhasa, China Eastern Airline MU5939 Dep 08:40 - Arr 10:40
Hotel to airport Transfer (Shangri la), Airport Transfer (Lhasa)
Day 9:
Lhasa, Norbulingka, Sera Monastery, Drepung Monastery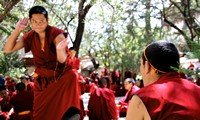 - Norbulingka (2.5 hours): Norbulingka means "Jeweled Garden". Constructed as a summer palace for the Dalai Lama, it later served the whole government administration. It was built by the 7th Dalai Lama and served both administrative and religious purposes.

- Sera Monastery (3 hours): Located in the northern suburbs of Lhasa, The Sera Monastery is a complex of 4 structures; the Great Assembly Hall and three colleges. It was founded in 1419 by Jamchen Chojey of Sakya Yeshe of Zel Gungtang (1355–1435), a disciple of Tsongkhapa. 'Sera' means wild roses and was called this because the monastery was surrounded by wild roses. One of the three main monasteries of Lhasa, it is here that the monks "famous daily debates" take place.
Tips: Every day (except Mondays) at 15:00, there is a debate about Buddhist doctrines among the monks at Sera Monastery. The debating is held in the grounds and is a necessary way of learning sutras and scriptures. Visitors can watch the debate, but it is advised to keep quiet.

- Drepung Monastery (3.5 hours): Drepung Monastery lies in west of Lhasa under Mt. Gambo Utse, clustered round by the black mountain, its white grand buildings shining under the sunlight. Built in 1416, it is considered as one of the largest monasteries in the six principle monasteries of Gelu Sect in China. Drepung Monastery used to be the living palace of Dalai Lamas before the reconstruction of Potala palace (after the 5th Dalai Lamas was bestowed by Qing emperor Qianlong). The grand Shonton Festival is held in the early part of August every year. That is the busiest day there with crowds of people. It is an opportunity to enjoy the atmosphere of this festival.
Day 10:
Potala Palace, Jokhang Temple, Barkhor Street, Thangka Workshops
- Potala Palace (1 hour): Former winter home of the Dalai Lama, a vast, awe-inspiring maze of corridors and stairs leading through countless rooms of richly decorated statues, tombs, murals and antiques. You will climb past the White Palace into the Red Palace, where the file of pilgrims offering silk scarves, coins or yak butter to burn in the shrines combine to make this an unforgettable experience. Note: you need to be fit for climbing up the long stairways.

- Jokhang Temple (2 hours): Smaller and more manageable than the Potala, this 4-storey, golden-roofed temple is at the heart of a rich and living Tibetan Buddhism. Many locals pray here regularly; the Temple is surrounded by Barkhor Street and thronged with pilgrims and visitors. Yak butter lamps burn in front of rich statuary that includes the Sakyamuni Buddha brought to Tibet by Princess Wen Cheng in the 7th Century.

- Barkhor Street (2 hours): Built about 1,300 years ago, The Barkhor (pilgrims' circuit) is found in the heart of Lhasa encircling the Jokhang Temple. In the past, it was a designated circumambulation circuit, "a saint's road" in the eyes of Tibetans. Many people call the Barkhor "the window of Tibet" as it exhibits typical Tibetan life. Watch the pilgrims, wearing their local dress from many different parts of Tibet, as they circle clockwise around Jokhang Temple with prayer wheels, or prostrate them near the front gate. Join the locals and visitors to shop for local goods at the colourful stalls, or relax in a coffee shop or tea house to enjoy the passing parade.

- Thangka Workshops: In the Barkhor street area, there are a lot of private small Thangka workshops. Stop in any one of them and watch the artists work. You are welcome to ask questions.
Day 11:
Lhasa to Shigatse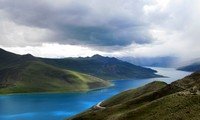 Yomdrok Lake, Our guide and driver will escort you from Lhasa to Shigatse, The Palgor Chorten

- Yomdrok Lake (2 hours): Dotted with a dozen islands and abundant in natural resources, Lake Yamdrok has the highest power station in the world, and is also the largest habitat for water birds in Tibet, attracting countless swans and gulls every summer.

- Local Restaurant: The limited restaurant options mean that there is no choice available however our guide will organize the best available based on the season and the surroundings.

- The Palgor Chorten (1.5 hours): Pelkhor Choede (Kumbum), also named Palcho Monastery, is very different from other monasteries. Built as a Tibetan monastery, its structural style is very unique, reputed as the lord of Tibetan stupas. In addition, it is famous for the architecture, sculpture, and mural painting art. It lies about 270 kilometers (168 miles) south of Lhasa and 100 (62 miles) east of Shigatse at the foot of Dzong Hill.
Day 12:
Shigatse to Lhasa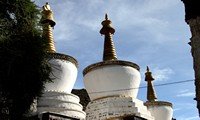 Our guide and driver will escort you from Shigatse to Lhasa, Tashilunpo Monastery

- Tashilunpo Monastery (2 hours): Tashilhunpo Monastery was founded in 1447 by Gyalwa Gendun Drup (1st Dalai Lama) and is a historically and culturally important monastery. Its name means "heap of glory" or "all fortune and happiness gathered here". Painted in red and white, the buildings in the kloster stand closely together in terraced rows, offering a grand and majestic view. Tashilunpo Kloster represents the Tibetan super architecture art in the Last Tibetan spirit.5 story temple which contains a 26 meters (86ft) sitting statue of the Maitreya Buddha (Jamba Chyenmu) inside the grounds of the monastery. The statue was cast from 6,700 ounces of gold and over 115,000 kg of copper, making it the biggest copper Buddhist statue in the world.
Day 13:
Depart Lhasa, Flight not included
Hotel to airport Transfer (Lhasa)
Just let us know your travel style!
Guide vs. Free-time ratio / Hotel Style & Interests / Dates / People
We will then adapt this tour and create a unique quote based on your individual needs.

Free Quote