Itinerary
Your adventure starts in arrivals with a friendly greeting from your personal guide, ready to take you to your hotel in a private vehicle.
Stay connected: A Free SIM Card Wi-Fi Rental
Day 2:
Beijing: Tiananmen Square, Forbidden City, Hutong Tour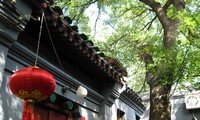 Tiananmen Square has a gate of Heavenly Peace on the northern edge, but the pivotal position of the area has meant tumultuous events have occurred here over the centuries. The Forbidden City's (WHS) magnificent ancient halls and courtyards are steeped in history and symbolism, your guide is at hand to explain everything.
China Highlights' Hutong Tour is a chance to see these mazes of alleyways and tree lined streets on a rickshaw, and visit a local family who has lived here for generations.
Day 3:
Beijing: Temple of Heaven, Mutianyu Great Wall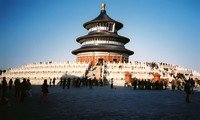 Temple of Heaven (WHS) was the center of Taoist sacrifices for good harvest from Ming Dynasty onwards. The rich carvings and paintings are a sight in themselves, but the whole complex is stunning.
The Mutianyu Great Wall (WHS) is a magnificent feat of engineering and human effort; one can only truly appreciate it once you see it in person. A cable car now takes you up, but the stairs snaking up the hill reveal the effort of building it.
Day 4:
Beijing: Summer Palace, Flight to Dunhuang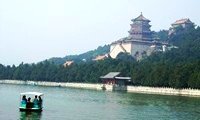 The Summer Palace (WHS) is still a tranquil retreat from the busyness of the city, as it was for the Imperial family who enjoyed boating on the lake and theater shows in the pavilions. Walking around this area you can almost feel the imperial courts presence.
In the afternoon your guide will take you to the airport for your flight to Dunhuang.
Day 5:
Dunhuang: Mogao Caves, Singing Sand Mountains and Crescent Spring, Riding on a Camel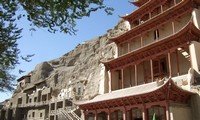 The Mogao Caves (WHS) have the longest history of Buddhist art in north east China and are unmatched in their rich detail depicting dress, customs and religious life through the centuries. Only 30 caves are open to the public and a local guide shows visitors round to spare the relics from too much erosion.
The Singing Sand Mountains have been a source of wonderment for centuries, due to the hum they emit in certain conditions. Crescent Spring is a green oasis between two of the dunes that seems like it should not be able to exist in such dry conditions. Riding a camel makes you feel like you yourself are on an adventure, heading to the distant lands on the Silk Road. Our guide will make sure your find your way back, promise!
Day 6:
Dunhuang: Yumenguan Pass, Yadan Landform Park, Great Wall of the Han Dynasty, Flight to Xi'an
Yumenguan Pass was the westernmost gate in the Great Wall during Han Dynasty. This area was where the wild land was considered to start and 'modern civilization' ended. Millennia of winds and erosion formed the Yadan Landform Park's fantastical rock shapes; it is also called the Evil City because of the night sounds emitted as the wind passes between the pillars.
The Great Wall of the Han Dynasty is one of the oldest sections of the wall, built to protect the empire form the nomadic Xiongnu tribes.
Day 7:
Xi'an: Terracotta Army, Big Wild Goose Pagoda
The Terracotta Warriors and Horses (WHS) continue to enchant visitors with their intricate details and lifelike expressions; some say they must have been based on real soldiers. It's easy to understand this view, each one uniquely sculpted.
Big Wild Goose Pagoda is an ancient landmark of Xi'an and a resting place of Buddhist relics. The grounds of the temple are particularly charming and we're have time today to explore.
Day 8:
Xi'an: Shaanxi History Museum, Ancient City Wall, Flight to Shanghai
Shaanxi History Museum has one of the best exhibitions of the early dynasties, before the capital was moved to Beijing. The Ancient City Wall is a remarkable feat of construction; at 14km long and wide enough for several rickshaws to pass it is a wonderful place for a stroll or a bike ride.
In the afternoon your guide takes you to the airport for your flight to Shanghai.
Day 9:
Shanghai: Yuyuan Garden, Yuyuan Market, Shanghai Urban Planning Exhibition Hall, Shanghai World Financial Center, The Bund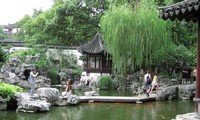 Yuyuan Garden is a Ming Dynasty creation, designed by a retired official and a marvelous example of classic architecture and landscaping. Yuyuan Market is quite a contrast for the tranquil garden with its busy streets full of tempting merchandise.
Shanghai Urban Planning Exhibition Hall houses a large model of the future designs for the city, and in the Shanghai World Financial Center you can test your fear of heights at the glass floored observation deck.
The Bund is the symbol of Shanghai of the past with its European facades and Parisian feel; come back after dark for some wonderful views of this historic colonial area.
Day 10:
Flight to Huangshan, Tunxi Ancient Street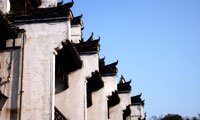 After your flight to Huangshan you are taken for a visit to Tunxi Ancient Street in the old part of Huangshan City, which has many buildings form Ming and Qing Dynasties.
Day 11:
Huangshan: Yellow Mountains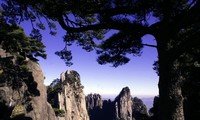 Yellow Mountains (WHS) have been a pilgrimage site ever since a legend claimed it to be the source of elixir of life. The magnificent scenery and especially the "sea of clouds", out of which steep peaks rise, is famous and has earned it the name "the loveliest mountain in China". Pathways lined by gnarly trees, hot springs and waterfalls add to the dream like quality of the place.
Yungu Cable Car takes you some of the way up, but there are still some steps to climb. You will stay the night on the mountain to be able to enjoy the famed sunrise view.
Day 12:
Huangshan: Hongcun Village, Depart Huangshan
Hongcun Village (WHS) on the foot of Yellow Mountains has preserved the authentic Anhui village architecture and layout, with tranquil ponds and streams forming a harmonious whole with the buildings. Parts of the famous film "Crouching Tiger and Hidden Dragon" were made here.
In the afternoon your guide will take you to the airport for you to catch your onward flight to your chosen destination. If you would like to customize this trip, add extra days or need help with your onwards travel, just let your travel advisor know.
Just let us know your travel style!
Guide vs. Free-time ratio / Hotel Style & Interests / Dates / People
We will then adapt this tour and create a unique quote based on your individual needs.

Free Quote