Tour Itinerary of Guilin Sights & Yangtze Combo
7-Day Guilin, Chongqing, Yangtze and Yichang Tour (CHT-YZ-03)
Guilin is renowned for its beauty and the famous Li River and is a cultural icon within China. The Yangtze is known as the cradle of Chinese culture and in many ways is the life blood of China. We combine both to bring you an unforgettable experience.
In This Page
Day 1
Place & Transport: Arrive in Guilin, Flight not included
Today's Activities: Airport Transfer (Guilin), A Free CH cell phone package (one cell phone for one group)
A Free CH cell phone package (one cell phone for one group):
A Free CH cell phone package (one cell phone for one group) includes free rental for the cell phone and SIM card (Includes prepaid value of CNY 50), delivery and collection in China. Return the phone to your guide when you depart. For more about the cell phone rental service, please click cell phone rental information.
China Highlights can also provide a Wi-Fi package so that you can stay connected in China anytime and anywhere without relying on hotel for other hotspots. Our 3G service provides speeds of up to 21Mbps on your smart phone, pad or laptop, so you can stay in contact. For more detail please visit
Wi-Fi rental information
.
Accommodations: Sheraton Guilin (Superior) Guilin Bravo Hotel (Deluxe) Guilin Osmanthus Hotel (Economy)
Day 2
Place & Transport: Guilin
Today's Activities: Li River Cruise from Guilin to Yangshuo.
Meals: Breakfast, Chinese Lunch
- Li River Cruise from Guilin to Yangshuo. (4 hours): A cruise along the Li River between Guilin and Yangshuo is an unforgettable experience. As you take in the stunning scenery, there's something interesting to see at almost every bend in the river. Between spectacular limestone peaks you'll see graceful bamboo groves, farmers tending rice paddies, and lumbering water buffaloes pulling carts or cooling off in the river. You may see fishermen gliding along on their narrow bamboo rafts, and if you're very lucky you might see one of the famous fishing cormorants. Boats depart from various wharves, according to the height of the river at different times of the year.The Li river cruise is by a medium size boat which can accommodate about 140 passengers.
Accommodations: Sheraton Guilin (Superior) Guilin Bravo Hotel (Deluxe) Guilin Osmanthus Hotel (Economy)
Day 3
Place & Transport: Guilin to Chongqing, Flight No. TBA
Today's Activities: Reed Flute Cave, Folded Brocade Hill, Elephant Trunk Hill, Airport Transfer (Guilin), Airport Transfer (Chongqing)
Meals: Breakfast, Chinese Lunch
- Reed Flute Cave (1 hour): Located 5 kilometers northwest of Guilin city, the Reed Flute Cave gets the name from the reeds used for making flutes and pipes that grow at its entrance. The cave is regarded as the largest and most impressive cave in Guilin. It is 240 meters long, and the length of the tour is about 550 meters offering a magic land of stalactites, stalagmites, stone pillars, stone curtains, birds, plants and animals in fantastic shapes and colors. The visit lasts for 40 minutes and there are a lot of steps. Watch your step as the lights are dim. You guide will show you by electric torch.
- Folded Brocade Hill: Sitting on the bank of the Li River, the stone blocks are piled one after another just like a pile of colorful folded silk. Piled Silk Hill is famous for its beautiful view and smooth path for climbing. The hill has many points of interest including Diecai pavilion, Yuyue loft, Wind cave, Diecai tower, Looking at the River Pavilion to enjoy the beautiful Li River's scenery and Catching Clouds pavilion.
- Elephant Trunk Hill (40 minutes): Elephant Trunk Hill is located at the junction of Li River and Peach Blossom River. It is the symbol of Guilin with 55 meters high and got its name because its shape resembles an elephant with its trunk drinking from the Li River. The hill is pierced with many caves and topped with a small pagoda.
McFound Restaurant: A restaurant which decorated in traditional northern style, with wheaten food of full aroma and household atmosphere of authentic culture, is warmly welcome for customers.
Accommodations: JW Marriott Hotel Chongqing (Superior) Eling Park Hotel (Deluxe) Lafei Royal Hotel - Chongqing (Economy)
Day 4
Place & Transport: Chongqing to Yangtze
Today's Activities: Goose Neck Park, Panda Room in Chongqing Zoo, Ciqikou Old Town, Cruise pier Transfer (Chongqing), Board the ship from 5:00pm to 8:00pm and departs Chongqing at 9:00pm.(Dinner is not included)
Meals: Breakfast, Chinese Lunch
- Goose Neck Park (1 hour): Very popular with the locals who come here to enjoy the gardens, play Mahjohngg, make music or just relax. Nice views over the river and Chongqing, there are also a number of interesting buildings and former Embassies in the grounds, plus an enormous long painting of the Yangtze.
- Panda Room in Chongqing Zoo (2 hours): Located in the western suburbs of the city, Chongqing Zoo occupies an area of 45 hectares. There are some rare animals including Golden hair monkeys and South China Tigers. In Panda Room, visitors can see the giant and lesser pandas and their offspring.In the mornings, many local people practice Tai chi at the zoo. Join them if you wish.
- Ciqikou Old Town (1.5 hours): This lively old area has been partly restored, and remains an authentic and busy community. The old wooden houses and narrow streets furthest from the river are mostly unimproved, closer to the river there are craft and souvenir shops, teahouses and music, and lots of local food and snacks. The locals certainly love their food – this is a good chance to try some.
Cai Xiang Yuan Restaurant (Yangjiaping Branch): Located close to the Chongqing Zoo, Cai Xiang Yuan Restaurant serves with dishes are cooked with local flavors and ingredients. Cantonese dishes are also available.
Day 5
Place & Transport: Yangtze
Today's Activities: Welcoming Banquet, Dancing Party, Shore excursion to Shibaozhai(14;00-16;00).Optinal tour to Fengdu Ghost City(RMB260 per person).
Meals: Breakfast, Chinese Lunch, Chinese Dinner
--Shibaozhai, literally means Stone Treasure Fortress, Located in Zhong County, it was first built in Qing Dynasty in 1750. Shibaozhai is one historic site that will look much different in 2009. The wooden architecture stands on the riverside. It is built by catch upon a rectangular rock with sheer cliffs with a height of 56 meters and 12 stories. And every floor of the wooden structure contains interesting artifacts. Each of the 12 floors of Shibaozhai is dedicated to a famous general of the Three Kingdoms period (220-265AD), a local scholar or a renowned Chinese poet.
Day 6
Place & Transport: Yangtze
Today's Activities: Qutang Gorge, Wu Gorge, Shennong Stream(1:30pm-5:30pm), Crew's Performance

Meals: Breakfast, Chinese Lunch, Chinese Dinner
--Passes through the 1st gorge--Qutang Gorge.
Passes through the 2cd gorge---Wu Gorge.
Shore excursion to Shennong Stream(1:30pm-5:30pm). You have the option of visiting White Emperor City(RMB260 per person).
Crew's Performance.
Sails through the 5-steps Ship locks.
Shennong Stream is another tributary of the Yangtze River, and its fast-flowing, crystal clear water runs southwards through deep gorges. The stream races past large and small karst caves, flocks of swallows, sheer cliffs, deep gorges, waterfalls, three-colored springs, rapids, the ancient plank path, a suspended coffin in the cliff, groups of ancient tombs and marvelous karst formations
Day 7
Place & Transport: Yangtze to Yichang to Departure City, Flight not included
Today's Activities: Cruise pier Transfer (Yichang), Airport Transfer (Yichang), Three Gorges Dam Site
Meals: Breakfast
--Shore excursion to The Three Gorges Dam Site. Arrive in Yichang at 1:00pm.
Three Gorges Dam, the largest water conservancy project ever undertaken by man and it has been a dream for several generations of Chinese people. The construction of the dam formally began in 1994. The body of the dam was completed in 2003, and the whole construction has been completed in 2009. It will be 2,335 meters long, 185 meters high, 18 meters wide on the top and 130 meters wide at the bottom.The tourists can get access to the top of the dam and enjoy different kinds of photo opportunities.
Price Per Person in US Dollars


Excellent Local Guides
We selected the most experienced tour guides in each city. They are all very professional and flexible during the tour with oustanding knowledge of all the sites and history.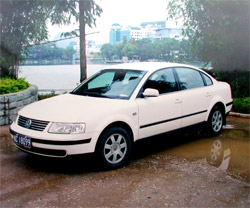 Our Luxury Car for Families
We use the modern air-conditioned luxury cars for families or 2-3 persons. The comfort and safety of our customers is of utmost importance, so we ensure that all of the vehicles that we use are well-maintained and always very clean.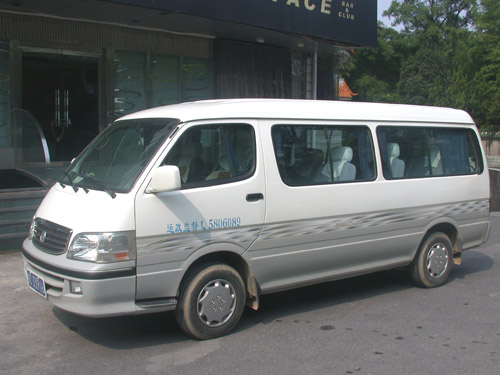 Comfortable People Carrier for Small Groups
We use only air-conditioned small buses for small groups of 4-7 persons. Our drivers are very nice and careful with over 5-year drive experience.
-Top-
Price Inclusions and Exclusions
Price Inclusions:
Entrance Fees:
To scenic spots as listed in the itinerary.
Meals:
All meals as specified in the itinerary.
If the restaurant indicated is not available on the day, your guide will arrange another restaurant from our list of approved restaurants. Breakfast is usually a western style buffet. We endeavor to ensure that a choice of western and Chinese breakfasts is supplied, however there may be occasions when only a Chinese breakfast is available in some remote locations.
Private Transfers:
Transfers between airports, hotels and scenic spots while sightseeing in Guilin, Chongqing, Yangtze, Yichang by private air conditioned vehicle with a driver and English-speaking guide (as listed above).
Your comfort is our priority! Click here to get a description of the vehicles that we use for our tours.
Guide:
As outlined in the itinerary an English-speaking guide and driver will be provided in each city, who will remain with you throughout your time in that city. A new guide and a new driver will meet you at each city on your tour, to provide you with the best local knowledge available.
Hotels:
Hotel fees are based on two people sharing one room with twin beds.
All hotels as listed in the above itinerary serve daily western or Chinese breakfast. All rooms are air-conditioned with private facilities unless specified.
Yangtze River Cruises:
The price quoted for a Yangtze River Cruise includes all meals onboard, and all land excursions including the smaller cruise fee to Lesser Three Gorges or Shennong Stream. (Optional land excursions are available for a few ships which will be specially noted.) The price does not include any incidental charges, including room service, mini bar, laundry, and drinks and bar charges, tipping, etc.
The Pre-boarding Fee includes overnight accommodations on the ship the night before departure and breakfast in the morning.
Transportation:
Guilin To Chongqing Transfer via: Flight, TBA (Our arrangements)

Airport Tax and Fuel Fee
Service Charge & Government Taxes:
Insurance
The insurance is China Life Tourist Accident/Casualty Insurance.
Click here to learn more about the insurance coverage and the sum insured.
Luggage Transfers:
Between airports/cruise piers and hotels.
Arrangements:
The tour cost includes planning, handling, operational and communication charges.
Price Exclusions:
International Airfare or Train Tickets to enter or leave China.
USA-CHINA/CHINA-USA: China Highlights has negotiated special discount fares (restrictions apply) for selected flights operated by Air China from major US and China gateways. We are able to offer these special deals to confirmed customers. Discount US to China Flights
China Entry Visa Fees.
Excess Baggage Charges.
Passengers holding an adult fare or half fare ticket are entitled to a free baggage allowance of 20kg, for economy class. Total weight of carry on baggage for each passenger may not exceed 5kg. The size may not exceed 20x40x 55cm. More
Personal Expenses:
Expenses of a purely personal nature such as laundry, drinks, fax, telephone calls, optional activities, sightseeing or meals which are not included in the tour itinerary.
Meals:
Any meals which are not specified in the tour itinerary.
Single Room Supplement:
Important note for those who choose to pay a single room supplement fee: The fee only covers hotel single room supplements; it does NOT include use of a single cabin on the Yangtze River Cruise. Standard Yangtze River Cruise prices per person are based on 2 people sharing 1 cabin unless otherwise specified. If you would like to request a single cabin on the Yangtze River ship, please contact us to check cost and availability.