Itinerary
Your guide and a driver will meet you at the airport, helping you get the most out of your holiday in the stunning scenery. Your complimentary cell phone helps you keep in touch with the guide at all times.
Day 2:
Flight to Jiuzhaigou, Huanglong Scenic and Historic Interest Area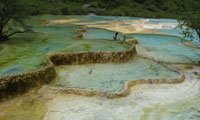 After a short flight to Jiuzhaigou a guide and a private car take you to the Huanglong Scenic and Historic Interest Area. The area is known for thousands of ponds, cascading into each other, some golden in color, and azure blue. Every July there is a colorful Huanglong Temple Fair, where locals come to feast together.Meals:Lunch
Day 3:
Jiuzhaigou: Jiuzhaigou Valley Scenic and Historic Interest Area, Rize Valley, Zechawa Valley, Shuzheng Valley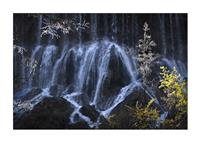 Jiuzhaigou Valley is formed by three separate valleys: Rize Valley, Zechawa Valley, and Shuzheng Valley. They all have a multitude of ponds and lakes glowing in jewel colors against the forests and white capped mountains; there is no place like it on earth. There are nine colorfully decorated Tibetan villages in the area, and several beautiful waterfalls. The area is accessed via shuttle buses, to minimize the effect of visitors to the environment.Meals:Lunch
The day is dedicated to transfer from Jiuzhaigou to Chengdu by air, to be closer to Chongqing.Meals:Lunch
Day 5:
Train to Chongqing, Panda Room in Chongqing Zoo, Three Gorges Museum, Ciqikou Old Town, Yangtze Cruise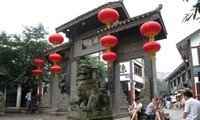 A short train ride takes you to Chongqing, where the first visit is to Panda Room in Chongqing Zoo to see the delightful animals as well as other rare species. Three Gorges Museum gives you a quick overview of the history of the area, and Ciqikou Old Town is a charming old town with narrow alleyways leading to the riverside.

Your guide will take you to the pier to board the Yangtze Cruise boat.Meals:Lunch
Day 6:
Yangtze: Shibaozhai, Welcoming Banquet & Dancing

Shibaozhai is a Qing Dynasty wooden pagoda, built initially completely leaning on the cliffs, and later added to, so visitors no longer have to be hoisted up with pullies. Fengdu Ghost City is an optional extra, a place where the King of the Dead is said to live.Meals:Lunch, Dinner
Day 7:
Yangtze: Qutang Gorge, Wu Gorge, Shennong Stream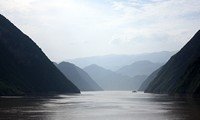 Qutang Gorge and Wu Gorge are among the most beautiful sights in China; the steep cliffs rising from the mist are magical. Shennong Stream is a tributary of the Yangtze, and offers a chance to go exploring the waterfalls and karst caves on a small boat. White Emperor City, or Baidicheng, is an optional visit to an ancient temple complex, now partially submerged due to Yangtze dam project.
Crew's Performance ends the evening with a colorful show of song and dance.Meals:Lunch, Dinner
Day 8:
Depart Yangtze Cruise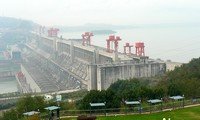 The Three Gorges Dam is a great way to end the Yangtze Cruise; seeing the gigantic manmade structure in person makes one understand the magnitude of the achievement. Shortly after arrival to Yichang, your guide and driver will take you to the airport for your flight onwards.
Just let us know your travel style!
Guide vs. Free-time ratio / Hotel Style & Interests / Dates / People
We will then adapt this tour and create a unique quote based on your individual needs.

Free Quote