Itinerary
You will be picked up at your arrival station by your private guide. Your personal professional driver will directly transfer you to your hotel.
Day 2:
The Bangchui Island and 203 Highland Tour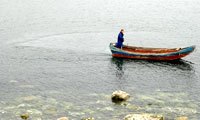 Today you will visit a pretty isolated island and a historical site of the World War II.
Bangchui Island (literally means Wooden Club Island) used to be a health resort of state leaders in the past decades. Stroll on this isolated island to enjoy the vast seascapes and city scenery. The elegant villas make the island more beautiful.
The 203 Highland in Lvshun used to be an important position for Russian army and Japanese army during an imperialist war in early 20st Century, and now becomes a scenic area in Lvshun National Forest Park. Besides dating to the period of wars with the historical materials, you also can enjoy the graceful forest scenery and breath-taking motorcycle stunts.
Day 3:
The Tiger Beach Ocean Park Tour and Dalian Departure
Enjoy yourself in China's largest coastal park — the Tiger Beach Ocean Park. There you will watch a show with a story performed by animal, visit China's largest Corals Exhibition, and feast your eyes with the vast seascapes.
Stroll along the Russian Street to appreciate the unique Russian-styled buildings by the streets. As the first avenue of the city, it was constructed 100 years ago when Dalian commenced its construction.
Relax. Your guide would have called to confirm your return flight. He'll assist you with check-out, handle your luggage, transfer, and accompany you to the correct check-in desk. We are confident you would have enjoyed your trip and looking forward to serve you again.