Itinerary
Day 1
Arrival in Dengfeng
No matter if you arrive at Dengfeng by bus or by train, your private guide and driver will pick you up at your station and transfer you direct to your hotel. Your guide will help you with check-in and make sure everything is ok at the hotel.
Day 2
The Shaolin Temple and Pagoda Forest and the Ancient Observation Tour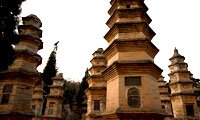 You will spend your whole day discovering the most two popular attractions in Dengfeng.
Shaolin Temple is the most famous temple in China. Visiting the temple gives you the chance to learn about the mystique of its martial arts and the Shaolin monks. There is a theatre which presents the renowned kungfu show. Check with us and your guide for show times.
Walking through the 240 pagodas in the Pagoda Forest (actually the toms of eminent monks in Shaolin Temple), you will learn more about the development of Shaolin kungfu and the communication between China and other countries in ancient times. The elegant appearances of the pagodas and the exquisite carvings will show you the architectural art in ancient China.
Climbing up to the Ancient Observatory, you will learn about the development of Chinese astronomy and the practice of using astronomical knowledge in China's agricultural industry.
Be relaxed, your guide would have called to confirm your return trip. He'll assist with check-out and handle your luggage, transfer and accompany you to the station. We trust that you have enjoyed your time in China and we look forward to serving you again.