Itinerary
Day 1
Zhangjiajie to Fenghuang
After arriving at Zhangjiajie, your tour guide will meet you at the airport on time, and then escort you to Fenghuang on a private car. Be carefree, as the guide will help you check in the hotel in Fenghuang. And then you can explore the city by yourself or rest in your room save energy for the next day.
Day 2
Fenghuang Ancien Town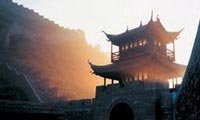 Shopping, resting, drinking, and boating are top things to do in Fenghuang Ancient Town. It is a quiet and pure ancient town to escape city's hustle and bustle. Boating on the Tuo River during the day, you can appreciate the ancient building on the banks, and appreciate the natural scenery along the river. The whole town looks amazing when it is covered by sunset glow. It is a good time to take photos of this picturesque town. At night, having drinks in the cafes chatting with friends is relaxing.
Relax, our guide would have called to confirm your return flight. Firstly you will be transferred to Zhangjiajie. He'll assist with check-out and handle your luggage, transfer and accompany you to the correct check-in desk, saying goodbye at the security gate.