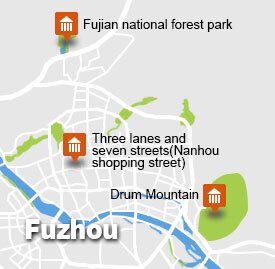 Itinerary
Meet with your tour guide waiting at the airport on time and transfer to the hotel on a private car. Have a good rest in the hotel and get ready for the next day's activities.
You can not only see the natural scenery, but also can visit some cultural architecture today. Seen from a far distance, you can see a large stone like a giant drum on the top of the mountain. Whenever there is wind or storm, it gives out the sound of rumbling as if a drum is being beaten. Climbing the mountain is a good outdoor activity to enjoy the fresh air and appreciate the scenery along the road. Integrated with science, art and appreciation, Fujian National Forest Park is a good place for relaxing. Xichan Temple is one of the five Buddhist temples in Fuzhou. Many ancient Chinese-style building, like big pavilions, can be found in the temple. Praying for good fortune, happiness, and health is a top thing to do in Chinese temples. Lingering in Three Lanes and Seven Streets, you can learn the long history of Fuzhou city by visiting 268 ancient houses. It is one of the only few pretty intact and large-scale historic blocks in the city, and keeps its simplicity and peace.
Sit back and relax as your private guide and driver will get you to the airport on time. They will take you right to check-in and say goodbye at the security gate. We take the stress, you take the tour!