Itinerary
Day 1
Arrive in Guilin, Flight not included
Airport Transfer (Guilin)
Day 2
The Li River Boat Cruise including Crown Cave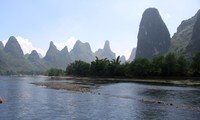 - The Li River Boat Cruise including Crown Cave: The cruise along the Li River between Guilin and Yangshuo is an unforgettable experience. As you take in the stunning scenery there's interesting things to see at almost every bend in the river. The boat will drop tourist off on the river bank when arriving at crown hill. A climb up the steps will lead to the entrance of crown cave, after an hour's visit, the tourists will return to the same boat and continue to Yangshuo. For the rest of the trip, tourist will witness the main highlights of the Li river, between the spectacular limestone peaks you'll see graceful bamboo groves, farmers tending rice paddies, and lumbering water buffaloes pulling carts or cooling off in the river. You may see fishermen gliding along on their narrow bamboo rafts, and if you're very lucky you might see one of the famous fishing cormorants.

Crown Cave: Is 29km south of Guilin, and is a giant subterranean river cavern by the Li River. Taking the shape of a golden crown of an ancient emperor, the cave is 12 km long and consists of three parts. Views inside are fantastic, stalactites and stalagmites in all strange shapes are illuminated by lights and glisten with a golden glow. An underground stream passes through the cave and then joins the Li River. The cave has modern sightseeing facilities, including an elevator, small train, boats and sightseeing tracks.

Notes: the crown cave is located on the upstream of the cruising route, so this boat cruise departure day is base on the river level, it doesn't work in the dry season. Ask your travel advisor for details.
Day 3
Depart Guilin, Flight not included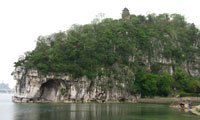 Elephant Trunk Hill, Fubo Hill, Pearl Culture Shop, Hotel to airport Transfer (Guilin)

- Elephant Trunk Hill (40 minutes): Elephant Trunk Hill is located at the junction of Li River and Peach Blossom River. It is the symbol of Guilin with 55 meters high and got its name because its shape resembles an elephant with its trunk drinking from the Li River. The hill is pierced with many caves and topped with a small pagoda.

- Fubo Hill: Fubo Hill is on the west bank of the Li River in the city center. Partially submerged in the river it was named after General Fubo of the Tang Dynasty who built Mayuan Temple on the hill. Because of its location and height, Fubo Hill can tame the waves and stop the surging waters which then form whirlpools. It is 213 meters above sea level and 62 meters above ground level. There are almost 350 steps to climb to reach top of hill and but then you can enjoy a birds eye view of Guilin city.