Itinerary
Day 1:
Arrive in Guilin, Flight not included
Airport Transfer (Guilin)
Day 2:
Guilin to Longsheng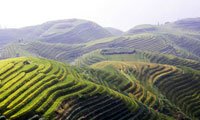 Our guide and driver will escort you from Guilin to Longsheng, Minority village and Longsheng Terraced Field

Minority village and Longsheng Terraced Field: The Longji Terraces are built into the steep mountain range named "The Dragon's Backbone" about 2.5 hours from Guilin. The terraces look like ribbons as they wind from the foot to the top of the mountain. This ingenious construction makes best use of the scarce arable land and water resources in the mountainous area. There are about 66 square kilometers of terraced fields in the district. The Terraces were first built in the Yuan dynasty and completed in the Qing dynasty by the Zhuang people. Zhuang and Yao minority villages dot the area and feature traditional unique architecture where no nails are used in construction. The different minority customs and dressing styles are especially interesting. Sedan chairs are available from the parking lot to the top of the mountain for customers who would like to see the great views but do not wish to climb all the way up to the top; it takes about CNY350 per person for the round trip.
Day 4:
Longsheng to Guilin to Departure City, Flight not included
Airport Transfer (Guilin)