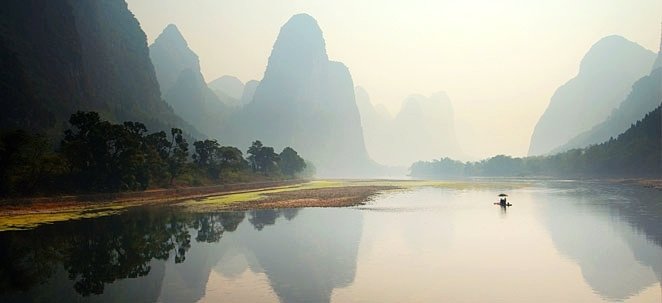 Itinerary
Day 1:
Arrive in Guilin, Flight not included
Airport Transfer (Guilin)
Day 2:
The Li River and Bamboo Rafting in Yulong River Tour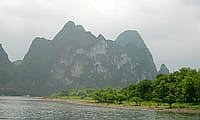 - Speed Boat on Li River from Guilin to Yangshuo: Visiting the Li River stretching from Guilin to Yangshuo is the highlight of a Guilin tour. While everybody else takes the normal large cruise boat, we believe making the trip in your own speed boat offers a unique experience. The speed boat ride takes about 3 hours from Guilin city area to Yangshuo. It is very flexible: the departure time is up to you, and photo stops can be made whenever possible.
There's something interesting to see at almost every bend, besides the stunning scenery on the river. Between spectacular limestone peaks you'll see graceful bamboo groves, farmers tending rice paddies, and lumbering water buffaloes pulling carts or cooling off in the river.
Bamboo Rafting from Jinglong Bridge to Yulong Bridge: Get on the boat in Jinglong Bridge; about 40 minutes drive from Yangshuo town, tourist will seize a great opportunity to get up close the Yulong River. Enjoy your-self on the bamboo boat; appreciate the peaceful scenery along riverside with paddy fields, water buffalos, and traditional style farmer's house, it is a really piece of fairy land compare the hustle and bustle city. You will get off in Yulong Bridge after the tour.
Day 3:
The Yangshuo Coutryside Cucling Tour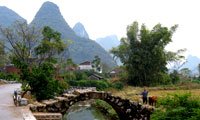 - Yangshuo Countryside Cycling: Experience the hustle & bustle of the Yangshuo traffic for 10 minutes before you escape onto the country roads, lanes and tracks of the distinctive and beautiful Yangshuo countryside. Biking alongside the paddy field and orchards that surround the famous mountains will give a fascinating insight into life in rural China. You will have a family visit on the half way. It is an opportunity to see a real country life and talk to the local farmers.