Itinerary
Day 1:
Li River Cruise from Guilin to Yangshuo
Cruising along the Li River from Guilin to Yangshuo is an unforgettable experience. As you sail along, the oddly shaped limestone peaks and graceful bamboo groves on both banks of the river roll out a breathtaking picture in front of you. There's something interesting awaiting you at almost every bend in the river, such as buffaloes cooling off in the river, farmers tending their fields, and if you are lucky, the famous fishing cormorants.
Two great options are available for seeing the Li River, and do not have a bearing on the price or timing of this tour.
Li River Cruise vs. Bamboo Raft – An Australian living in Guilin for 12+years shares his view.
Li River Cruise: The cruise takes 4 hours, arriving 13:30 to 14:30 depending on the water level. A simple buffet lunch is served on board, but this does not meet our service standards, therefore we advise customers to have a large breakfast at their hotel and have lunch in one of the many good cafés and restaurants in Yangshuo, or ask their hotel to pack lunchboxes.
Bamboo Raft: After a drive you will be sitting in the comfortable armchair on a traditional style bamboo raft through the most scenic section for about 2 hours. The boatman is happy to stop anywhere possible for your photo shooting, and lunch is arranged at a local restaurant in the ancient village of Xingping.
Photography Tour
In the afternoon you will be guided to the most photo-worthy spots of Xingping: climb a mountain with very few travelers to shoot the panoramic view of Xingping; capture the vibe when fishermen cast their nets on the river; and watch as they light the gas lamps at dusk. This is staged in a traditional location and way, giving you the control and best chance of amazing photos.
At sunset, have dinner at the photographer's guesthouse where his own personal works decorated the walls. The last public bus from Xingping to Yangshuo stops operating at 6 pm, but your own private car and driver take the hassle out of your travel and will drive you the final section into Yangshuo.
Day 2:
Yangshuo Countryside Tour and Departure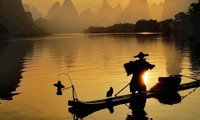 Ways to explore the idyllic scenery and rural life of Yangshuo include riding a bike, tandem, electric golf cart or electric scooter (see their difference here). As you ride through rural paths, rice paddies and orchards, drop by a local farmer's old house on the way. The welcoming host is happy to show you around his house and introduce to you life in the countryside.
We can arrange various activities to enrich your travel experiences, such as learning calligraphy, Chinese painting and Chinese cooking. Inform our Guilin-based travel advisors of your interested activities when making inquiry, so that they can arrange and give you advice.
Have lunch at Rosewood Café, the best Italian restaurant in Yangshuo. Your private car, driver and tour guide will transfer you to Guilin for your departure to next destination.