Itinerary
Your guide is ready and waiting in the arrivals to meet you and take you to the hotel in a private car.

Good to Know:
Depending on your arrival time we are happy to customize this tour and work in some sights, as time allows. Contact our team for your unique tour design.
Day 2:
Elephant Trunk Hill, Fubo Hill, Reed Flute Cave, Folded Brocade Hill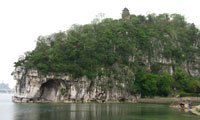 Guilin city has a collection of natural sights created by the razor sharp karst mountains. Elephant Trunk Hill at the junction of Li River and Peach Blossom River is right in the heart of the city, as is Fubo Hill, both giving a great view over the city.
Reed Flute Cave has stalactites and stalagmites, sparkling in the lights, and Folded Brocade Hill is famous for its beautiful view at the end of easy to climb stone steps.

Good to know:
The Two Rivers and Four Lakes area in the city center is a wonderful place to have an evening stroll, as the banks are illuminated. You can also enjoy the illuminated Sun and The Moon Pagodas reflecting in the lake.
Day 3:
Li River Cruise, Yangshuo Countryside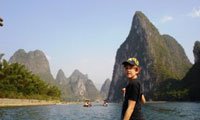 The Li River Cruise takes you from Guilin to Yangshuo; the scenery is familiar from ancient Chinese paintings, a new view is revealed at each river bend. In the afternoon the Yangshuo countryside awaits: a mini bus where the sides are open to allow for photography takes you to Aishan Village, in the midst of a farming community. Visiting a local farming family is a way to understand life here more deeply.
Day 4:
Kayaking in Yangshuo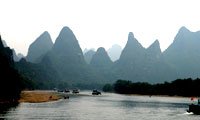 Kayaking along the Li River from Fuli to Puyi is a way to take time to appreciate the views. An optional stop at Liugong Village gives time for lunch and a rest, and a local bus ride back to Yangshuo an unforgettable experience of the authentic way to travel.
Day 5:
Yangshuo to Guilin, Depart Guilin
Your guide and driver will escort you from Yangshuo to Guilin, and take you to the airport for your flight onwards.