Itinerary
Day 1
Arrive in Guilin, Flight not included
Airport Transfer (Guilin), Yao Mountain with roundway chair lift service

- Yao Mountain with roundway chair lift service: Yao Mountain lies in the east of Guilin, 12 km away from the downtown. The top peak is 909 meters high and 760 meters by relative height and is the biggest and the highest mountain in Guilin.Tourist can have a panoramic view on the peak, and also can enjoy azalea blossom in spring all over the mountain.
Day 2
Reed Flute Cave, Elephant Trunk Hill, Fubo Hill, Seven Star Park (including the panda house), Pearl Culture Shop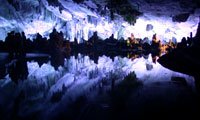 - Reed Flute Cave (1 hour): Located 5 kilometers northwest of Guilin city, the Reed Flute Cave gets the name from the reeds used for making flutes and pipes that grow at its entrance. The cave is regarded as the largest and most impressive cave in Guilin. It is 240 meters long, and the length of the tour is about 550 meters offering a magic land of stalactites, stalagmites, stone pillars, stone curtains, birds, plants and animals in fantastic shapes and colors. The visit lasts for 40 minutes and there are a lot of steps. Watch your step as the lights are dim. You guide will show you by electric torch.

- Elephant Trunk Hill (40 minutes): Elephant Trunk Hill is located at the junction of Li River and Peach Blossom River. It is the symbol of Guilin with 55 meters high and got its name because its shape resembles an elephant with its trunk drinking from the Li River. The hill is pierced with many caves and topped with a small pagoda.

- Fubo Hill: Fubo Hill is on the west bank of the Li River in the city center. Partially submerged in the river it was named after General Fubo of the Tang Dynasty who built Mayuan Temple on the hill. Because of its location and height, Fubo Hill can tame the waves and stop the surging waters which then form whirlpools. It is 213 meters above sea level and 62 meters above ground level. There are almost 350 steps to climb to reach top of hill and but then you can enjoy a birds eye view of Guilin city.

- Seven Star Park (including the panda house): Situated on the eastern side of the Li River, it is the biggest park inside Guilin city. Its takes its name from Seven Star Hill which consists of seven peaks which are said to resemble the star pattern of the Ursa Major (Big Dipper) constellation. Attractions in the park include Flowers Bridge, Camel Hill and much more. The Panda House features a number of beautiful pandas.
Day 3
Li River Cruise from Guilin to Yangshuo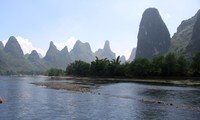 - Li River Cruise from Guilin to Yangshuo. (4 hours): A cruise along the Li River between Guilin and Yangshuo is an unforgettable experience. As you take in the stunning scenery, there's something interesting to see at almost every bend in the river. Between spectacular limestone peaks you'll see graceful bamboo groves, farmers tending rice paddies, and lumbering water buffaloes pulling carts or cooling off in the river. You may see fishermen gliding along on their narrow bamboo rafts, and if you're very lucky you might see one of the famous fishing cormorants. Boats depart from various wharves, according to the height of the river at different times of the year.The Li river cruise is by a medium size boat which can accommodate about 140 passengers.
Day 4
Depart Guilin, Flight not included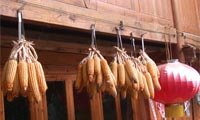 Jiangtou Village in Jiuwu Town, Hotel to airport Transfer (Guilin)

- Jiangtou Village in Jiuwu Town: Located at north, 32 km far from Guilin city, Jiangtou Village is reputed as one of seven the most valuable ancient villages in China. It has more than 620 residents' houses built in Ming and Qing Dynasties with 800 years history. What is interesting is that 90 percent of residents there share the same family name—Zhou. According to history, most of them are descendants of Zhou Dunyi, a famous scholar of Neo-Confucianism and writer in Northern Song Dynasty. People there show the highest respect for education, and there were over 160 successful candidates in imperial exams of different levels during the Ming and Qing Dynasties. Ancient well, long alleys, stone arch bridge, exquisite wooden carvings bring you back to ancient time.