Itinerary
Day 1:
Arrive in Guilin, Flight not included
Airport Transfer (Guilin)
Day 2:
The Seven Star Park, Yao Mountain, and Nanxishan Park Tour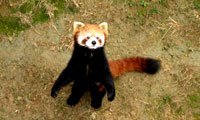 - Seven Star Park (including the panda house): Situated on the eastern side of the Li River, it is the biggest park inside Guilin city. Its takes its name from Seven Star Hill which consists of seven peaks which are said to resemble the star pattern of the Ursa Major (Big Dipper) constellation. Attractions in the park include Flowers Bridge, Camel Hill and much more. The Panda House features a number of beautiful pandas.
- Yao Mountain with roundway chair lift service: Yao Mountain lies in the east of Guilin, 12 km away from the downtown. The top peak is 909 meters high and 760 meters by relative height and is the biggest and the highest mountain in Guilin.Tourist can have a panoramic view on the peak, and also can enjoy azalea blossom in spring all over the mountain.
- Nanxishan Park: Nanxishan Park is located in the south of Guilin, the park name after the Nanxi hill with 291 meters high from sea level; it has vivid shape as a big screen from distance. Many stone inscriptions are founded on the cave in the bottom hill. Every year in the end of March and beginning of April, people come here to celebrate cherry blossom festival.
Day 3:
The Li River Cruise and Shangri-La Theme Park Tour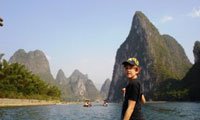 - Li River Cruise from Guilin to Yangshuo. (4 hours): A cruise along the Li River between Guilin and Yangshuo is an unforgettable experience. As you take in the stunning scenery, there's something interesting to see at almost every bend in the river. Between spectacular limestone peaks you'll see graceful bamboo groves, farmers tending rice paddies, and lumbering water buffaloes pulling carts or cooling off in the river. You may see fishermen gliding along on their narrow bamboo rafts, and if you're very lucky you might see one of the famous fishing cormorants. Boats depart from various wharves, according to the height of the river at different times of the year.The Li river cruise is by a medium size boat which can accommodate about 140 passengers.
- Shangri-La Theme Park: Shangri-La Theme Park is located 50km from Guilin and 10km form Yangshuo. Shangri-La is an ideal world presented for display but it also includes the real world of the enchanting Yangshuo County mountains water, fields and traditional customs. The minority style buildings are mixed together with the natural surroundings and programs are designed for tourists to participate in and experience traditional culture and entertainment. Visitor will have 20-min boat ride in the park to views all these customs.
Day 4:
Depart Guilin, Flight not included
Hotel to airport Transfer (Guilin)